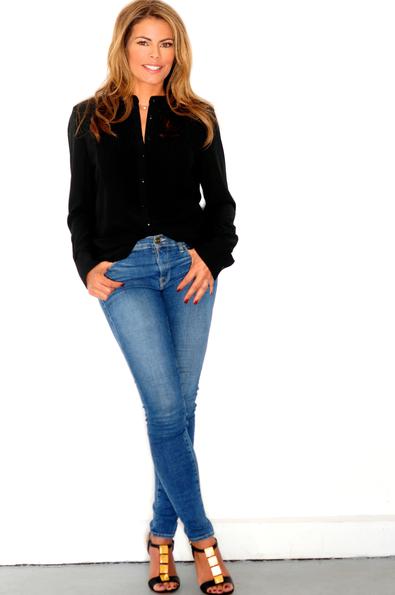 Biz veteran Lisa Vidal chats with Backstage about "representing today's woman," the acting strengths she didn't know she had, and when props in the audition room go wrong.
Tell us about your latest project.
I'm currently on "Being Mary Jane" on BET with Gabrielle Union. I play Kara Lynch. She's her boss and a producer. The show focuses on Mary Jane's life and the people in her life. There are a lot of strong, opinionated women, and it's showing them trying to make it and be it all—being strong while showing their faults and mistakes. I'd say it very much represents today's woman.
What have you learned about yourself while doing "Being Mary Jane"?
How much fun there is in doing comedic stuff. There are a lot of funny things that they give me free rein to do on the show that I didn't realize I could do. As far as my acting, it's about understanding the character; knowing what the motives, intentions, and thoughts are. Knowing where a character is when she walks into a scene and where she was the moment before.
How do you typically prepare for an audition?
I read the material and read it and read it and read it and read it over and over again to really understand what's going on. Depending on the information given to me, I try to create a world for the character: who she is, why she is the way she is, why she does certain things, her opinions, how she feels about herself, her relationship to the scene and to whoever's in the scene with her. For me, the most important thing is being a great listener and actually having a thought process and answering the question [in the scene].
What is your worst audition horror story?
When my eyes started going bad and I was in denial about needing glasses. I remember going in for an audition and I wasn't wearing contacts yet and I did not want to wear glasses at the audition, so I went in there and I thought I'd use them as a prop. I really didn't know the lines very well so the whole audition became about [the glasses]. It was like, OK, now put them on. Now take them off. Can you see the words? No. So put them on and then take them off. I just kept taking them on and off every time I had to see the line. And the casting director thought it was hysterical! When I left I was crying and laughing so hard because I couldn't believe I actually did that! I walked out of there and I was like, What the hell were you thinking? What the hell was that?! You'd think I'd have known better after acting for so many years.
What do you wish you'd known before you started acting?
I wish I'd had more confidence in myself when I was younger. All of us actors, we can be so nervous and unsure. "Is this for me? Are we good enough? Do we know what we're doing?" You just have to learn to trust yourself and the process.
On whom do you have an acting crush?
Meryl Streep—who doesn't? She's definitely my celebrity crush when it comes to acting. I think she's amazing. The way she changes herself just blows me away. She just throws herself so deeply into the character. I really admire her talent and what she stands for, her resilience. She's a mom, she's a wife, she's an actor, and has gone through this business just being who she is and not giving a crap what anyone thought. Like, "I'm doing me and this is what I do and this is what I love." And people love her for it.
How did you get your SAG-AFTRA card?
I got my SAG-AFTRA card when I was 14 years old and I auditioned for a PBS television series. I got the part—it was a total fluke, because my aunt took me with my two cousins, her sons, so they could audition, and I was the one who got the callback! When I got the part, they had to waive the fact that I wasn't a member yet so they allowed me to join the union.
What was your worst survival job?
When I first started out I was in a movie called "Delivery Boys." It was horrible, a nightmare, and I hope no one sees it. Recently I walked into the local video store and saw it there and I wanted to grab it and burn it!
Which of your performances has left a lasting mark on you?
There was a TV show that I did years ago called "High Incident"; it was for ABC and Stephen Spielberg was producing and I was starring opposite Blair Underwood and we were uniform cops. There was an episode where there was an earthquake and we were driving around L.A. trying to help people. There was a woman giving birth in an ambulance and the tunnel they were driving through had collapsed, so we show up on the scene and I end up delivering the baby and the woman dies. It was a very emotional scene, very confusing, and [my character] kind of had a moment of, "Why do we do what we do?" It was well-written scene. It was a well-written show overall. I'm attracted to characters that have a lot of internal conflict with the good and the bad in the world. [Officer Jessica Helgado] was a great character to play.
Like this post? Check out more of our Backstage 5 interviews!