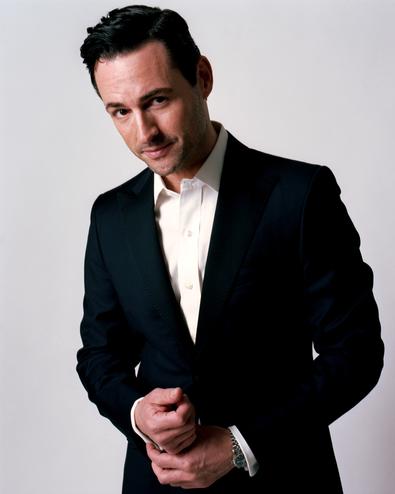 Musical theater whiz Max von Essen has lent his vocals to such productions as "Les Misérables" and "Evita," and has just received a Tony Award nomination for best supporting actor in "An American in Paris," Broadway's adaptation of the classic musical film.
Tell us about "An American in Paris."
I've been with it since the workshop about a year and a half ago. It's been a complete dream project because I feel like I'm doing something that is the thrill and comfort of a revival but it's really pushed the boundaries, taken it so far from the film, and incorporated dance into the storytelling.
What have you learned about yourself while playing Henri Baurel?
If I had been born in Paris in the early 1900s and lived through World War II, I feel like my DNA would've been Henri Baurel. He desperately wants to go to the United States and secretly become a nightclub performer. Yet he's expected to take over the family company, to marry this young girl. There's so much he's conditioned to do but there's this passion inside of him, not only his desire to be a performer but he's also questioning his sexuality. For me, the fun of it was placing myself in another time, another environment, and imagining. I feel like I've become not only a better actor but better in tune with myself and my own feelings during this process.
What was your worst survival job?
I was a handyman in an office building across from Penn Station for two entire summers while I was still in school and the summer after. I had to wear a big, gray jumpsuit kind of thing that had the name of the company in a big patch on my chest, and I was sent to fix things and didn't know what I was doing. I was terrible. They would say, "Pass me this kind of wrench or tool" and they'd be yelling at me because I didn't know what it was. It paid really well but man, it was tough.
Who's your biggest acting crush?
"La Vie en Rose" is just about my favorite movie. Marion Cotillard, I'm so desperately obsessed with her work. I was so devastated by that film and her performance. I would do anything with Eddie Redmayne as well; he's probably my crush du jour for acting right now.
Which of your performances has left a lasting mark on you?
I did a small production years ago at Paper Mill Playhouse of "The Baker's Wife" opposite Alice Ripley. She's almost frightening in her work. She goes to a place I hadn't experienced before, certainly not in a musical. Sometimes there's a tendency to lay back and have a little fun onstage with your co-stars, but she wouldn't allow that with me. She looks in your eyes and she is nowhere but in the place, at that moment, and in that character. I fell so madly in love with her onstage. I felt like, I'm an actor now. It was quite a moment. I think of it often.
What about your worst audition horror story?
Oh gosh, I've had a couple of those, too. It was years ago, "The Visit," which is now on Broadway. This was one of the first incarnations when they were trying to get it going. I was very sick and shouldn't have gone but at this point I was lucky to even get auditions so I didn't want to pass on the opportunity. There was a role for a eunuch or something. So I had to be a man but sing in a soprano head voice. That was all I knew. I sang a song from "Annie Get Your Gun," in soprano, as a woman. And it just died! The room was just not with me. I wanted to crawl into a hole. It was my chance to perform in front of an incredible team of people and it was a disaster.
How did you get your Equity card?
My Equity card I actually got at "The Fantasticks" Off-Broadway, when it was still down at the Sullivan Street Playhouse; I played Matt. I'd been touring "West Side Story" with a young girl named Natasha Harper, and she was also part of the "Fantasticks" family Off-Broadway. She got me an audition and I booked it on the spot. Then I was part of that family for years! I don't think there's anything like that system anymore, probably because of union rules.
What do you wish you'd known before you started acting?
Honestly I wish I'd known just how hard it is and how competitive the acting world is. I took my time, I went at my own pace. That's been helpful over the years but also I didn't quite realize how incredible everyone else was going to be, the level of competition and everyone's skill. It's actually taken me a few years to catch up. I didn't go to a conservatory; I didn't have the training as a kid that a lot of people are getting today. I would've studied even harder, taken even more classes and really worked on my craft.
How do you like to prepare for an audition?
Each is a little different, if it's TV, film, a musical, or play. But for me, the most important thing is to start immediately. Even if it's 10 days or two days away, I basically stop what I'm doing and load it into my Rehearsal app. And depending on the intensity or amount of preparation, I'll call my voice teacher or acting coaches to work on the material. Basically, if I have enough time, I'll work on it until it becomes as second nature as possible. I do deal with nerves and I get excited. Often I go in there and if I'm fighting nerves, if I worked on it only the night before, it's just not going to be there. So it's jumping in immediately and working with my coaches. And when you come back to a piece you've already been with, you're starting from a different place. Especially with music or concerts, work on it immediately, then weeks later when you're with the orchestra or you're about to walk into the audition room, you know it.
Like this post? Check out more of our Backstage 5 interviews!