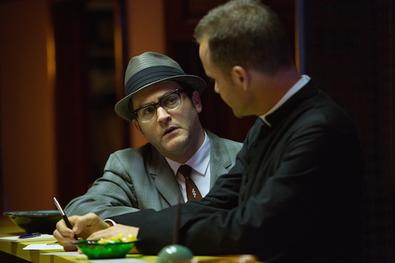 From the Coen Brothers' "A Serious Man" to "Boardwalk Empire," Michael Stuhlbarg has been making a name for himself in film and on stage and television since the 1990s. Here, he discusses his latest film, "Pawn Sacrifice," (out Sept. 16) which follows American chess prodigy Bobby Fischer (Tobey Maguire), his acting crushes, and how he prepares for an audition.
Tell us about "Pawn Sacrifice."
I knew a little bit about Bobby Fischer [before doing the film]—that he was a genius, that he was a world famous chess champion, and that he had become reclusive.
I play a man named Paul Marshall, who was an attorney by trade deeply involved in intellectual property laws and was brought on to be a part of Bobby Fischer's team in helping him finesse his contracts for the 1972 World Chess Championship against Boris Spassky. And he really is responsible for helping Bobby in any way he needed it, and to getting him where he needed to go on time.
What have you learned about yourself on this project?
There was a great sense of collaboration in the piece in that once I signed on, I started to learn about all different kinds of things that Paul went through. And Ed [Zwick, the film's director] and Tobey were both game about my bringing that information in, and trying to find a place to utilize it in the telling of the story. So I guess I learned that I love to collaborate. I love to have a voice in the argument of what the piece will be.
How did you get your SAG-AFTRA card?
I think it was on a film called "A Price Above Rubies," which was a Miramax film starring Renée Zellweger that Boaz Yakin directed. I had a couple of lines in a scene that took place in a synagogue.
What do you wish you'd known before you started acting?
I think if I had known anything I may not have done it, honestly. I just jumped in whole-heartedly 'cause it was fun, and it's important to remember that throughout. Because if you lose the fun, the business aspect of the art can weigh you down sometimes. So I try to remember that fun, I try to remember the doing of it. It's the waiting to get to do it which is the hard part.
On whom do you have an acting crush?
Well, growing up my heroes were Robert De Niro, Daniel Day-Lewis, Anthony Hopkins, Derek Jacobi, and Meryl Streep. I'd go and see everything that they did. I just loved to watch how they worked, what they worked on. They always seemed to be in really interesting projects. They were passionate; they were articulate. They were soft-spoken, but in some cases, capable of great rage. And they could make you laugh, too. I think it lives somewhere in all of those things.
How do you typically prepare for an audition?
I always try to shoot for knowing the material as well as I can, making a choice, and keeping my eyes off the page as long as possible—because that's how they can really get a sense of watching you work, watching you think.... And to come in with an idea or two or three to try so that if your first idea doesn't necessarily jive, you can show them something else.
Honestly it has a lot to do with feeling comfortable when you get in the room. To be respectful, to offer your services, to go in there, and then leave. They have a hard job too, trying to see a lot of people and trying to make decisions. So you put your heart into it, care about it, and then try and let it go when you're done.
Which of your performances has left a lasting mark on you?
I did a play back in 2005 called "The Pillowman," which Martin McDonagh directed, in which at the very end of the run I caught a case of shingles. I had something burst on my forehead, so I actually have a mark on my forehead from that experience. But it's also an internal mark as well. It's one of those plays that sort of lives with you in a wonderful way.
That was a special one, as was getting to play Edmund in "Long Day's Journey into Night" and Richard II on the stage. In film, I would say getting to work with the Coen Brothers, in particular, and having their trust in me. To take a gamble on somebody that nobody knew and cast me in the lead in one of their films is something that I'll always hold precious, and something that I'll always be in debt to them for. So that's lives in a very profound place within me as well.
Inspired by this post? Check out our film audition listings!