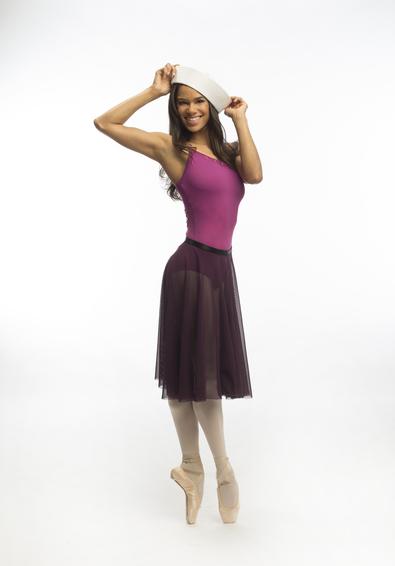 As the first African-American female to be named a principal dancer in the American Ballet Theatre's 75-year existence, Misty Copeland isn't just making history in 2015. Making her Broadway debut as Ivy Smith in "On the Town" beginning Aug. 25, the ballerina chats about what she's learning from her co-stars, her dance crushes, and more.
Tell us about "On the Town."
Every time I see the show I get excited, because it's just incredible choreography. I'm so fortunate to have this opportunity to do something I didn't really even know I wanted to do. It's amazing. I'm nervous about [the singing], and even just speaking onstage. I do speak in public, but it's not remembering lines, so that's a little terrifying to me, too.
What have you learned about yourself while working on the show?
I did it because I knew I was going to get so much out of it that I could apply to my career and my life. Every time I think I put myself in a situation where I'm just, like, "There's no way I can accomplish that," or I think, I'm so uncomfortable stepping into this…. That's when you grow. I'm excited to be able to go onstage with professional actors and be able to react to what they do. It's exciting to be able to work with people who have so much experience in the theater world. I think it's going to make me a better actress, and just a stronger performer once I step back into the studios and onto the stage of ABT.
What do you wish you'd known before you started dancing?
Had I been told over and over again, "After four years of training, you probably have a 1 percent chance to get into a professional company," that would have completely blocked my ability to believe, which I think creates opportunity for people. Had I been told, "You're going to be the only black woman in ABT for 10 years, so good luck with that!" I probably would have walked away or gone another route. So I feel like my experiences throughout my career have [taught me] that sometimes it's better not to know certain things, and to go in and make your own judgments and experience things for yourself to a certain extent.
On whom do you have a dance crush?
I was a judge on "So You Think You Can Dance" for a little bit and the [Season 11] winner, Ricky [Ubeda], is now in the ensemble of "On the Town." I just thought he was the most adorable, exciting dancer that I'd seen on that show in so long, so it's really funny that he's in the show. And there are so many dancers at ABT that I'm just in awe of; Marcelo Gomes [is the] most natural, incredible, adventurous, strong dancer that I've ever seen.
Which of your performances has left a lasting mark on you?
I think that my experiences recently of dancing Juliet [in "Romeo and Juliet"] have. I think it was an unexpected role that I was not anticipating getting. I was very serious about my approach to the acting, especially. And [I was affected by] the way I reacted in the moment during my first performance, like, Wow, I can't believe I'm so emotional about what I'm experiencing right now. So I can't wait to do it again, which I think will be next summer.
What is your worst audition horror story?
Maybe five or six years into my career at ABT…. I'd worked with Twyla Tharp since I was 15 years old, so she knew me well and she invited me to come to a [last-minute] audition for one of her big shows with people who had been cast over the course of some time. So she had me come in and I thought I was gonna be dancing, and I got there and they were all gymnasts. They were all doing crazy floor routines and I just did cartwheels and a handstand. Then there was a dance portion, and she kept me and another girl as the final two. She had us sing, and [at that point] I had never sang in front of anyone before, so I sang "Like a Prayer" by Madonna in my bare feet and little booty shorts for Twyla Tharp. I ended up not doing the show, but that was terrifying.
Like this post? Check out more of our Backstage 5 interviews!