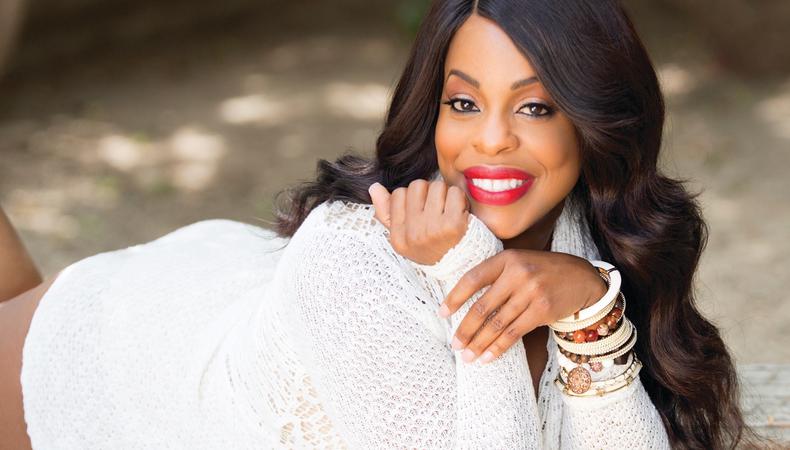 A surprise (and much-deserving) Emmy nominee for supporting actress in a comedy was Niecy Nash for her superlative work as Nurse Didi on HBO's dark comedy "Getting On" opposite Alex Borstein and Laurie Metcalf. Also a series regular on Fox's upcoming "Scream Queens," Nash talks to us about ballsy auditioning and her acting crushes.
Tell us about "Getting On."
I describe it as three women who care for geriatric patients in a rundown hospital in Long Beach, Calif. But it's dark and it's funny and sometimes it's sad and then it goes right back to funny. It's really been a blessing, because this tone and style of show wasn't something that came my way too often. I do a lot of the bigger, broader shows, so it's really nice to have the opportunity. [And on "Scream Queens"] I play what I like to call the voice of reason. I am saying everything that every girl who has ever yelled at the movie screen says: "Get out of the house!" "Don't go in there!" I say what you're saying at home.
How did you get your SAG-AFTRA card?
I called up a casting director. I said, "This is Niecy Nash. I'm broke, I have a baby, and I need a job." He said, "Come down here at 3 o'clock." I auditioned and they said, "We will let you know." And I said, "Let me know when?" I was so angry. And they were, like, "You have to leave." And then a few days later they called me. It was "Boys on the Side" with Whoopi Goldberg, and I got a Taft-Hartley. I begged my mother to give me the money so I could get in, and as soon as I got my next job I paid her back.
What do you wish you'd known before you started acting?
I wouldn't change a thing, because I think my naiveté was the thing that helped me pick up the phone and say, "Hey, why don't you put me in something?" Or "What do you mean you won't tell me if I got the job in the room?" I didn't know not to do that. And because I didn't, the director was, like, "Oh my God, this girl is adorable." So I'm fine with what I didn't know.
On whom do you have an acting crush?
Uzo Aduba. I think she's brilliant. And how could I not have an acting crush on Laurie Metcalf and on Alex Borstein? And then there's Allison Janney. I have an acting crush on someone in my category!
What was your worst survival job?
I worked reservations for United Airlines, and that wasn't even a bad job because I got to play different characters when I answered the phone. But then you'd put someone on hold and come back and not remember the character you were playing!
What is your worst audition horror story?
I went on an audition and I got a page right before I went in that my baby had fallen off the bed and had been rushed to the hospital. I called and they said she's fine, so I walked into the audition and I was so distracted. The reader read their part and it came time for my one line and I said… "Line?"
How do you typically prepare for an audition?
I don't usually commit the entire script to memory until after they hire me. I make myself very, very familiar with it, and I look the part. That might mean I have to change hair in the car, clothes in the car. I have a whole costume closet!
Which of your performances has left a lasting mark on you?
I would have to say that Nurse Didi, because she's so different from everybody I've ever played. Most of the time I get called in to do more. "Can we have a little more sass? Can you do that a little bigger?" And Didi, that performance is so small, from the way she looks and the way she moves. Because of that I got offered the role in "Selma." And because of that I came back into the consciousness of Ryan Murphy. And because of that I got nominated for an Emmy even when I wasn't even campaigning! So Didi has been very, very good to me.
Like this post? Check out more of our Backstage 5 interviews!