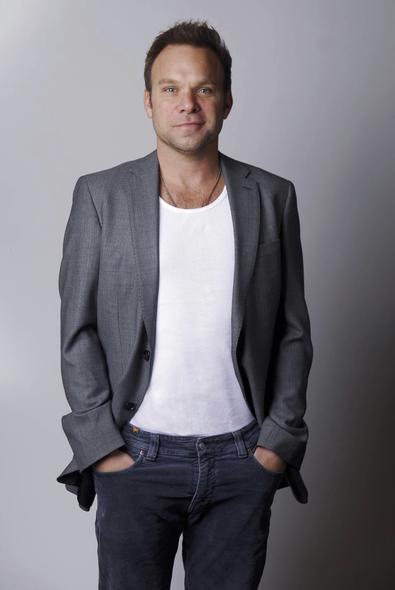 Two-time Tony winner Norbert Leo Butz has dazzled audiences onstage in "Wicked," "Dirty Rotten Scoundrels," "Catch Me If You Can," and countless other shows. Now he takes on "Mercy Street," the new PBS series that follows nurses on both sides of the American Civil War, before returning to Netflix in Season 2 of "Bloodline" this spring.
Tell us about "Mercy Street."
People are calling it a "historical medical drama," but maybe that's a little reductive. I play this antagonist doctor [Byron Hale] in the hospital, the foil to Josh Radnor's character. He's a really fun part to play, kind of a villain but kind of an idiot, too.
How did you get your Equity card?
I got my Actors' Equity card officially by playing Nana the dog in "Peter Pan" at the Alabama Shakespeare Festival. That was the first show I did as a full-fledged, dues-paying member; I earned points in my MFA program, then went into the company after I graduated. I also doubled as a Native American, with red paint on my face, which is about as racist as you can get. This is Montgomery, Alabama. But yeah, I got my start as a racist dog. There was nowhere to go but up.
On whom do you have an acting crush?
All of my co-stars that I'm currently working with on "Bloodline." I have an acting crush on Gene Hackman, I have an acting crush on Tommy Lee Jones. Gary Cooper. Jimmy Cagney. Michael Gambon. Simon Russell Beale.
What's your go-to audition song?
The audition [for me] is now called a workshop or reading. That's still the audition. In the right sense of the word "audition," you speak it and you hear it and they get to hear it. It's an auditory experience; it doesn't necessarily have to mean a cattle show, not "please pick me" or "please don't kill me." Most of the music is sent to me and you learn it. I don't have a lot of musical theater knowledge. I've always been a singer... I know a lot of songs, I can read music, play an instrument, so I learn it as best I can. When I was younger and I did get to pick a song to play, it would just always be that thing that really highlighted something in the role or the mood and style of the piece. You don't have to sing a traditional song from a musical to be cast in even a traditional musical. There are standards from every age and generation. Cole Porter, Irving Berlin, they didn't just write for musicals. I love it when people take contemporary songs and find a narrative or a theatrical way of telling it.
In an alternate universe in which you aren't an actor, what would you be doing?
I think I'd be teaching, maybe, and writing. And making music, if I could. Just hopefully trying to make something.
What was your most memorable survival job?
Oh, God, yeah, there've been some good ones. I survived in high school by working at Kentucky Fried Chicken, and made my way up to assistant manager. I was surviving high school and college with that job. But when I was a "professional performer," I spent the year in Europe before I finished my studies, in London. I had this job to support me, because I had no money—I got this job under the table without a green card. It was at the Grosvenor House hotel, this huge, epic, gorgeous, historical behemoth of a building, on the corner of Hyde Park. I was an assistant to the wine waiters in there. We had these horrible stained ties we borrowed from each other, we poured wine at these super fancy functions. It was a great job, but they used to feed us the day-old food and that gave me botulism.
What is your worst audition story?
I remember auditioning for "Side Show" the first time [it came to Broadway]. My agent called and said they want three songs: an uptempo theater song, a pop song, and a rock ballad. And she's like, "Bring your book, just in case." I went, "Sure, got it." I picked my three songs and they all go terribly: the sheet music is taped together with Scotch tape, I can't find the key, I go up on all my lyrics. And then they're like, "Did you bring your book?" And at that moment I realized they meant a black book of all the songs I can sing, like what theater students have. I was reading at the time this novel... I thought they'd meant I might have to wait a long time. I was like, "I'll wait all day!" Then I put it together in my mind. That was when I figured out what a book was.
How do you typically prepare for an audition?
It's not set, per se. Sometimes you're doing them on the run, on your phone—sometimes you're in a bathroom at a truck stop, because you've got to get this tape in by 5 p.m. But if you have any time with the material at all, you learn it really, really well. You study it, you get right into the words right away. Don't take your eyes off them. Figure out what the writer is saying and what you want to do with it, who is it, where are you, what are the stakes, even if you don't have all the material. You can only get creative like that if you've gotten right into the script work.
Which of your performances has left a lasting mark on you?
Obviously you carry around everything you've done in some sense. That's almost impossible to answer. I'm trying to think if there's something I'd go back and do again. Not revisiting a role, but a role you've done so much you want to learn more. "How I Learned to Drive" at Second Stage. That was just this part, this character in a show that was just a really rewarding gift to get to play. I remember when that show ended I thought, I could do this much longer, just keep on telling the story of that play.
What do you wish you'd known before you started acting?
I wish I'd known early on that someone else's victory is not your failure. That's a really important thing for young actors to learn. When other people get jobs or rise in their station, as it were, or even get jobs you auditioned for or that you felt like you could or should be doing... When you start to compare careers—or even roles within a play—it's that phrase "compare and despair." You lose perspective on what you can do, and how lucky you are to have the job, if you're lucky enough to work. If a good script comes along you're doubly lucky. Just take it project by project, a day at a time, because people start to make ungodly sums of money and have roses thrown at their feet and it doesn't mean you don't have something to offer. Don't compare yourself.
Like this post? Check out more of our Backstage 5 interviews!