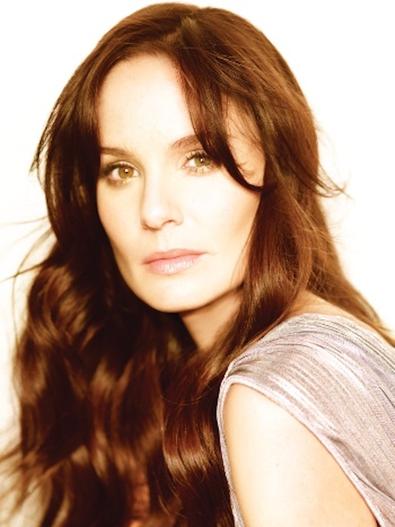 After acclaimed turns on "Prison Break" and "The Walking Dead," Sarah Wayne Callies returns to the small screen with USA's "Colony." She plays Bowman family matriarch Katie, wife of Will (Josh Holloway, "Lost") and the beating heart of a family torn apart in this buzzy sci-fi thriller from Ryan Condal and Carlton Cuse ("The Strain").
Tell us about "Colony."
"Colony" kind of starts with a Sophie's choice. We've got this couple living under this authoritarian rule, and we have three children and only two of them are with us. At the beginning, my husband [decides] he's going to break the laws to go look for our other son. That sets off a huge series of events that takes us through the rest of the season, but it also touches off a very personal philosophical conversation between Josh's character and my character: When do you risk the safety of the family you can touch for something else? Whether that's another child who's lost, whether it's for your country, for your species, for what you believe is right. What's the balance between the personal and the political? And as a result of Will's action, he and Katie end up on very different sides of that coin.
What have you learned about yourself on this project?
It's been a different kind of stretch for me in that Katie is a woman who is rooted in her femininity, and to a degree, her sensuality. Katie wears dresses; Katie wears high heels; Katie is comfortable with all of that in a way that I am not. Left to my own devices, I'm either in boots and jeans or flip-flops and board shorts. It was really interesting moving into that feminine space.
Which of your performances has left a lasting mark on you?
Of everything I've ever done, this has more of my heart than any story I've ever told before. I read [the script] and I said, "Yes, I'm obsessed. This is a fascinating character. I'm really interested in investigating these questions." [To get cast], I sent this letter [to casting] about my manifesto of the character and the ways in which I felt that her femininity became a tool of war and this whole sort of thing. I had to fight really hard even just to get them to consider me, which I think is good. It made me hungrier.
What was your worst survival job?
Mercifully, I wasn't doing the survival job thing too long. The worst job I've ever had was working in an office. I discovered that I'm categorically not somebody who can sit behind a desk all day. I would've been in an institution in another couple of months. I was not cut out for it.
On whom do you have an acting crush?
I'm obsessed with Helen Mirren these days. She's managed at 70 to be sexier and more grounded than half of Hollywood. Not that a woman's goal is to be sexy, but to be able to pull off her level of gravitas and sexuality and authority and fun—and be 70. What can I say? I want to be Helen Mirren when I grow up.
What do you wish you'd known before you started acting?
It wasn't until I started working on camera that I realized that vanity is the enemy of art—that the place for vanity is in those magazines and in those photo shoots and on those red carpets but that, unless it's very specific to a character, it's very hard to be simultaneously trying to tell the truth and trying to be appealing. The truth is so often unappealing. That was the thing about Hollywood that was a bit of an eye-opener for me.
How do you typically prepare for an audition?
For me, it's all about making sure I don't feel like I'm in an audition. You walk into those rooms, and no matter where they are and no matter who's in them, they just reek of panic and desperation. For me, I have to do all of that imaginative set decoration design work that you do when you're doing a play and you look out over the audience and the fourth wall has to be something very specific, right? That's the work that makes me feel better. I can open the door to an audition room, and it's filled with photographs and knickknacks. That way, I feel like I'm in the world of the story that we're trying to tell, and that's a comfortable place because I'm a storyteller. But if I feel like I'm in an audition room, that place is death.
What is your worst audition story?
Oh my god, how much time do you have? The first one gave me a very clear sense of what it was I was up against. I'd been in New York a couple of weeks, fresh out of grad school, fresh out of my showcase, still learning the subway, and I had an audition for [a well-known casting director]. She was casting some wonderful movie that I was not cast in. And I go in and she's sitting behind her desk and she's writing something and she sort of motions for me to start, and I do my whole audition and her assistant is reading with me, and I finish it, and she hasn't looked up once, and she turns to her assistant and she goes, "Well that wasn't terrible. Let's do it again—this time turn the camera on." I think that was the moment where I realized that—what's the phrase? "We get paid to audition, but we work for free." The hardest work you do as an actor is just summoning the courage to get up there and do your audition and know that sometimes they're not going to record it and sometimes they're not going to send it in and sometimes they're not even going to be there, but then again, we get to do our jobs.
Like this post? Check out more of our Backstage 5 interviews!