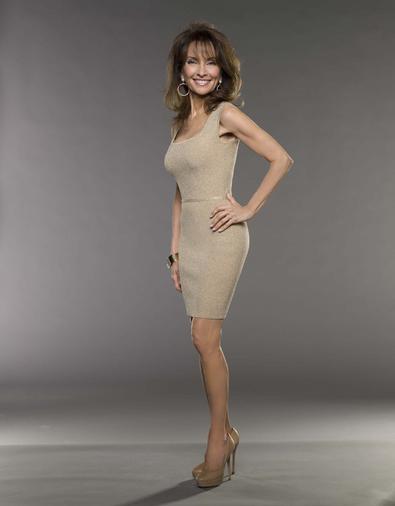 Known for her iconic role as Erica Kane on the long-running soap opera "All My Children," Susan Lucci can currently be seen on Lifetime's "Devious Maids" as Los Angeles socialite Genevieve Delatour. The actor chats about her early days in New York, her prep for a role, and more.
Tell us about "Devious Maids."
It's been so much fun because the show is so much fun, but also the cast is terrific. It's so well-cast; it's just such a great group—the cast and crew. It's just one of those terrific, great, positive experiences in every way. You don't expect to find that more than once in your life, so I count myself incredibly lucky.
What have you learned about your acting on this project?
There was very little, if no rehearsal on "All My Children," because there was so much volume every day. There was no time. It was incredible, really, the great work that was done under those circumstances. On "Devious Maids," every shot is set up and the director of photography just takes such care with how the shot looks and the director has so much input. And it's right there immediately, so you get a chance to really discover. You get a chance to run the scene until it's all discovered, and sometimes you'll do multiple takes until something else gets discovered during the course of shooting. That's the real fun. I was missing that, so I'm so glad to have learned that and have the chance to do that.
What do you wish you'd known before you started acting?
I wish I wouldn't have doubted myself so much. On the one hand, I knew the reactions I was getting in high school, in college, and then in New York [were good]. I knew I studied with really good people, so I knew that I was trained. And yet, and yet, doubts would always creep in, and I wish I wouldn't have spent so much time and energy worrying about the doubts. On the other hand, maybe those are the things that get you to grow because you think, I want to be better. I want to be better.
What was your worst survival job?
My first summer [in New York City in 1969], I took a job in a grout company's office. I didn't even know what grout was. I was in an office all to myself with a phone, and people would call asking questions and I'd always have to ask the person to hold on while I went and found out because I knew nothing! Grout? What is it again? I'm sure I wasn't the model employee in terms of trying to help people build their business, but I did get to go out and do my auditions!
How do you typically prepare for a role?
I read and reread to see what clues are there—what is said about the character both by the writer, but also by the other characters. Sometimes I do a little exercise just for myself and kind of walk through a department store or a boutique and I'll shop as that character. What would that character choose? What would that character wear? And get a feeling for the physicality of that character, too.
Which of your performances has left a lasting mark on you?
Certainly Erica Kane is still with me, because every time I walk through an airport or I'm out, people stop me, still. And being on Broadway in "Annie Get Your Gun" left a very good mark on me because that was such a spectacular experience. But playing Genevieve has been a spectacular experience and a very different one, not just in the way we work, but also because there's an audience around the world; people stop me in all different languages. When I'm in Europe people call out, "Genevieve!" and they never even saw Erica Kane. That's leaving quite a wonderful impression on me to know that "Devious Maids" cuts across cultural boundaries.
Like this post? Check out more of our Backstage 5 interviews!