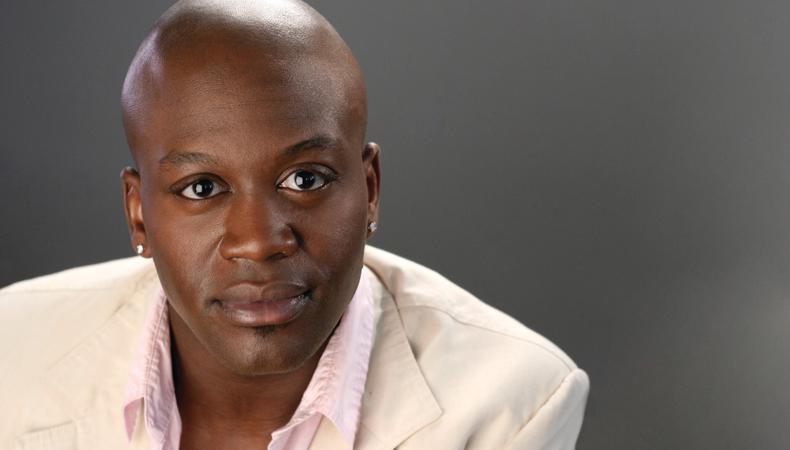 The Broadway star has delighted audiences in "Guys and Dolls," "Jersey Boys," and as Sebastian in "The Little Mermaid," and is now taking on the small screen in Netflix's highly anticipated comedy "Unbreakable Kimmy Schmidt."
Tell us about the show.
"Unbreakable Kimmy Schmidt" is written by Tina Fey and Robert Carlock; it premieres on Netflix March 6. I play the role of Titus—with one 's'. He's not entirely like myself but certainly I'm able to borrow from personal experiences, given that I too was once a struggling actor in New York City. It's sort of the basis for the character. He's convinced that stardom has skipped over him and he's determined to find it at all costs. It's every bit as funny and offbeat and to the left of center as "30 Rock" was.
What have you learned about yourself during "Unbreakable Kimmy Schmidt"?
It's a stark contrast from an eight-shows-a-week theater schedule. I know that I need a lot of sleep, and while I'm filming I probably won't get it. I know that I need my coffee in the morning and I don't want to talk to anybody at the start of my day! But I also learned that I'm a good improviser. When Tina tells me to go off-script I don't panic. It was a very nurturing environment in which to explore. Working with her was intimidating at first, when I started on "30 Rock," but now when she's not on set—which is rare—I'm the slightest bit anxious and uncomfortable. She cares about her family, her co-workers. If there's the slightest bit of hesitancy or miscommunication, she puts you on the right course and off you go.
What do you wish you'd known before you started acting?
That my instincts are always right. Always. And those are the ones I should try first, and then listen to everyone else after I've tried it at least once! I'd never second-guess myself anymore.
On whom do you have an acting crush?
Robin Wright. That diva is everything. It's almost like she can see what the camera is seeing while she's doing it. What she delivers is so precise and so accurate; there's no gray area, and you always know what her point of view is. She's it; she's wonderful. It's not even about working with her one day—when I want to sit down for a seven-course meal, one scene with her gives me exactly what I need.
Which of your performances has left a lasting mark on you?
Probably when I played the Lion in "The Wiz" in Des McAnuff's version at La Jolla Playhouse in 2007. I struggled for a very long time to not edit myself. The older I get, the easier it is to be all of me. I no longer take into consideration other people's feelings. That song "Be a Lion" spoke to me in such a way that...I have roared ever since, as cheesy as it sounds.
What was your worst survival job?
I was a host at Ruby Foo's and I could barely do that. I had to wear the earpiece thing—it was like we were running Secret Service for the president. The stakes were so high. I could not do it.
How do you typically prepare for an audition?
It depends on if it's TV or musical theater. I have to be off book, there's no question. I've heard people say, "Hold the paper in your hand," but that's ridiculous. For the five to 15 minutes that I'm in that room that will be the only time they'll see me perform my interpretation of the character. I do any and everything I think is appropriate until they give me further direction. I'm showing them, "This is what it would be, would you like to work with this?" and not the other way around. Sometimes when I read the first line he comes up in me, whoever he is, and it's a hand-in-glove situation. And sometimes it's shifting a bit more and searching. One thing I refuse to do is force it. So I've canceled many auditions because nothing has come up and I don't want to waste anybody's time. God forbid they outright give it to me and I don't connect with it. There are too many people in the world who really want to be in certain places. I am not arrogant enough to go do it just because I'm right for it, or if I don't truly want to do it. Audiences aren't stupid; they know when you're lying.

What is your worst audition horror story?
There are many. Oh, I know one! I auditioned for "The Little Mermaid" when they were about to do the workshop, the first time around. I went in and thought I was off book for the scene, for "Under the Sea." And I tanked it. I remember they said to me, "Go outside, gather yourself, and come back." And I went back in and tanked it all over again. I don't think I've ever been so embarrassed. I wanted it so badly and had prepped it so much. I don't get nervous, but that day an alien had invaded my body and I could not gather my thoughts.
To this day I have no idea why, three years later, they came back and just gave it to me. They called my agent and said, "We have a callback for Tituss." I was like, "How can I have the callback and haven't even had the first round of auditions?" The material had changed, and I looked at that material and, no joke, I said, "I know how to do this." I went in and I just knew. Time brings about a change, a certain maturation process. I just knew what Sebastian was and what he wanted and what he didn't want. Things got really clear. I went in and knocked it out.
Like this post? Check out more of our Backstage 5 interviews!