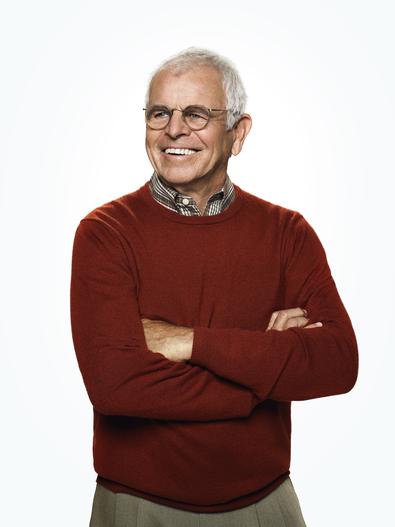 From "Knots Landing" to "24," William Devane has been on numerous TV shows and in countless films, and has been working consistently since the late 1960s. Here, the Emmy nominee chats about his latest gig, Fox's "The Grinder," starring Rob Lowe and Fred Savage, on which he plays their father, how the experience is changing him for the better, and more.
Tell us about "The Grinder."
It's been fun for me. I've been doing so much heavy business stuff, so it's just fun to sit around there every day and laugh. [Rob and Fred] are very good. They've been acting as long as me, and they're 25, 30 years younger than me. They both started as kids. The nice thing about the show is that everybody is a hard pro. They've been doing it for a long time. It's just fun to watch them work.
What have you learned about yourself on this project?
When I do things like "24" I get very…I disappear a lot and this weird character arrives and I get in that place. There's really no room for that [on a] comedy. Here it's all real positive and it's real up in the air; I kind of missed that. The other stuff has kind of gotten me a little closed down and I'm addressing that every day. I'm not the guy that stands around on set and bullshits all the time, but that's the life of being on a comedy; everybody's working it all the time. Everybody's really friendly. So I'm learning a lot about myself in that sense.
On whom do you have an acting crush?
[William] Hurt. Just his whole body of work—how intelligent and focused and brave it is.
What was your worst survival job?
A guy told me once, he said, "Listen. Performing is the key to being a good actor. Guys who go to work as bartenders and waiters and things like that, they satisfy their performance instincts doing that kind of a job. What you want to do is a job where you're a little closed off. Drive a cab. You're one-on-one with people and you don't have a need to perform and you don't have any feedback from performing. You want to save your performance for when you're working [as an actor]." So I drove a cab for 10 years in New York.
What is your worst audition horror story?
They are all horror stories. Auditioning is a horror. I can't remember the name of the play, but there was a [character who was a] young guy, and everybody in New York went up and read for it. Every one of us, one after the other, went up and read for it. And we all thought, Who's gonna get this? Who the hell is gonna get this? And Peter Fonda was cast. He had never even been to New York! That was a horror story.
Like this post? Check out more of our Backstage 5 interviews!