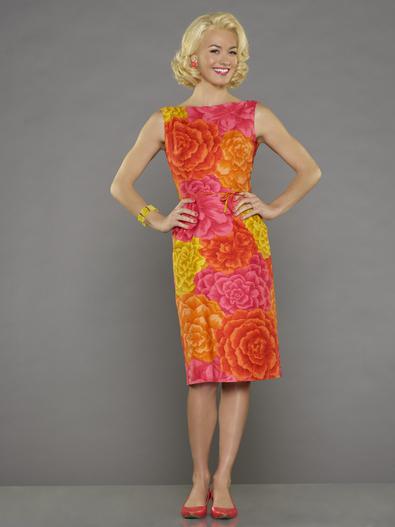 Getting her start opposite Zachary Levi on the Emmy-winning "Chuck," Yvonne Strahovski is now taking on another TV show: ABC's "The Astronaut Wives Club." The actor chats about playing a character based on a real person, her acting crush, and her love of the acting journey.
Tell us about "The Astronaut Wives Club."
It was my first time playing a real person who's actually still alive, so it was great to learn about that entire era. Being Australian and because of my age, it's not something I was too familiar with—the '50s and '60s and the space race that happened here in the States. It was wonderful to read all about that and then get to play in a period piece and wear all these fabulous costumes and be surrounded by these amazing sets!
What have you learned about yourself during this project?
Like with every project, you do new things, try out new things, and push your own boundaries. [This role] was more of a character piece than most things I've done. There was barely any footage or audio clips of these women but I was lucky enough to see a couple of pieces of Rene [Carpenter], and I really wanted to do something as close to her as I possibly could. It involved changing my voice a little bit and having a different accent and a whole different look, so it was about changing up the physicality and adding the wig. From everything I read about her, she had this sort of joy and brightness in her face and eyes. I tried to capture that as much as possible. Everything, layer upon layer, added to making Rene Carpenter.
What is your worst audition horror story?
The first thing that popped into my mind was having a terrible reader. You're trying to get into the scene and the casting director who's reading for you is just doing the most flat, unenthusiastic reading of their life. One time it was so bad that I think I just had this shocked look on my face the whole time. I was going, How is this even possible? How is this even OK? I remember walking out thinking there's no way I could've done a good job.
On whom do you have an acting crush?
The classic: Meryl Streep. From an early age I've always had a big acting crush on her.
What do you wish you'd known before you started acting?
With this role, I wish I'd had a chance to meet Rene. In general, I don't know if I can answer that. I was acting since I was a kid, going to drama classes and being involved in every school play and musical that I could get my hands on, so it was something that was a part of me from a very early age. It has always felt like a very organic process and an ongoing journey; that's what I've loved about it, the journey. That's the joy of it, not knowing certain things and discovering them along the way. I imagine that happens until the day you die.
What was your worst survival job?
I've been lucky enough to never have to do that here in the States. It's, like, your classic journey from a drama school. I went straight to the three-year acting degree and I waitressed throughout that to support myself and for the first six months after I graduated. Then I started to get commercials here and there, and then I got a couple of roles in Australia and then a more regular role on a TV series. I'd gone from waitressing to a Gold Class cinema where you're a server of the cheese plates and the wine inside the theater. I didn't love that job. Then I got a role and thought, Great! I don't have to do this anymore! I loved the fact that I could quit.
How did you get your SAG-AFTRA card?
That was through "Chuck," which was my first gig here in the States. I appreciate now how difficult it is for a lot of people to get that card and how necessary it is, but at the time I had no understanding of that. I had come here from Australia; I was supposed to be here for two months but ended up staying and never returning. And here I am eight and a half years later.
How do you typically prepare for an audition?
I prepare as if I've got the job already. So I put in the work and the hours to go through it and sit with it, marinate on it; I think about it a lot. I try to be off-book for the most part, as much as possible, and usually I am. That's the way we're trained to do auditions in Australia—you're off-book for everything. Here you get to hold the sides and it's OK and it's comforting. I love treating [auditions] as an acting exercise. Even if I know I'm not right for the part and it probably won't go my way, it's good to keep the creative juices flowing. It's kind of like homework.
Which of your performances has left a lasting mark on you?
They all do in some way, shape, or form, always. You put everything into a role and a part of it stays with you. But I think out of all of them it would probably be Lorna Moon in "Golden Boy." It was such a challenging role and a challenging play, at that. I had come from theater training in Australia and trained for three years. And then I came here and I got that role on "Chuck" and the SAG card, and I just did camera work. Seven years went by before that Broadway opportunity opened up to me, and I was terrified. I thought to myself, I'm not sure if I can be on a stage anymore. I wasn't sure if I even still had the mechanism in me to do it. It was emotional to audition and go through that process and not be sure how it was going to work out. I was convinced I'd failed miserably [in the audition]. Obviously I hadn't, and then to get the role, that was exhilarating but so terrifying and daunting at the same time. Being the only Australian in a cast of amazing people, Americans who were familiar with this play, and I was not. I had to familiarize myself with the play and the era. The accent was a very specific 1930s New Jersey accent. I walked away from that experience having so much admiration for actors who do [shows for] so much longer. I call it my zen experience. You have to go into some kind of zen mode to get up there and do it on repeat every night.
Like this post? Check out more of our Backstage 5 interviews!