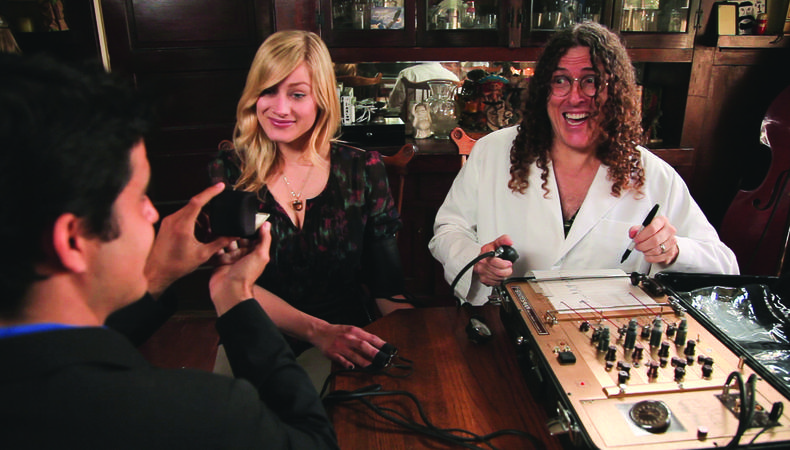 When it comes to digital content, there's no question that we prefer to be entertained quickly, concisely, and on the go. Whether we're commuting on the subway, trying to dodge conversation with others, or desperately seeking a few laughs while waiting to be called in for a scary audition, we want something that gets to the point and gets the job done.
Thankfully, there's an entire collection of videos dedicated to wasting time (but not very much of it) in the form of 5-Second Films, a production company–series developed and produced by USC filmmakers that aims to execute a full-fledged joke and concept within just a few seconds.
Since its launch in 2008, the L.A.-based 5-Second Films has made a huge impression on Internet consumers; with a new one released each weekday, its collection of over 1,400 films has garnered more than 115 million views on YouTube, and some have appeared on "Tosh.0" and "Attack of the Show!"
Initially created by Brian Firenzi as a filmmaking experiment, the videos have since brought on a staff of actors, writers, and directors, including Ben Gigli, Michael Rousselet, Michael E. Peter, Jon Worley, and Alec Owen, who work rigorously to bring weird, silly, and delightfully hilarious ideas to life.
"5-Second Films is meant to be a weird universe with unsettling rules and a lot of death and mayhem," says Gigli, whose onscreen 5-Second Films roles include an alleyway murderer in "The Ransom," the devil in "The Devil's Delorean," and friendly alien lord Gorlac in "Coming of Age."
"It started out very informally, and we just wanted to make funny movies because it's something fun to do on the weekends," he continues. "This was before YouTube was a destination [where you could] go and put up videos and become popular. So we built our own website and went from a thousand people watching our videos to hundreds of thousands of people. [At that point] we started to get more serious, put together an actual company, and started thinking about it more strategically."
When it comes to whittling an idea down to a video's short duration, the challenge has lessened over time. "I think we're pretty good at being able to hear an idea and know whether or not it will work in five seconds," says Rousselet. "[We've also learned] how to say a sentence and remove syllables to create faster phrasing."
As the videos gained focus and momentum, their creativity and hilarity impressed comedian-writer-actor Patton Oswalt, who tweeted out his praise for 5-Second Films—which led to his star turn in 2011's "The Final Battle." Other past guest stars include musicians Andrew W.K. and "Weird Al" Yankovic, as well as comic book writer Stan Lee. Additionally, the group has given lectures at Pixar and several colleges and festivals.
"The main thing we say to people is to have a voice and be true to your voice," says Peter, whose credits include "Weird Owl" and "Guilt Food," among others. "Because if you try to rack your brain for something that you think people will like, or something that will go viral, nobody's going to connect to that.
"But if you make something that's an honest reflection of what you like or what you want to do," he adds, "people will respect that and connect with it."
Like this story? See more of our Now Streaming articles here!