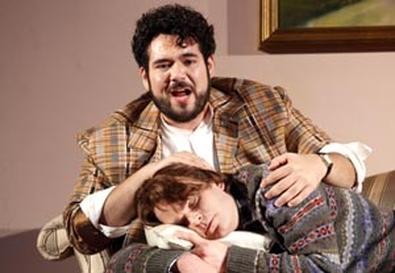 Why must Americans always savage their geniuses? Leonard Bernstein's last two musical theater pieces—"1600 Pennsylvania Avenue" and "A Quiet Place"—both received scabrous reviews in their initial engagements despite containing much to admire. The Philadelphia notices doomed "1600," created for the commercial theater, to a panicked evisceration that ensured that what briefly played Broadway had nothing to do with Bernstein's original intentions. "A Quiet Place," created for the opera house, got better revisions, because it didn't have to make money. Nevertheless, it has taken nearly a quarter of a century to reach New York City. Yes, it's flawed. Yes, it's long. It's also by the greatest stage composer America has yet produced. For anyone serious about the American musical theater, it's essential viewing.
The opera is a sequel to Bernstein's 1952 jazz-inflected opera, "Trouble in Tahiti," which is incorporated as flashbacks and tells the story of the troubled marriage of Sam and Dinah, an upper-middle-class couple withering away in suburbia. Thirty years later, Dinah has died in a drunken car crash, a possible suicide. At her funeral, we hear the guests' often banal, self-involved thoughts intermingled with questions and reminiscences. Sam and Dinah's children, long estranged from their father, arrive late. Junior is 40, gay, and mentally disturbed. He is cared for by Francois, his French Canadian lover, and his younger sister, Dede, who has married Francois. They're a pretty dysfunctional crew, and Sam and Junior are at each other's throats as Act 1 ends. Act 2 has the family at home going through Dinah's things as they search for ways to reconnect. Act 3 shifts to Dinah's beloved garden, now gone to seed, where Sam, affected by reading his wife's diary, makes one last attempt to accept and love his children.
Bernstein's eclectic, theatrically savvy score, incorporating everything from 12-tone rows to pastiche pop, is deeply felt. Highlights include Dede's manic description of driving to the funeral through the Vermont fall foliage, Sam's explosion at his children after the mourners have gone, and Dede's soaring aria about Dinah and her garden. There's also a moving postlude ending Act 1, played as Junior, left alone, cradles his mother's coffin, and a searing, searching prelude to Act 3 that seems to express musically the family's struggle to break with the past.
The opera's Achilles' heel is librettist Stephen Wadsworth's insufficiently developed characters. We never know enough about anyone to empathize sufficiently with a whole host of bad behavior. Though clearly Junior's homosexuality is a central source of family tension, the topic goes virtually unexplored, while his mental problems just seem like overkill. The impossibly nurturing Francois comes off as too good to be true, and his sudden discovery of love for Dede feels arbitrarily imposed. Sam is probably the most successful character, but that's due to the vivid writing of him in "Tahiti." Ultimately, emotion too often smothers intellect.
Director Christopher Alden smartly gives the piece a stylized staging, which helps mitigate the lack of character specificity. He's particularly successful with how the "Tahiti" sections intersect with the present-day story, darkening that work with the shadows of the future. In general, New York City Opera's performers are stronger singers than actors, though some acting performances stand out, including Sara Jakubiak's free-spirited Dede and especially Joshua Hopkins' addled Junior. Hopkins adeptly shifts in and out of mental distress and keeps Junior sympathetic, even in his worst moments. In smaller roles, Christopher Feigum nails the self-satisfied, macho younger Sam, and Victoria Livengood makes a strong impression as a mourner with no time for insincerities.
Jayce Ogren conducts the excellent orchestra with both dramatic and musical acuity, beautifully serving Bernstein's richly imaginative orchestrations (done with the assistance of Sid Ramin and Irwin Kostal).
It's taken far too long for New York audiences to have a chance to experience this worthwhile if imperfect work. Now that it's here, all I can say is, bring on "1600 Pennsylvania Avenue."
Presented by New York City Opera at the David H. Koch Theater, 20 Lincoln Center Plaza, NYC. Oct. 27–Nov. 21. Schedule varies. (212) 870-5570 or www.nycopera.com.