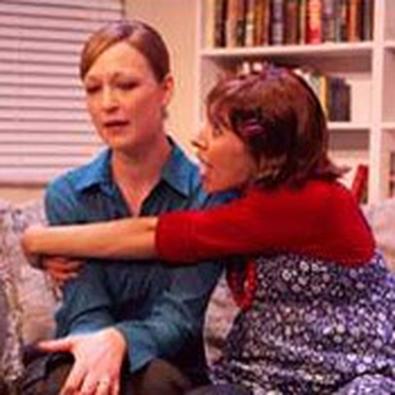 Skillful writing, acting of utter conviction, and directorial restraint converge in the Orange County premiere staging of David Lindsay-Abaire's 2006 drama. We're plunged into seemingly harmless everyday scenes of a lighthearted tone, skillfully disarming us. Bit by bit, we learn what's been eating away for the past eight months at 20-something sisters Becca (Jennifer Ruckman) and Izzy (Alex Bueno); Becca's husband, Howie (Jonathon Lamer); and the girls' mom, Nat (Karen Webster). Once the tragic backstory has been brought to light, it's impossible not to feel like a fly on the wall of moments so painful and so private, we feel guilty for hearing and witnessing them. Thus we can only empathize when the play's fifth character, a high school senior named Jason (Kevin Johnston), enters this circle as an outsider. The difference is that he is both a perpetrator and a victim, having been at the proverbial wrong place at the wrong time, causing a dreadful accident, the ripples of which affect him profoundly.
Backed by his creative team's subtle technical proficiency, Oanh Nguyen's superlative cast pulls off the script's dual demands, demonstrating effortless comic timing and dramatic chops of equal ease yet of considerable emotional impact. Though their personalities differ, one can see how the girls sprang from their mom. Bueno is like a younger version of Webster, who in turn is a talkative, opinionated older woman. Ruckman shows the strain that wears on the ever-practical Becca, intent on being the perfect wife, mother, sister, daughter, hostess, what have you. Her scenes with Lamer underscore the story's basic tension: a couple taking opposite approaches to processing grief. Johnston's Jason is a typical teen, as tentative and uncertain as the adults. Were that we could all climb through one of his "rabbit holes" to a parallel universe, leaving loss behind.
Presented by and at the Chance Theater,
5552 E. La Palma Ave., Anaheim.
Thu. 8 p.m., Sun. 7 p.m. May 11-Jun. 15.
(714) 777-3033. www.chancetheater.com.