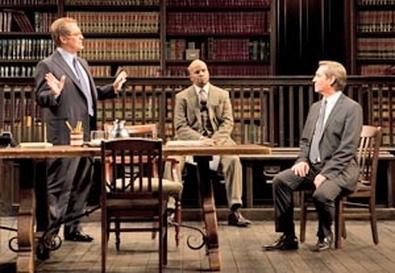 While not as explosive or profane as some of his previous works, David Mamet's "Race" skillfully examines a controversial topic and is sure to set off many a post-theatre discussion. But it's definitely a mixed bag: At times the dialogue feels like a debate between stick figures representing opposing points of view rather than real people in a situation reflective of our conflicted society. In addition, the setup is somewhat similar to earlier Mamet plays: As in "Oleanna" a revival of which just prematurely closed, a he said-she said dispute leads to a dangerous confrontation, and much like the plot of "Speed-the-Plow," a young female office worker who may or may not be more calculating than she appears comes between longtime business partners.
Those partners are white Jack Lawson and African-American Henry Brown, successful lawyers who are more concerned with winning their cases and earning fat fees than serving the truth--a concept they openly mock. Their latest prospective client is Charles Strickland, a famously wealthy white man--the source of his riches is never revealed--accused of raping a black woman. He claims the sexual encounter was consensual, and the story has enflamed the public. In the background and gradually moving to center stage is Susan, a young African-African trainee under Jack's tutelage with an agenda of her own.
As the case develops, unflinchingly honest observations of the state of race relations in America--as well as class and sexual conflicts--are batted back and forth like shuttlecocks. "Do you think black people are stupid?," Susan bluntly asks Jack. "I think all people are stupid. Blacks are not exempt," he replies just as bluntly. Political correctness takes a beating, as does affirmative action.
There are plenty of pointed and thought-provoking exchanges, and the play's structure is sound. Several casually mentioned details later take on great significance. But Mamet, who also directs with a sure hand, fails to get beyond the editorializing to create characters with whom we can identify. Such identification may not be his intention, but it makes "Race" more a political tract than a compelling drama.
The four-person cast does its level best to fill in the blanks Mamet has left. James Spader's Jack has more layers than the typical Mamet alpha male. He can butt heads with the best of them, but he's also aware of his boorishness and doesn't necessarily wish to embrace it. David Alan Grier finely tunes Henry's anger and does wonders with his daggerlike lines. Kerry Washington conveys Susan's cunning and determination with subtlety. Richard Thomas has a relatively brief role as Strickland and makes the most of it.
Presented by Jeffrey Richards, Jerry Frankel, Jam Theatricals, JK Productions, Peggy Hill and Nicholas Quinn Rosenkranz, Scott M. Delman, Terry Allen Kramer/James L. Nederlander, Swinsky Deitch, Bat-Barry Productions, Ronald Frankel, James Fuld Jr., Kathleen K. Johnson, Terry Schnuck, the Weinstein Company, Marc Frankel, Jay and Cindy Gutterman/Stewart Mercer at the Ethel Barrymore Theatre, 243 W. 47th St., NYC. Opened Dec. 6 for an open run. Tue., 7 p.m.; Wed.–Sat., 8 p.m.; Wed. and Sat., 2 p.m.; Sun., 3 p.m. (No performance Thu., Dec. 24 and 31; additional performances Sun., Dec. 27, 7 p.m., and Mon., Dec. 28, 8 p.m.) (212) 239-6200, (800) 432-7250, or www.telecharge.com
Casting by Telsey + Company.