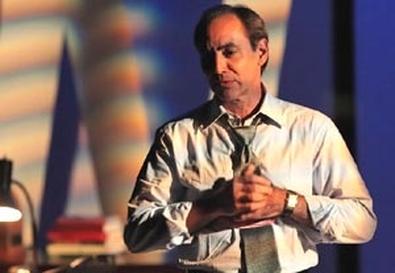 Playwright Warren Bodow's program bio says he "comes to playwriting as a second career," having spent more than 30 years in radio station management, "most notably as president of New York classical station WQXR." On the evidence of "Race Music," giving up his day job may not have been the most advisable decision.
Set in "a large Midwestern city in 1999," the play centers on 20-something Lebron Malek, a young African-American man who loves classical music and applies for a job opening as an announcer at the only classical radio station in town. Unfortunately, the station owner, Harvey, is a blatant racist who, in an unbelievable act that could easily expose him to serious legal problems, tells Lebron point blank that he doesn't hire blacks. Undaunted, the absurdly optimistic Lebron tries one trick after another to change Harvey's mind, supported by his loving mother and aided by Harvey's young, attractive Latina assistant, Caroline. Sam King, a local Jewish music store owner with mysterious ties to Lebron and his mother, surfaces to further complicate the already overburdened plot. Eventually, Harvey's racism is explained away with a ridiculously reductive backstory that trivializes this very real issue, and all ends happily.
Bodow's dialogue is often trite and banal, particularly in a prolonged scene between Sam and Lebron's mother in which he pleads with her to resume a romantic relationship the two shared 20 years prior. Characters turn on a dime without persuasive dramatization. Exposition is inartful and often introduced far too late. Themes are awkwardly and bluntly stated, flying unpersuasively from the characters' mouths.
Only Teresa Stephenson as Caroline manages to surmount the amateurishness of the writing, keeping her character crisp and grounded. Penelope Lowder as Ms. Malek hits some resonant notes but is saddled with too much turgid sturm and drang to do much more. Brandon Jones' Lebron remains admirably focused even when the script isn't. Chris Ceraso does his best to make Harvey believable and not a villain. As Sam, Kevin Kelleher seems utterly at sea and about as Jewish as a leprechaun. Julia Sun's walk-on character is a tired device that director Victor Lirio should have insisted be excised.
Diverse City Theater Company has given the play an attractive and professional production, with Maruti Evans' simple set particularly effective under his cool, color-shifting lights. Arnulfo Maldonado's costumes are true to the period and character, but he errs in allowing characters to appear in several successive scenes in the same clothing even though it is days or possibly even weeks later.
As admirable as Bodow's intentions clearly are, "Race Music" is sadly out of tune.
Presented by Diverse City Theater Company at the Beckett Theatre, 410 W. 42nd St
.,
NYC. Sept. 5
–
19. Tue
.,
7 p.m
.;
Wed
. –
Fri
.,
8 p.m
.;
Sat
.,
2 and 8 p.m
. (
212
)
279-4200 or www.ticketcentral.com
.