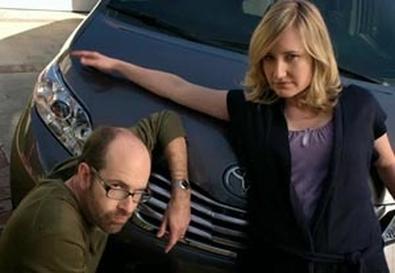 Casting directors can't ask actors to improvise.
Brian Huskey
and
Rachael Drummond
do it anyway.
"I always try to do a little bit of improvising just to let them know what I can 'bring to the table,'" Huskey says.
However, at their audition for the
Toyota Sienna
"Daddy Like"/"Mommy Like" campaign, they were required to improvise—callbacks were paid to get around the SAG rules—a skill both know well.
"That was a little bit different," Drummond says about being asked to improvise.
Huskey landed the audition through his work in shorts on
Funny or Die
and Will Ferrell movies, while Drummond's weekly performing team at
iO West
and training with
The Groundlings
and
Upright Citizens Brigade
didn't hurt.
Despite the tight-knit community of improvisers, the two had not met before the first day of shooting.
"People kept asking us if we worked together before," Huskey recalls. "We are both well-trained enough to know you go into a scene with these tools of agreement. Also, we understood our characters."
And so the self-proclaimed best parents ever were born, turning the mom mobile into the hot ride for parents with every snarky comment. The hilarious campaign boasts a slew of television and web spots and a viral hip-hop video—"Swagger Wagon" —that has nabbed almost 10 million YouTube views.
But Huskey is quick to iterate that improvising does not mean the actors come up with all the dialogue.
"People credit me with coming up with 'swagger wagon,' but I think it's something that one of the writers suggested," Huskey says. "People are like, 'Oh, you improvise, so you came up with everything,' but there would be none of this without the writers."
"They had a script that they wanted us to stick to and play with," Drummond adds. "They knew that they wanted someone who thinks they're cooler than they are."
Creating characters for the Sienna campaign was not unlike creating characters for a TV series. "This one had to be on par with like doing a character for a show," says Huskey, adding that some fans suggested the Sienna family land its own sitcom—the way the Old Spice Guy, Isaiah Mustafa, signed a talent deal with NBC.
Both Huskey and Drummond say doing the campaign has given them another positive point of reference when they go in to audition. "If you get a campaign on that level, it sort of makes you network viable," Huskey suggests. While the two might not be immediately associated with the brand, casting directors regularly recognize them.
And for those actors who knock working in commercials, Huskey has something to say.
"People are savvy enough to know if you're funny in this commercial, you're funny," he says. "And I'll punch those people. I'll punch them right in the chest."
Watch the Swagger Wagon music video below:
To watch more Daddy Like/Mommy Like spots, visit the
Sienna Family YouTube channel
.