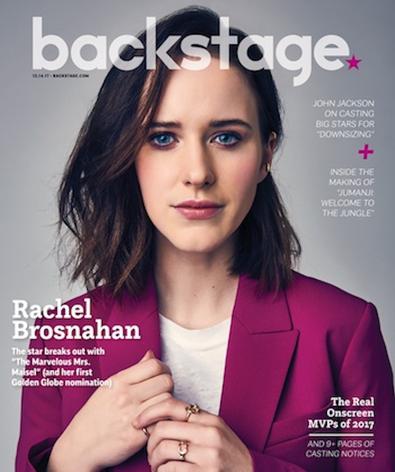 In preparation for the first leading role of her career, Rachel Brosnahan looked to an unlikely place for guidance: amateurs.
She needed insight into the mindset of a raw, up-and-coming comedian, like the one she's currently playing on Amazon's Golden Globe–nominated series "The Marvelous Mrs. Maisel." She had to see how they worked: how they delivered a punch line or received spotty laughter, who they addressed in the audience, how they held the mic and introduced themselves—or didn't. She frequented comedy clubs all over New York City to see what it looked like when someone got onstage for the first time.
To clarify, Brosnahan does not do standup. "That is a world that's wholly unfamiliar," she admits. She's never dabbled in comedy or even taken an improv class, a prospect she still describes as "nerve-racking." But the role of Miriam "Midge" Maisel, a perfectly coiffed Upper West Side housewife-turned-comedian in 1958, written by "Gilmore Girls" creator Amy Sherman-Palladino, was a spot outside her comfort zone too good to pass up. At 27, the actor had found a home in the dramatic, taking on iconic theatrical roles like Shakespeare's Desdemona and modern tragic figures like Rachel Posner on "House of Cards." To do Midge justice, Brosnahan had to open herself up, both in her experience and her training. "Midge is nothing if not open," she says. "She's the most unapologetically confident woman I've ever played. So, for me, feeling like I was well prepared with the dialogue and the text, trying to remain relaxed and open, was something that helped me find that confidence even when it was a struggle for me, personally. Midge doesn't struggle in the same way that I do."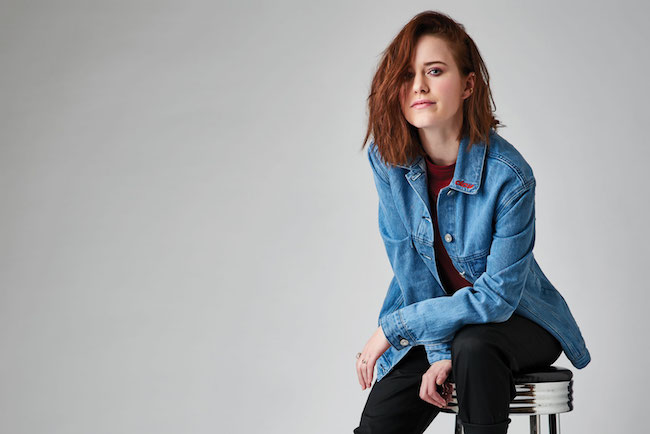 To be fair, the comic doesn't struggle with much. In her personal game of Life, Midge has won. She's graduated from her girlhood dream school, Bryn Mawr College, and made a family with two kids, a boy and a girl, alongside her gainfully employed husband, Joel (Michael Zegen). He's even cool enough to have a hobby doing comedy downtown at Greenwich Village's real-life Gaslight Café; she supports him by taking notes and bringing brisket to the club owner for a better stage time. Their apartment, situated just above her parents' (Tony Shalhoub and Marin Hinkle), is as swanky as her period-appropriate A-line dresses are impeccable, and after five years of trying to get the rabbi to forgive her for serving shrimp at her wedding, he's finally coming to dinner for Yom Kippur.
The balance of domestic bliss topples by the end of the first episode when she finds out her husband has been stealing Bob Newhart's jokes for his standup routines and is leaving her for his dimwitted secretary, Penny. So Midge does what Midge does best: She talks (this is a woman who gave a toast at her own wedding, mind you). After downing an entire bottle of Manischewitz, she vacillates between rage and bemusement, laughing at the crumbling façade of her life in front of a bewildered Gaslight audience. By the end, she's topless, declaring, "Penny Pann can't compete with these tits," and is carted off to jail. It's a watershed moment of blistering honesty that prompts the club's talent manager, Susie (Alex Borstein), to take her on as a standup client.
That scene's nearly five-minute monologue was one of three Brosnahan auditioned with, alongside the toast Midge gives at her wedding and her breakup scene with Joel. Brosnahan recalls feeling like she'd ended her career after her first audition, but they called her in for a screen test. The dialogue totaled 15 pages of Sherman-Palladino's signature style: whip-smart and delivered just as quickly. On a good day it would have been difficult, but just before meeting Sherman-Palladino and co-creator Dan Palladino for the first time, "I contracted the plague," Brosnahan says with a laugh. "When I arrived in L.A., I was a walking Petri dish." She kept blowing her nose and powdering her face. She was sweating so much her makeup was melting, and her shoes kept sliding off her feet. "I changed the ecosystem in that room. It was disgusting. But, you know what? I left feeling like I left it on the table. There was nothing else I could have done. I rallied harder than anyone has ever rallied before, and here we are."
READ: 10 Tips for a Winning Audition
Brosnahan's career thus far seems to have prepared her for moments like these. She was still a 21-year-old student at NYU when she was cast as Rachel, the ill-fated, high-end escort and subsequent White House pawn on Netflix's "House of Cards." Her unflinching chemistry with co-star Michael Kelly prompted creator Beau Willimon to expand her part from several lines to several episodes that spanned two seasons and culminated in a heartbreakingly grim finale. It landed her an Emmy nomination and opened the door for parts on series like the oft-overlooked "Manhattan" on WGN and Joachim Trier's film "Louder Than Bombs."
Growing up on the North Side of Chicago, Brosnahan began acting in theater, saving up babysitting money to attend Broadway boot camp and later turning down a CBS pilot to perform onstage at Steppenwolf. After a small role in a horror movie that soured her on the big screen for a while, she attended and trained in the Method at the Lee Strasberg Theatre & Film Institute. The training was valuable not just for Midge's character development (she studied Joan Rivers, Lenny Bruce, Jean Carroll, Phyllis Diller, Moms Mabley, and Don Rickles, "the OG insult comic," as well as the 1950s' shift in comedy from vaudeville to storytelling), but also in helping her stay calm with the fast pace—and word-perfect nature—of the series and script. Tension is the "occupational disease of the actor," said Stanislavsky, and Brosnahan often found herself using the Method's relaxing technique to consciously release her tension. As a result, she brings an unwavering presence to the role, making her the perfect fit for someone like Midge, a young woman armed only at first with a bullheaded naiveté that quickly gives way to well-earned gall. At a time when revered male comedians are falling from grace for their transgressions against women, the timing for a re-examination of comedy from the feminist perspective—with a kick-ass lead to boot—feels especially apropos, and who better to lead it than a young up-and-comer?
When asked who else she channeled for Midge, Brosnahan pulls out her cellphone. She shows me pictures of her grandmother June on her wedding day in the '50s. An elaborate floral appliqué creeps up her shoulder as she smiles, surrounded by bonneted bridesmaids. "Just looking at photos of her and knowing who she was when I knew her and the kinds of stories that people tell about her, she was bold and sometimes brash," Brosnahan explains. "But, also similarly to Midge, she really enjoyed performing women. She loved Jackie O. She had a fabulous sense of style."
After emerging from the "Maisel bubble," as she calls it, with its meticulously crafted sets and corseted costumes—"One of the many struggles that women faced at that time: I couldn't pee! We'd have to hold the whole production for 15 minutes and bring, like, three assistants with me into the bathroom to lift up all the petticoats"—to press premieres, photo shoots, and magazine covers, Brosnahan is still wrapping her head around being able to officially call herself an actor. "This was one of those weird moments where I was like, Oh, my God, I'm an actor now," she says of our interview. "I'm an actor. I can go on Backstage." Fans of her work knew it long ago, but for everyone else, "Maisel" has made it official: Rachel Brosnahan's an amateur no more. She's an actor.
Check out Backstage's TV audition listings!
Styling by Sarah Slutsky. Suit jacket by Theory, T-shirt by Frame, ear cuffs by Valani, rings by Gillian Steinhardt. Jean jacket and tank by Être Cécile, trousers by Tome, shoes by Frances Valentine, ear cuffs by Valani, rings by Gillian Steinhardt.