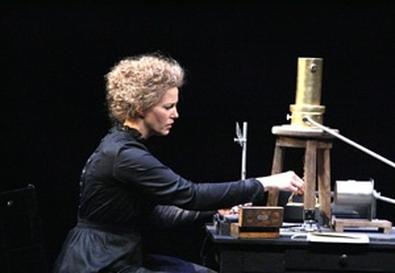 Graceful, adept, intriguing, thoughtful, artistic, poetic—this world-premiere script by Alan Alda, directed by Daniel Sullivan, has much to recommend it. What does it seem to lack? Passion. Iconic scientist Marie Curie fought against xenophobia and misogyny while pioneering studies in radioactivity. First with her husband, Pierre, and then alone, she went where few scientists and no women had gone before, earning two Nobel Prizes and plentiful other forms of recognition.
But her battles, her breakthroughs, her life—which we wouldn't mind being theatrically exposed to—seem clouded by metaphors here, although those metaphors are lovely and relatively moving in their own right. The chemistry of the invisible (understanding love), lighting the darkness (overcoming intolerance), isolation and purity (being a woman in a man's world)—these are the concepts with which Alda paints. Unfortunately this Marie is shades of gray, not particularly helped by a too-ambivalent though technically excellent performance by Anna Gunn.
Also proving more puzzling than enlightening is the oddly disappeared Pierre (John de Lancie's abundant talents lurking helplessly at the side of the stage for far too much of the play). Slightly less necessary onstage are mathematician Émile Borel (Hugo Armstrong) and his wife (Natacha Roi).
So it's left to two supporting characters to provide the passion. Suffering a mild case is Paul Langevin, the French physicist who adores Marie from afar in Act 1 and becomes her lover in Act 2. As Dan Donohue plays him, his unrequited adoration has charm and promise. But after Marie and Paul unite, we can only presume sparks have flown. So the fireworks are left to Paul's harridan wife, Jeanne, portrayed remarkably truthfully by Sarah Zimmerman. We're probably meant to not like Jeanne: Unhappy with her husband's career choice, she picks ever-expanding fights with him, publicly reproaching him for being who he is. And yet, hours after the play is over, she is the character we remember. Also creating a fire in a modern-day audience are the two characters played by Leonard Kelly-Young: one a pesky journalist and the other a patronizing president of the academy.
Enhancing the production are Thomas Lynch's scenic design of a textured back wall and a few effective pieces of furniture; John Boesche's projection designs that create French country homes, leafy gardens, and a train speeding through rain; and Daniel Ionazzi's lighting that is, in a word, radiant.
Presented by and at the Geffen Playhouse, 10886 Le Conte Ave., L.A. Nov. 9-Dec. 11. Tue.-Fri., 8 p.m.; Sat., 3 & 8 p.m.; Sun., 2 & 7 p.m. (310) 208-5454. www.geffenplayhouse.com.