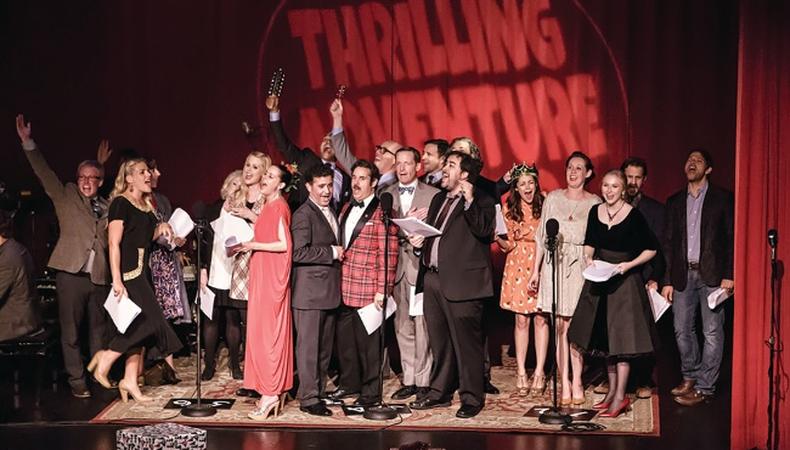 Audio plays. Fiction-based podcasts. Radio drama for the 21st century.
Whatever you want to call it, there's a growing trend among radio fans and podcast listeners: Actors lending their voices to innovative, original writing. When asked about the proper term, Ben Blacker, co-creator of the podcast and old-time radio parody show "The Thrilling Adventure Hour," says, "We've always just thought of it as writing.
"Radio theater, or whatever you call it, is again becoming a genre like it was in the '30s and '40s. All the lines are getting blurred; TV shows are on Netflix, which is not a TV station. We get to call these things what we want."
That self-actualizing attitude characterizes a genre that has unexpectedly flourished in the age of DIY technology and marketing. It's a rich new frontier for both writers looking to share their stories for cheap, and the actors telling those stories.
The monthly "Thrilling Adventure Hour," which just ended a successful 10-year run, began when Blacker and fellow creator, writer, and producer Ben Acker invited some performers to their living room to read their screenplay aloud. It occurred to them that a live stage show doubling as an audio podcast would remove some of the laborious logistics of film.
Or, as Acker puts it, "The radio conceit meant we could straight-up exploit our actor friends." Booking performers in Los Angeles' alternative comedy scene—including Paget Brewster, Busy Philipps, and Joshua Malina—was easy: "They don't have to memorize anything, there's no blocking. [We could] get something on its feet in front of any audience and get our chops writing every month."
Blacker adds, "Ben and I were young and dumb and that's why we started doing it. We made a show we wanted to see."
A similar imaginative spark led Jonathan Mitchell to create "The Truth," an award-winning audio drama series that he calls "short films without pictures." From its pilot episode imagining the Apollo 11 mission ending in tragedy to a surreal journey through a literal dream date, the show has enraptured audiences who tune in once every two weeks, and has been rebroadcast on several radio programs, including "This American Life."
"I've always felt that whether it's fiction or nonfiction, it doesn't matter as long as it's a good experience," says Mitchell, a composer who crossed into radio production. Today's recording technology and social media make producing podcasts relatively easy, he explains. "What's hard is having a good idea and strong performances.... If you have all those things, you press a button and the world has access to it."
What about the performance aspect? In Mitchell's case, it helps to be involved in the improvisation scene at New York's Magnet Theater; much of the dialogue on "The Truth" is improvised and later edited. "I want things to sound authentic and realistic, more like a film than a stage show. Just like in film, where an actor's look can convey a character, in audio an actor's voice is very important. I like things that feel like I'm eavesdropping on someone."
Artists interested in this new medium should start producing their stories now, adds Mitchell. "The overall numbers for podcasting are large enough that advertisers are paying more attention."
"Every creative act these days is about creating community and then being an important member of that community," says Acker. "And putting it out in the world is a way to get better at putting it out in the world."
No one has yet matched the breakout success of last year's true-crime podcast "Serial"—who will produce the fictional equivalent? As Acker says, only half-joking, "Tell the story you want to tell; there's no reason not to. Unless you're a chicken."
Inspired by this story? Check out our voiceover audition listings!