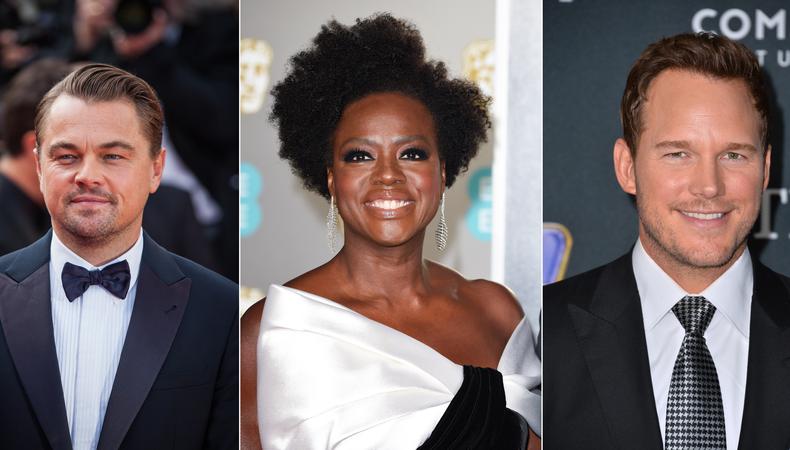 Watching some of our favorite actors give knockout performances in an acclaimed TV series or film, or taking the stage to accept an award statuette, it's easy to think they always had a life of glamour.
However, many of today's biggest stars, like Viola Davis and Leonardo DiCaprio, have had to turn adversity into success. We've rounded up 10 such actors below who have spoken about their struggles growing up in poverty and broken homes. If you have doubts about your own future in the arts—especially in our current uncertain times—take solace in knowing that some of the actors you look up to came from humble beginnings. Check out these inspirational stories of overcoming financial hardship.
Leighton Meester once told Us Weekly that her mother, Connie Meester, was pregnant with her while in a Texas prison. Connie was arrested for assisting in a drug ring that was smuggling marijuana out of Jamaica. While Meester ended up being born in a hospital, Connie went behind bars for 16 years after giving birth. Meester spent her childhood in Florida before heading to Los Angeles to pursue the acting career that would lead to "Gossip Girl" and "Single Parents."
Jim Carrey on "Inside the Actor's Studio" told James Lipton about a turbulent childhood that led to him dropping out of high school at age 16 to help with family finances. His father, a saxophone player, worked as an accountant to make ends meet, but it often wasn't enough. Carrey worked in a factory eight hours a day, which made him want to "bash somebody's head in," he has said. Ultimately, Carrey was able to channel his depression into stand-up comedy that launched the journey toward his brilliant screen career.
Tom Cruise told Parade that growing up, he dealt with an abusive father after his mother, Mary Lee South, left when Cruise was 12. His father had moved the family to a dozen different cities. In spite of this childhood, he began pursuing his interest in acting at age 5 and landed his first role opposite Brook Shields in the film "Endless Love." "I was the kind of kid who wanted adventure," Cruise said in the interview. "I craved it."
Viola Davis spoke to People about her time growing up in poverty in Rhode Island and how those struggles took a toll on her mental health. "It was hope and dreams that made me put my feet on the floor every morning and just approach every day with a sense of enthusiasm," the award-winning "How to Get Away With Murder" star told the magazine. "It was my fight or flight that kicked in."
Chris Pratt once shared on his Facebook page a photo of the van he lived in while residing in Hawaiʻi. The caption read: "This is the van I lived in!!! In my hand is the script for the movie that got me out of Maui. Crazy." The "Guardians of the Galaxy" and "Jurassic World" star spoke to Entertainment Weekly about his days in the van post-high school, saying he "set up camp and lived the dream."
Joaquin Phoenix opened up in a 2014 issue of Playboy about his childhood spent traveling through Central and South America with the religious cult Children of God, which later was accused of sexual misconduct from former members. Phoenix's parents disaffiliated with the cult, moved to California, and by age 6 the actor was signed to a talent agency and began the ascent of his career all the way to an Oscar win for "Joker."
Mila Kunis spoke to the Los Angeles Times about her family's poverty when they moved from Ukraine to L.A. in 1991 with only $250 to their name. After the move, Kunis struggled to acclimate to American culture, saying, "I cried every day. I didn't understand the culture. I didn't understand the people." Despite her family and personal situation, she desperately wanted to act and found early success in commercials before landing her breakthrough role on "That '70s Show."
Jennifer Lopez, in an interview with W Magazine, revealed she was homeless at age 18. She fought with her mother over her desire to pursue a career in show business, eventually moved out, and ended up spending nights on the sofa in her dance studio. "I was homeless, but I told her, 'This is what I have to do,' " Lopez recalled. It wasn't long until she landed a gig dancing in Europe, and within a year her career as a superstar was taking off in L.A.
Leonardo DiCaprio, in an interview with the Los Angeles Times, revealed he grew up in a home struck with poverty and surrounded by drugs. This is part of what later drew him to the role of Jordan Belfort in Martin Scorsese's "The Wolf of Wall Street." "It came from the fact that I grew up very poor, and I got to see the other side of the spectrum," he said. DiCaprio made a Hollywood name for himself at a young age and managed to avoid the wild excesses of the industry.
Halle Berry, speaking to People, reflected on her time living in a homeless shelter in New York City. Upon arrival, she had some money from a modeling gig but quickly realized she wouldn't be able to stretch those dollars. She called her mother for financial help, but she refused, which caused a rift in their relationship. Looking back, however, the Oscar winner said, "That's probably one of the best things she did for me.... I had to work it out."