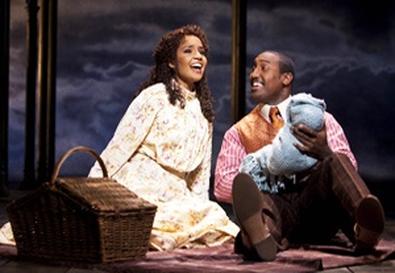 In a season full of star vehicles, the revival of "Ragtime" rides onto Broadway with nary a box-office name and steamrollers its way to the top of the heap. Marcia Milgrom Dodge's stripped-down production, transferred from a hit engagement in Washington, D.C., imparts the musical's historic sweep and its intimate story of lives caught up in the ceaseless movement of events. The original 1998 production was a vast pageant on the enormous stage of the Ford Center (later renamed the Hilton Theatre). Now, in the relatively more intimate Neil Simon Theatre, Dodge's staging focuses on the interactions of three families coping with rapid changes in the American landscape at the dawn of the 20th century.
Though that first production remains fresh in my mind, this edition finds new spark and vibrancy. The script by Terrence McNally and the lush and moving score by composer Stephen Flaherty and lyricist Lynn Ahrens eschew the cool, detached tone of E.L. Doctorow's original novel for a somewhat sentimental flavor. Dodge has fully and honestly embraced that sentiment. As a result, this "Ragtime" makes a deep emotional connection with the audience.
That connection is strongest with Quentin Earl Darrington, a bear of a man with a soaring voice. His Coalhouse Walker is rougher than Brian Stokes Mitchell's original, but Darrington conveys a shattering dignity and tragic heroism, and, despite his bulk, he moves with a graceful elegance. As the strong-willed Mother, Christiane Noll clearly details every step of this woman's journey from protected housewife to self-aware individual. During her intense delivery of "Back to Before," you can feel her uncertainty changing to conviction as she realizes that her world has changed forever, and for the better. Bobby Steggert captures the reckless passion of Mother's Younger Brother. Ron Bohmer prevents the stuffy Father from becoming a stiff by remembering that this convention-bound man loves his family and is confused by the seismic shifts of society. Likewise, Robert Petkoff makes the complex figure of Tateh, the immigrant peddler, both a tender parent and a wily schemer.
Stephanie Umoh has the most difficult task, as she is battling the memory of the stellar Audra McDonald as the ill-fated Sarah, Coalhouse's lover. While she does not reach the heights of McDonald's Medea-like performance, Umoh powerfully conveys Sarah's painful rejection by Coalhouse and gives a piercing rendition of "Your Daddy's Son," Sarah's aria of anguish. There are also valuable contributions from Eric Jordan Young as the earnest Booker T. Washington, Donna Migliaccio as a steely Emma Goldman, Jonathan Hammond as a dashing Harry Houdini, and Savannah Wise as the delectable Evelyn Nesbit.
With the aide of Donald Holder's painterly lighting, Derek McLane's factorylike three-tier set becomes suburban New Rochelle, jazzy Harlem, the grimy Lower East Side, and breezy Atlantic City. Santo Loquasto's detailed period costumes are characters in themselves and add the finishing touch to this rich tapestry of Americana.
Presented by Kevin McCollum, Roy Furman, Scott Delman, Roger Berlind, Max Cooper, Tom Kirdahy/Devlin Elliott, Jeffrey A. Sine, Stephanie McClelland, Roy Miller, Lams Productions, Jana Robbins, Sharon Karmazin, Eric Falkenstein/Morris Berchard, RialtoGals Productions, Independent Presenters Network, Held-Haffner Productions, HRH Foundation, and Emanuel Azenberg, in association with the John F. Kennedy Center for the Performing Arts, at the Neil Simon Theatre, 525 W. 52nd St., NYC. Nov. 15–Jan. 10. Tue., 7 p.m.; Wed.–Sat., 8 p.m.; Wed. and Sat., 2 p.m.; Sun., 3 p.m. (No performance Thu., Nov. 26; additional performance Fri., Nov. 27, 2 p.m.) (212) 307-4100 or www.ticketmaster.com. Casting by Laura Stanczyk Casting.