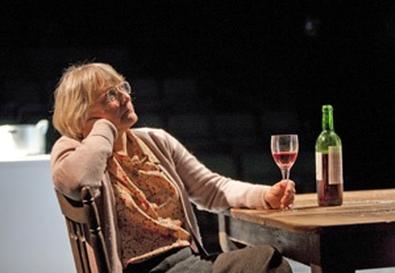 Bad weather and bad luck plague an Anglo-Australian family for 80 years in "When the Rain Stops Falling," Andrew Bovell's drama at Lincoln Center's Mitzi E. Newhouse Theater. The play, a hit in the author's native Australia and in London, is a definite downer, with four generations subject to depression and dysfunction, but a sterling ensemble and sturdy direction by David Cromer make this dark, pseudo-Greek tragedy worth your time.

Employing the same time-shifting, multiple-perspective technique he used in "Speaking in Tongues" (filmed as "Lantana"), Bovell demonstrates how history repeats itself, with the Law-York clan making the same mistakes over and over, even speaking the same dialogue as they miss connections with each other as easily as they mislay hats and umbrellas. Pedophilia, desertion, dementia, and alcoholism repeatedly crop up during near-perpetual downpours, culminating in a worldwide flood and the possible extinction of the human race in 2039. Like Ingmar Bergman's moody Swedes, Bovell's English introverts and their Australian descendants get more than a bit down in the mouth, thanks to Great Britain's gloomy climate and the endless empty spaces Down Under. Bovell clearly has compassion for his characters, but too much of his plotting is contrived, and one crucial development hinges on an unbelievable coincidence involving a missing little boy and an automobile crash. In addition, the play's resolution, involving a united father and son coming to terms with the family's damaging past, comes across as forced.

Fortunately, the staging and acting more than make up for the script's shortcomings. With the long-running "Our Town" Off-Broadway and the unjustly short-lived Broadway revival of "Brighton Beach Memoirs," Cromer has shown he knows how to build a cast into a family. Using David Korins' revolving set to show how the characters are trapped in a circle of self-pity, Cromer forges steely links between the somewhat confusing storylines—several characters have similar or even identical names—and among the players.

The nine-member cast meets the challenge of playing various degrees of misery, creating a vivid rainbow of varying shades of emotion. Worthy of special mention are Michael Siberry, Mary Beth Hurt, and Victoria Clark. As a York of 2039, Siberry opens the play with a searing monologue detailing his desperate loneliness. His sorrow is so deeply felt and simply expressed that it haunts the rest of the evening, which mostly takes place in the past. Hurt, as his British grandmother, conveys decades of buried rage by curtly ladling soup or tightly sipping a glass of wine. Clark has perhaps the most difficult role as the mother of Siberry's character. Her main action is to express regret, addressing her younger self in a vain attempt to prevent disaster in the past, then drifting away from her loving husband in the present. Somehow Clark makes these potentially passive objectives vital and immediate. The remainder of the cast also turns in solid work, saving this "Rain" from being a total washout.


Presented by Lincoln Center Theater by arrangement with Jean Doumanian and Freddy DeMann at the Mitzi E. Newhouse Theater, 150 W. 65th St., NYC. March 8–April 18. Tue.–Sat., 8 p.m.; Wed. and Sat., 2 p.m.; Sun., 3 p.m. (No performance Tue., March 9 and 16; Sun., March 21, performances are at 2 and 7 p.m.) (212) 239-6200, (800) 432-7250, or www.telecharge.com. Casting by Daniel Swee.