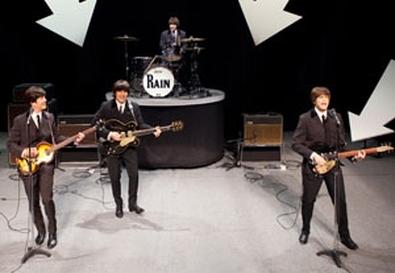 "Beatlemania," which began performances at the Winter Garden Theatre in 1977, never officially opened. Critics eventually started attending and filed reviews of the combination rock concert/multimedia documentary featuring a quartet of Beatles look- and sound-alikes. The notices were mostly positive, but some objected to the production being on Broadway at all, as it wasn't theater in the strictest sense. The carping didn't really matter, because word of mouth had already established an audience of theatergoers either too young to have seen the Fab Four first-hand or old enough to want to relive their Beatles memories. The attraction racked up an impressive 920 performances and launched four successful road companies.
Now four cast members from those tours have created their own Beatles show under the name "Rain"—I'm not enough of a Beatles fan to catch the significance of that title, if there is any—and, once again, reviews probably won't impact the box office for this limited run. If you're an undiscerning Beatles fan, "Rain" will feel like a welcome shower of nostalgia. If you require more than retreads of classics and video images, walk on by.
The evening consists of the performers playing the beloved quartet's greatest hits interspersed with shots of the audience, Darren McCaulley and Mathieu St-Arnaud's video collages, and commercials of the era, all shown on giant TV screens on either side of the proscenium. (I must confess that one of the highlights for me was seeing Fred Flintstone hawking Winston cigarettes.) All the iconic Beatle images are there, from the first appearance on "The Ed Sullivan Show" (complete with a waxwork-like Sullivan on film, played by Jerry Hoban) to the famous Shea Stadium concert to the psychedelic "Sgt. Pepper" years to the group's final live performance on a London rooftop.
The band does a fairly accurate job of re-creating the Beatles sound, but the energy and joy behind it are missing. Yes, the audience does get to its feet during an anemic "Twist and Shout," but only because the actor-musicians tell them to. Joey Curatolo, who covers Paul McCartney, is the only cast member to emerge as something more than a cardboard version of the star he's impersonating. When he flashes his radiant smile and winks at a young girl in the front row, there's a connection with a real personality rather than a soundtrack. Steve Landes does sound uncannily like John Lennon, but like Joe Bithorn's George Harrison and Ralph Castelli's Ringo Starr, he tends to fade into the background. But I suspect the majority of the show's audience isn't interested in the cast's acting skills. They just want to hear the songs and have fun.
As to whether "Rain" has a right to be on Broadway, the answer is yes. Whatever attracts enough of an audience to fill the seats deserves a chance on the Main Stem. It's just a pity that a production more suited to Atlantic City or Las Vegas is crowding out shows with stories and characters, even for a few weeks.

Presented by Annerin Productions, Magic Arts & Entertainment/Tix Productions, Nederlander Presentations, and Rain at the Neil Simon Theatre, 250 W. 52nd St., NYC. Oct. 26–Jan. 15, 2011. Mon., Thu., and Fri., 8 p.m.; Tue., 7 p.m.; Sat., 2 and 8 p.m.; Sun., 3 and 7 p.m. (877) 250-2929 or www.ticketmaster.com.