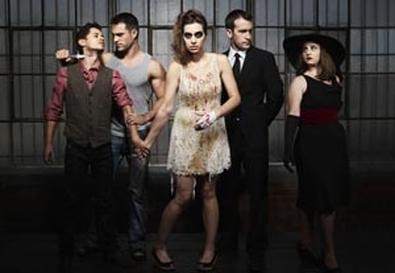 As dysfunctional families go, the one in "Raised in Captivity," spawning estranged twin nutcases Sebastian and Bernadette, might be one of the most twisted—especially as created by Nicky Silver, that master of the slyly warped, ever-urbane contemporary bon mot. While we laugh unremittingly at the downward spiral in which the twins are trapped, we feel an almost disquieting voyeuristic guilt. It's as though we must check our capacity for empathy at the door, or observing the heart-wrenching pain underlying the absurdity would be too much to handle. Let's just call the playwright's unique ability to cushion his chronicling of modern monumental angst by adding a continuous drip of sophisticated humor the Silver lining.
The siblings meet at the funeral of their mother, who was struck down by a shower massager. Try as he will to avoid a confrontation, Sebastian (Alejandro Romero) is tackled around the ankles by his sister (Krystal Kennedy), who begs to know that his life is not perfect so she might justify her own. Romero and Kennedy are hilarious and deeply moving in their roles, as are Betina Mustain as the psychiatrist who goes all Oedipal (eye-gouging included) when Sebastian ends treatment, Marco Dapper in the dual role of a hustler with an agenda and Sebastian's imprisoned love interest, and the delightfully understated Anthony Trexler as Bernadette's husband, a dentist who hates teeth.
The creators successfully honor and understand a dense script, observant of Silver's sometimes convoluted intention, which is always about finding the pathos just below the laughs, and it's clear the ensemble understands Silver's outrageous characters and situations. Romero directs, however, and the truth of the adage that one shouldn't direct oneself is here exacerbated by the fact that this is also his directorial debut. Scenes not featuring Sebastian are crisp, quick, and well-staged, while others in which his character is spotlighted tend to drag and lose the production's otherwise relentless pacing. This is most apparent in what should be the play's most chilling passage, as Sebastian remembers watching his lover deteriorate from AIDS while Dylan describes the murder that sent him to prison. What's needed is an objective directorial eye to help guide Romero's own work as sharply as he has guided the work of others.
Presented by and at the Renegade Theatre, 1514 N. Gardner St., Hollywood. Aug. 19-Sept. 18. Sat., 8 p.m.; Sun., 6 p.m. (323) 960-7792 or www.plays411.com/raised.