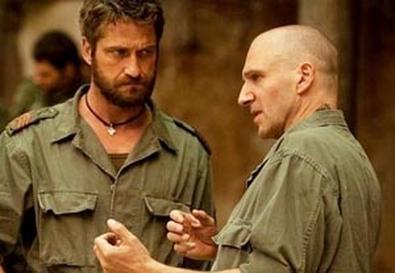 When he was a child, Ralph Fiennes was given the gift of Shakespeare. His mother loved recordings of the Bard and other spoken-word pieces and would play them for her young son. These recordings gave him the freedom and permission to become an artist—and one to whom Shakespeare seems a first language. Now known by the world as Voldemort in the "Harry Potter" franchise, the British actor has over the years caught the attention of Americans for such projects as "Schindler's List," "Quiz Show," "The English Patient," "Oscar and Lucinda," "The Constant Gardener," and—for those who might doubt he has a sense of humor—"Wallace & Gromit in The Curse of the Were-Rabbit," as the voice of the gold-digging aristo Victor Quartermaine.
Fiennes currently stars as the titular Roman general and family man in the film version of "Coriolanus," which Fiennes also directed. Not surprisingly, the classical language slips off his tongue and his intensity burns through the screen. But his direction is likewise drawing admiration. His vision was to set the play—which he says he "aggressively" edited with screenwriter John Logan—in the information age, so civil unrest is announced over 24-hour news feed and characters check their PDAs. Fiennes kept the dialogue Shakespeare's, however, preserving, as he says, the "athletic" language.
He played Coriolanus in a 2000 stage production with London's Almeida Theatre, directed by Jonathan Kent. Fiennes says the greatest challenge of that prolonged run was to not make the angry soldier one-note or tiresome to the audience. When performing in a warehouse, with its great look but bad acoustics, he points out, it is challenging vocally to find variations in "rageful." After the Almeida production, Fiennes began collecting imagery and ideas for locations for his film version.
He also collected a spectacular cast—including Jessica Chastain, Brian Cox, Gerard Butler, and Vanessa Redgrave (as Coriolanus' mother, Volumnia). Most of his directing of them, Fiennes says, consisted of asking for simplicity. Later he worked hands-on in postproduction, where he was reminded that what makes the best take is honesty in the performance.
Fiennes must have learned some of this in his much-acclaimed youth, however. After attending art school in London, he was admitted to and completed studies at the Royal Academy of Dramatic Art, where he won top class prizes—including those for verse, classical, and stage combat. And yet the actors he most admires are the Russians, though he notes that they have the benefit of playing their characters for years on end.
Of his own work onstage as Coriolanus a decade ago, Fiennes says it wasn't in his body on opening night. He speaks with his hands as he describes how much he wants his own work to permeate his flesh, and there's disappointment in his voice as he talks about room for improvement. But he also talks about luck: the reason for his awards at school, the reason he was accepted to the National Theatre and the Royal Shakespeare Company in his early days, the reason Steven Spielberg tapped him to play the vile Amon Goeth in "Schindler's List."
The down-to-earth Fiennes chats easily about print journalism, mentioning that he loves the feel of holding paper, whether newsprint or books. He says he has retained his books over the years, loving to write in them and feel them in his hands. While talking about them, he seems to bring them to life as he gestures with his fingertips. No mere luck, no disappointing performance there: That's making his audience see what he sees, and his appreciative fans know he has done so for years.
Outtakes
Other films include "The Reader" and "In Bruges"
Will next be seen in "Wrath of the Titans" and the James Bond film "Skyfall"
Says the custom is to pronounce the name of the place as "Cor-EYE-o-lee" but the character as "Cor-ee-o-LAY-nis"
Played Hamlet in the West End and on Broadway, also under Jonathan Kent, winning a 1995 Tony Award