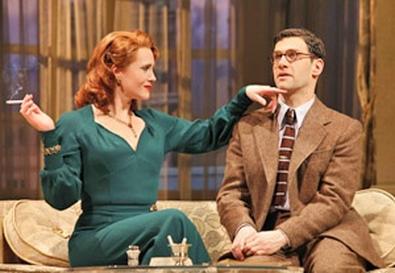 Justin Bartha
is in an enviable position. The actor, perhaps best known as the wisecracking sidekick in the "National Treasure" movies, scored a huge hit with "The Hangover" in 2009. He's also currently making his Broadway debut in an acclaimed production of "Lend Me a Tenor" under the direction of Stanley Tucci. The play runs through Aug. 13 at the Music Box Theatre in New York City. He is showing his dramatic range onscreen in the drama "Holy Rollers," now in theaters. But the actor faced several early false starts to his career—ones that might have stopped a lesser performer.
Bartha thought he had won the lottery when he landed his first film role, playing a mentally handicapped man in a feature that starred top names Ben Affleck, Al Pacino, and Christopher Walken. The film was directed by Martin Brest, who helmed such hits as "Scent of a Woman" and "Midnight Run." Recalls Bartha, "Even before I ever shot a frame of the movie, people were coming up to me and saying stuff like, 'I'll see you at the Oscars!' " As it turns out, the film in question was "Gigli," a title that has become infamous for being a huge critical and financial disaster.
Suffice to say, Bartha was disappointed. "It was a very difficult role, and I spent a long time working on it," he notes. "And I was working with amazing actors and Martin Brest, who I still believe is one of the best directors out there." Bartha's take on the movie was that it "fell victim to several different aspects that had nothing to do with the creative people involved. It's just something that happens when you're dealing with studios and other things you can't control." But he remains positive about the process itself. "I learned a lot of invaluable lessons from that," he says. "And it was still one of the most amazing experiences of my life."
Before "
Gigli
" was released, Bartha had already lined up his next project, a two-part HBO film called "Strip Search" that tackled the Patriot Act. Again, he was working with a highly regarded director, Sidney Lumet, and an impressive cast that included Oliver Platt. "I was in the second part, playing a wonderful character—very dark," Bartha says. "And it never aired; they only aired the first part. So the first two things I did with Oscar-caliber directors and amazing actors and fantastic scripts, they both turned out the opposite of what you'd expect."
Pressing On With Humor
Bartha is good-humored about it now, noting, "I'd rather that happen at the beginning of my career than in the middle." But he confesses that the setbacks gave him pause. "I was thinking about not acting anymore after these two projects," he admits. "I was starting to question my taste." He was hesitant to audition for the role of Riley Poole in the first "National Treasure" because he knew the action-movie sidekick was a role audiences had seen before. But Bartha has always adopted a different take on the audition process. "I just try to make very specific choices, and people either like it or not," he reveals. "I try not to play it safe. And if people don't like them, you probably shouldn't be in that movie anyway."
In the case of Riley, Bartha says that for some reason, he couldn't stop thinking of Jeff Daniels in "The Purple Rose of Cairo," whose character literally steps off the movie screen into the "real" world—then proceeds to constantly comment on his surroundings. While Bartha admits a love for action movies, he was also very aware that the "National Treasure" films are somewhat fantastical. "You're stealing the Declaration of Independence, and you can't help but wink at the audience," he says. "I wanted him to be a conduit for the audience, experiencing it the way they do." His take on Riley worked; not only did he win the coveted role but he managed to steal scenes from Nicolas Cage and Jon Voight.
Bartha acknowledges that the success of the film opened doors for him. "It's always good to be in a hit movie," he notes. He followed the first "National Treasure" with solid supporting turns in "Trust the Man" and "Failure to Launch" and dabbled in television with the short-lived NBC comedy "Teachers." Then came the surprise success of "The Hangover," in which Bartha played a missing groom. He's set to appear in the sequel, but don't try asking him what he'll be doing in the film. "Nobody knows yet; the script is not in yet," he says. "But I'll be back."
In the meantime, audiences can see him in "
Holy Rollers
," in a role that is a huge departure for the actor. Bartha plays Yosef Zimmerman, a Hasidic Jew in the 1990s who enlists other Hasids (including Jesse Eisenberg) to smuggle ecstasy from Europe into America. The film is a passion project for Bartha, who's been involved for years. "Jesse Eisenberg sent me the script years ago," he notes. "We'd been looking for something to work on together, and it seemed like something we could really have our hand in developing while they tried to raise money." The film came together slowly, as many indies do, yet took only 18 days to shoot. In addition to the collaborative aspect, Bartha embraced the chance to take on a different part: "I was looking forward to being this seething bad guy and developing a character-based drama in the vein of movies like 'Mean Streets' and 'Midnight Cowboy.' "
As for the future, Bartha—who caught the acting bug in a high school production of "A Midsummer Night's Dream"—says he would love to do more theater. Working on "Lend Me a Tenor," in which he plays Max, an assistant impersonating an opera star, was "100 percent a dream come true." Bartha had long wanted to do a play, and when he heard the show was casting, went in to read for Tucci. Though the role required "less than two minutes" of singing, he spent months rehearsing to get his voice to a believably professional level. "I would absolutely love to do more theater soon," he enthuses. "I don't know if I could do something as physical as 'Tenor' again, but I would love to do theater…well, forever." Asked if he has any dream parts in mind, he pauses. "I never have specific roles in mind. I just always want to do something different than whatever I'm doing now."