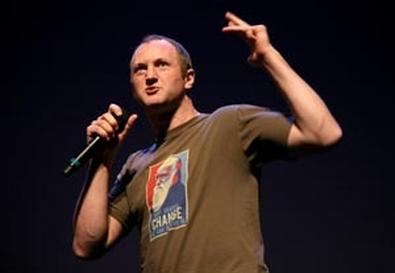 Unlike Darwin, who is as famous for his bravery as for his science, performer Baba Brinkman wants very much to be liked. In "The Rap Guide to Evolution," written by and starring Brinkman, he largely succeeds, bringing charm and a voracious curiosity to a playful lecture on Darwin, culture, sex, and rap. He sets his solo sermon to rhythm and rhyme, alternating among monologues, spoken-word poetry, and rap, and supported by the serenely cool presence of DJ Jamie Simmonds. What he fails to do is to risk a coherent arc, intellectual or artistic, for his audience to take home.
It is a testament to his ambition that Brinkman is interested less in Darwinian theory than in the newer and murkier fields of evolutionary biology and psychology. Unsatisfied with summarizing natural selection, he tackles a broader question: How can it be true that human beings are biologically related and yet find it so difficult to get along? The conflict between science and culture stumps and obsesses the "rap troubadour," who offers a conflicting message. On the one hand, evolution is powerful enough to explain not only species differentiation but also crime rates, market forces, the fallacy of racism, homosexuality, artistic success, hip-hop, and bling (the "peacock feather" of the urban lower class, he tells us). On the other hand, the most coherent ethical program this evolution expert can come up with, addressed exclusively to women, is "Don't sleep with mean people."
"The Rap Guide to Evolution" was a hit at the 2009 Edinburgh Fringe and has been touring since then. For the New York production, projection designer Wendall K. Harrington provides a wall of video that is dynamic and imaginative enough to be a work of art unto itself. Like the world's best (and often funniest) PowerPoint presentation, Harrington's film clarifies Brinkman's plot points, which occasionally get lost in his microphone. But the visuals also soften the delight to be had in his boyish eagerness, which might be more inspiring if it held the stage alone. As it is, "The Rap Guide to Evolution" is both fun and educational, but not quite (r)evolutionary.
Presented by Dovetail Productions at the SoHo Playhouse, 15 Vandam St., NYC. Opened June 26 for an open run. Tue.–Fri., 8 p.m.; Sat., 7 and 9:30 p.m.; Sun., 5 and 7:30 p.m. (212) 352-3101, (866) 811-4111, www.theatermania.com, or www.sohoplayhouse.com.