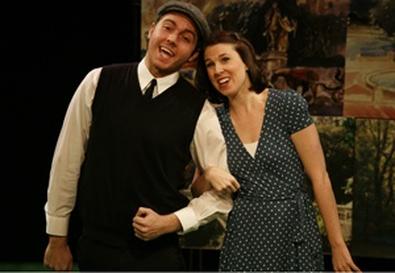 This 1937 Broadway musical, with book by George S. Kaufman and Moss Hart, lyrics by Lorenz Hart, and music by Richard Rodgers, presents a real conundrum. A political satire about President Franklin Delano Roosevelt—the first sitting president to receive such attention—it was also a vehicle for legendary song-and-dance man George M. Cohan, who came out of retirement to do it. That's two icons in one. The show was such a popular success that the 1942 Cohan bio film "Yankee Doodle Dandy" ends with the star, in the personage of James Cagney, performing his 11 o'clock number from it, "Off the Record." As often happens with star vehicles, however, "Right" sank into obscurity once Cohan was no longer around to play it (he died in 1942, just five months after "Dandy's" release). How do you convey to a contemporary audience the effect of a beloved star impersonating a beloved president? Director Thomas Sabella-Mills has a wise answer: Don't try. Instead, he puts the focus on the material, which turns out for the most part to be dated but nifty.
Though there's a wisp of a plot, the creators rightfully subtitled their show "a musical revue." Two American everykids can't get married because of the depressed economy. As they sit in Central Park listening to the far-off strains of a free July 4th concert, Phil falls asleep in Peggy's arms and dreams that President Roosevelt comes walking by. The lad explains that he and Peggy can't get hitched unless Roosevelt balances the budget. Soon the president's cabinet, the Supreme Court, the president's mother, and various and sundry others become entangled in Roosevelt's determination to deliver for the lovebirds.
The revue structure involves idea after idea being tried unsuccessfully, which allows the authors to go scattershot after a variety of political issues. The show's heroes are Kaufman and Hart, whose witty script is loaded with zingers ("Isn't there something we can sell? Do we really need Baltimore?" asks the postmaster general). They're careful to walk a fine political line, going equally after the New Deal's excesses (a bit about the Federal Theatre Project is very funny) and the ultraconservative Supreme Court (they skulk behind rocks and bushes and leap out shouting "No!" every time Roosevelt considers enacting a law). It's good stuff, but the downside is that most folks won't know enough about the 1930s to get many of the jokes.
The show's Achilles' heel is its score. Hart's nimble lyrics have many pleasures ("When I go up to Hyde Park/It's not just for the ride there/It's not that I love Hyde Park/But I love to park and hide there," sings Roosevelt, of his family's country estate), but they're not as inventive and pointed as Ira Gershwin's work for two previous Kaufman political satires, "Of Thee I Sing" and its sequel, "Let 'Em Eat Cake." ("Right" was originally intended to be the third show in that line, but composer George Gershwin died before writing could begin.) Rodgers' music is mostly thin gruel. The great composer doesn't seem to be inspired by the ironic musical style the show requires. Only three of 13 numbers have musical distinction: the ballads "Have You Met Miss Jones?" (the show's only pop hit) and "Everybody Loves You" (cut prior to Broadway but happily restored here) and the rousing first-act closer "We're Going to Balance the Budget," an expert pastiche of one of Cohan's signature flag-waving tunes until it amusingly impales itself melodically on the prosaic, unsingable title.
The scrappy cast enlivens things a lot. Steve Brady is a solid FDR, finding constant humor in the president's genial upper-class paternalism and smartly avoiding any attempt to evoke Cohan or Cagney. Brent Di Roma and Laurie Hymes sing attractively and are perfectly period as the loving couple. Donna Coney Island, Peter Cormican, John Alban Coughlan, and Rob Lorey all have their moments as members of the cabinet, but the most forceful comic turns come out of the ensemble. Jeff Horst is a hoot playing everything from an angry balloon seller to defeated presidential candidate Alf Landon, now Roosevelt's butler. Matthew Conti and Michael Mott make delightful mayhem as a boss and his sole employee—stereotyped Italian immigrants—to whom Roosevelt tries to explain collective bargaining. Emily Glick's giddy and unflagging invention in the tiny role of Roosevelt's secretary is a joy to behold.
Thanks to our current economic downturn and its resultant Tea Party hysteria, there are sudden moments of bracing relevance in Kaufman and Hart's caustic humor. Though hardly a show for the ages, anyone with an interest in the work of its august authors won't regret taking this rare chance to discover just exactly what "I'd Rather Be Right" was.
Presented by Musicals Tonight! at the McGinn/Cazale Theatre, 2162 Broadway, NYC. Feb. 8–20. Tue.–Sat., 7:30 p.m.; Wed. and Fri., 2 p.m.; Sun., 3 p.m. (212) 579-4230 or www.iseats.net. Casting by Stephen DeAngelis.