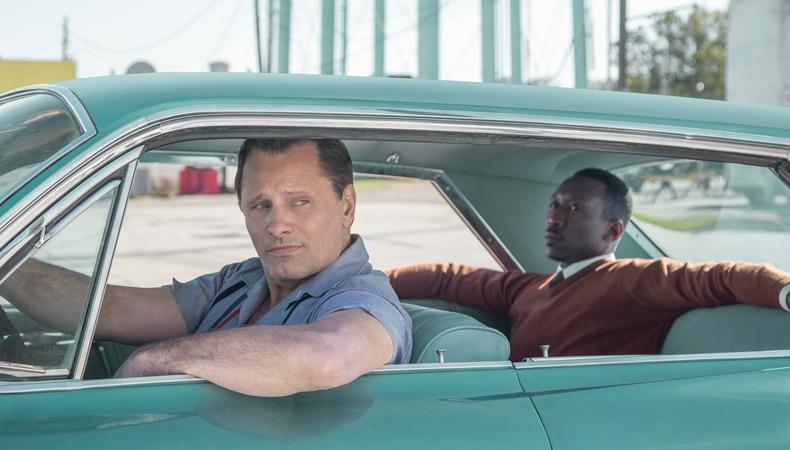 Canada's Entertainment District just hosted hundreds of movie screenings at the 43rd Toronto International Film Festival, which wrapped Sept. 16. As always, the festival culminated with the announcement of the Grolsch People's Choice Award, an audience-voted honor that has previously proven to be a promising predictor of future Academy Awards (past winning titles include Oscar best picture winners "Slumdog Millionaire," "12 Years a Slave," "The King's Speech," and "American Beauty," as well as recent category nominees "La La Land" and "Three Billboards Outside Ebbing, Missouri").
The 2018 audience award went to Peter Farrelly's "Green Book," which made its world premiere at TIFF and will be released in theaters by Universal Pictures Nov. 21. Based on a true story, the heartwarming dramedy stars Mahershala Ali as an African-American classical pianist, and Viggo Mortensen as the Italian-American bouncer hired to drive him while on tour; they navigate the segregated South in the 1960s with the help of the titular guide, which lists the few hotels and restaurants that safely serve African-Americans.
The first runner-up for the top audience prize was Barry Jenkins' "If Beale Street Could Talk." The lyrical Annapurna Pictures title, which hits theaters Nov. 30, centers on a woman fighting to free her falsely accused husband from prison before the birth of their child. Based on the novel by James Baldwin, "Beale Street" marks the first time the prolific author's work has ever adapted for a narrative film. Upon debuting at TIFF, it began generating buzz for Regina King's supporting performance as an immovable mother.
The second runner-up for the audience award was Alfonso Cuarón's "Roma," which screened in Toronto just after winning the Golden Lion prize at the 2018 Venice Film Festival. Shot on 65mm in black and white, the nuanced semi-autobiographical project chronicles a year in the life of a middle-class family in 1970s Mexico City. At the gala screening, newcomer Yalitza Aparicio garnered resounding applause for her performance as a live-in maid and nanny for an upper-middle-class family.
Other audience award winners of the fest include Vasan Bala's "The Man Who Feels No Pain" for the Midnight Madness sidebar, and E. Chai Vasarhelyi and Jimmy Chin's "Free Solo" for the documentary section.
Also among the hottest titles of the festival were Steve McQueen's star-studded crime drama "Widows," in which Viola Davis powerfully leads Michelle Rodriguez, Elizabeth Debicki, and Cynthia Erivo in a heist planned by her late husband. Daniel Kaluuya, Brian Tyree Henry, Colin Farrell, Robert DuVall, and Liam Neeson are also among the cast of the 20th Century Fox title, which hits theaters Nov. 16. Fox will also release the TIFF debuter "The Hate U Give," which stars Amandla Stenberg as the only witness to a fatal act of police brutality. Regina Hall, Common, Anthony Mackie, and Sabrina Carpenter round out the cast of the young adult novel adaptation, which was quite well-received at its world premiere.
Beyond the studio fare, dealmaking was in full swing throughout TIFF. Claire Denis' sci-fi title "High Life," starring Juliette Binoche and Robert Pattinson, was bought by A24, making the film the distributor's fourth Pattinson project to date. Focus Features won an all-night bidding war for Neil Jordan's thriller "Greta," starring Chloë Grace Moretz and Isabelle Huppert. Neon nabbed Brady Corbet's music drama "Vox Lux," for which Natalie Portman's performance as a distressed pop star is collecting awards buzz. The Orchard got Kim Nguyen's "The Hummingbird Project," in which Jesse Eisenberg and Alexander Skarsgård play cousins who ditch their powerful finance jobs to build a Kansas-to-New Jersey fiber optic line. And Max Minghella's directorial debut "Teen Spirit," in which Elle Fanning plays an aspiring musician, went to LD Entertainment.
For more information, visit tiff.net. And keep checking in with Backstage for film festival updates and awards coverage!
Check out Backstage's film audition listings!