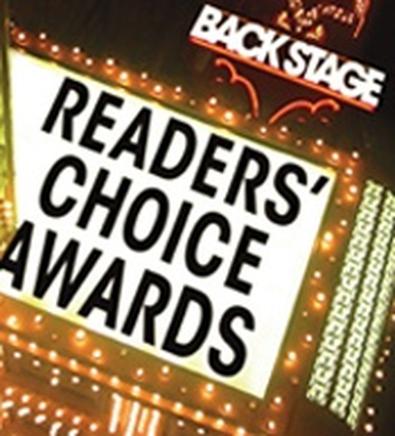 You have spoken. Our Readers' Choice survey revealed your favorites in L.A., from acting teachers to commercial CDs, from stage directors to rehearsal space, from makeup artists to beauty supply stores, from litho houses to open mikes.
Favorite Neighborhood to Live: West Hollywood
For actors, West Hollywood provides the ultimate nesting ground. Aside from being centrally located — between downtown Los Angeles and Santa Monica — the city lies in close proximity to studios such as Paramount and casting facilities for auditions such as the Casting Studios on La Brea Boulevard, Castaway Studios on Beverly Boulevard in West Hollywood's design district, the Casting Underground on Ivar in Hollywood, and Craig Colvin Casting. Other perks for actors include living minutes away from shopping areas, including Melrose Avenue and the Beverly Center, where they can pick up the perfect last-minute audition costume. Plus, WeHo offers easy access to trendy nightclubs for networking and blowing off steam when your agent doesn't return your calls. Aside from being near auditions and shopping areas, actors living in West Hollywood can also easily patronize and perform in Hollywood theatres such as the Coast Playhouse, the Celebration Theatre, The Complex, Stella Adler Theatre, Hudson Theatre, and the 2nd Stage, to name a few.
Thespians who manage to dodge the exorbitant rents in the area and find affordable housing can also enjoy one of the true perks of WeHo residency: the nightlife. With Sunset Boulevard and the strip located to the north and swanky gay bars on Santa Monica Boulevard to the south, residents have the privilege of walking to their favorite hot spot to hang out or network. They can swill cocktails without the worry of having to find a way home and can hit live shows at the Troubadour or the House of Blues. From the dive-bar chic of the Rainbow Room to the velvet ropes of Hyde Lounge, actors can choose their favorite backdrop and enjoy themselves without worrying about valet charges or whether they'll get in a wreck with a drunken starlet.
For cultural thrills, there's the nearby Pacific Design Center, which houses the 3,000-square-foot Museum of Contemporary Art gallery and dozens of other private art galleries. And if that doesn't entertain, locals can always kill a few hours pounding out a script at one of WeHo's many Starbucks, Coffee Beans, or independent coffee shops, or enjoying a lazy brunch at trendy yet mellow venues like The Abbey or Urth Caffé. Night or day, actors living in this neighborhood — albeit those with reserved, gated parking — have landed sweet digs.
— Nicole Kristal
Runners-up for favorite neighborhood to live in: Hollywood, Santa Monica, Los Feliz, Studio City, and Sherman Oaks.
Favorite Film/TV Casting Director: April Webster
Casting director April Webster's Emmy, two Artios Awards, and list of casting credits that reads like a Who's Who of Hollywood A-listers make her a magnet for actors looking for a big break. Having cast for 30 years, she has worked on such projects as Alias, Criminal Minds, Mission: Impossible III, and The Day After Tomorrow. It's no wonder readers chose Webster as the best film and TV casting director L.A. has to offer.
Back Stage: What is it that you're looking for in an audition?
April Webster: I guess the biggest thing is just that people are "present." When somebody has something special, it's just inherent in who they are, and I don't think it's something that you can manufacture or learn how to do. It's a comment that I hear producers make: "They were so present. They were so there." [It is when] you're not worried about other little things but what you are doing is your job. I noticed that that is certainly something that makes a big difference.
Back Stage: Do you find that actors who are better trained are better actors?
Webster: I think that there are people who have natural talent, and, hopefully, when they train it doesn't train out their natural instincts — if it's a good teacher, that doesn't happen — but I also think an actor needs to have the experience so that when they come up for an audition or they come up for a project, they understand their own process. Look at the actors that we're bringing in from England and some of the other actors here: They're not overthinking it. They integrate their body and their mind, and they just do it. They are able to pick up a piece of material and — I'm not talking about just English actors; I'm talking about American actors, as well — make some choices about it and go with it and trust that their instincts on that case are right and are flexible enough to make a change if need be.
Back Stage: Speaking of instincts, we heard that you discovered Kevin Costner...
Webster: I don't know if I discovered him, but we certainly put him in one of his first leading roles. I was casting for a guy named Jim Wilson, who up to that point had done documentaries, and Michael Blake had written the script. We were all working on it together, and we had seen a lot of guys, and it was a nonunion film. I had been working at Zoetrope before, so when I was running out of guys to see, I went to the nonunion files. They had a nonunion file for people to be extras. I found this picture of a guy leaning up against a tree. I kept trying to bring him in, and I wasn't getting a call back. I think Kevin told me that there was a creditor that was after him who was also named April, so he wasn't returning my calls. In any case, we finally got him in. He had been in other projects before, but had been cut out. He was in Table for Five, a couple of other things, and a feature film with Jon Voight, but never really had anything. I'm sure that there will be a lot of people who will claim discovering him. [At the audition] we had a hat that we were using, and he put the hat on. We all looked at each other and said, "If this guy can act, he's the guy." [Kevin] had a certain cockiness. He was very handsome and had a real vulnerability, as well as a strength. When he read we just went, "Oh, thank God." He ended up with the role.
Back Stage: Some actors have a hard time believing that casting directors are rooting for every actor to succeed. Could you tell us what it's like on your side of the table?
Webster: Here's the thing that's important to understand: What we do is a collaboration, so it's not just about me giving you a job or you doing a good job. It's about how, together, we create a space that you can do your best work in. That means you being prepared and me creating a safe space for you to work. Everybody who's in that room wants you to be the right person — everybody. They don't have any preconceived notions. We're all rooting for you because we don't want to see 150,000 more actors for that role. We want you to be the person. Worry takes you out of being in the moment of what you're doing, and that second-guessing of whether you're doing it right means that you're not here doing it; you're worrying about doing it. If you spent as much time doing the thing as worrying about the thing, then you could really expand. Every time an actor comes in, it's an opportunity to connect to [the casting director] on another level. When I was working with Roland Emmerich, he said, "Remember that guy we saw for The Patriot and he was wearing that green shirt? He would be great for The Day After Tomorrow."
Back Stage: What are ways that actors can get in touch with you?
Webster: Most of the time I open everything that comes into my office. When I'm doing a pilot, it gets a little overwhelming, so there are times when I can't open everything that comes into the office. You have to understand: Sometimes we get thousands and thousands of pictures, sometimes daily. With blind submissions, sometimes you hit that one moment where I'm available, or you send me a post card and I'm looking for somebody who looks just like you or has a sense of "your-ness," and it could be the right time. I don't there are any rules about it, but I wouldn't inundate a casting director with a lot of unsolicited material, because basically it won't be the first ones we look at. I use everything. I look at magazines. I read newspapers. I look at reviews of plays. I get 11 magazines a week that I look at. You have to avail yourself of everything possible. We also rely enormously on our relationships with agents and managers. I don't think I look at a newspaper or a magazine or anything else without keeping in mind a face. So you never know.
— Nicole Porter
Runners-up for favorite film/TV casting director: Tony Cervantes, Beverly Holloway, Jane Jenkin, Lieberman/Patton, Francine Maisler, Joseph Middleton, and Debra Zane.
Favorite Litho Repro House: Isgo Lepejian Custom Photo Lab
Founded almost four decades ago, Isgo Lepejian Custom Photo Lab is more than just a friendly local business: It's an institution. The lab, which offers photographic and lithographic reproductions, was started in 1971 by current co-owner Baret Lepejian's late parents, Isgo and Anoush. Baret, 42, began working with his father at age 14 and says a number of Isgo's clients have been with the business for years. "A lot of the clients are more than [clients]; they're friends," he says. "We've been around a long time and have made a lot of friends."
That includes many in the Los Angeles acting community, which Lepejian considers the foundation of the business. He says one thing that sets Isgo apart from other printers is the fact that "we come from a very custom, fine-art background.
"We know a lot about the quality, about what the client's looking for," he says. "We go in and color-correct and make everything look really pretty. That's the touch that we put to it; that's why our work looks different from anyone else's work. It's all very hands-on, with a lot of attention to detail."
That means, he says, taking care with every element of a headshot. "[We look at] quality of skin tone, composition, even where the name is placed. You can aesthetically make the same image look so much better, just with little things. When somebody orders a test — we really recommend them seeing a test — we always give them what we call a direct-to-print, which is [exactly] what they're providing us. No corrections, no alterations. And then we always give them a minor adjustment, which is what we think would help the image, and that usually means color correction, density correction, and so on. I would say 90 percent of the time, clients choose the minor adjustment. It's our little touch on their image."
As for retouching, Lepejian says his most important bit of advice to actors is to not overdo it. "If something is really well lit and they go to a reputable photographer, there's very minimal retouching," he says. "A little bit is always great; it's like the exclamation mark. It pretties things up, and there might be a little thing [to remove] — it could be a little blemish, a little pimple. All that stuff's great to take out. But once a guy goes in that's in his mid-50s and he's trying to look like he's in his late 30s, that's the problem. I don't think it's ever a good idea to over-retouch."
Lepejian notes that the company makes a great effort to stay on the cutting edge of the industry: His brother Vic, who is co-owner and joined the business in 1988, recently brainstormed the company's "online headshot kiosk," which offers actors the ability to design and format their headshot online. "It basically does all the work we used to do in the old days by hand," Lepejian says. "They have all those capabilities online to get whatever look they like."
Isgo Lepejian Custom Photo Lab has locations in North Hollywood, Hollywood, Downtown, and Santa Monica. For more information, visit www.isgophoto.com.
— Sarah Kuhn
Runners-up for favorite Litho/Reproduction House: Argentum Photo Lab, Prints Charm'n, and Reproductions.
Favorite Demo Reel Producer: Planet Video
Making a great demo reel doesn't only require the right footage; you also need an editor who knows what he or she is doing. Perhaps nobody understands this better than Amy Conner, who has been the office manager at Planet Video (our readers' choice for 2006, also) for more than three years. Conner works in the Hollywood office with two editors — actor Wayne Rawley and filmmaker Joe Gressis — who understand just how important an actor's tape is. "One of the things we do that we pride ourselves on is we don't make cookie-cutter demos," Conner explains. "We tailor them specifically for each person." She knows there are several things that go into making a great reel. "You have to have a talented editor that not only knows how to use the software but knows how to work artistically with the footage," she says. "There's so many people out there who know how to use the software but don't know how to put together a reel."
Conner adds that actors need to come in with an idea of what they're looking to get out of the reel. "In your initial appointment, as we're putting your footage into the computer, you talk to the editor about what you like about your footage, what you don't like, what you want from a reel, and where you're going," she says. "Depending on what kind of footage you bring in, that's going to define what kind of reel you leave with. If you have a lot of tragic indie-movie stuff where you're a drug addict and you're full of angst, it's going to be a whole different reel than if you're a wacky sitcom neighbor girl. We take into account who you are, what you want to get from the reel, and how to make that happen."
Appointments generally last about four hours and clients leave with a finished demo. Though there is no magic formula, Conner says a good length for a demo reel is around three minutes. She advises clients to come in with no more than eight minutes of raw footage. "I book you an appointment for four hours; so you come in, digitize, talk to the editor, go away, have a snack for an hour while he whips up a rough draft, come back, see what he's done, and go from there. And you leave with a done demo." Most important, she says, "You're part of the process. It's a reel for you; you should be."
As for when an actor should get a demo and how much footage is needed, Conner is frank. "It behooves you to get one as soon as you can. We can make one out of two or three scenes," she says. "But if nobody's asking for it, and you don't have an agent, then don't waste the money. There have been people who come in with one or two things, and we tell them they don't need it yet. We're not going to fleece you for your money. There are plenty of other places where an actor can lose their money." Conner also advises checking out the company's website, www.planet-video.com, before coming in. "It's all laid out on the website," she says. "And the more work they do before they get here, the easier and cheaper it is."
— Jenelle Riley
Runner-up for favorite demo reel producer: Speed Reels.
Favorite Acting Teacher/Coach: Kimberly Jentzen
Kimberly Jentzen first started coaching actors in a stairwell at the Dorothy Chandler Pavilion. At the time, she was enrolled in a musical theatre program for singers, dancers, and actors. "I was an actor who could sing and dance," she recalls. "I love musical theatre. My singer friends would pull me aside — I was doing April in Company — and say, 'How do you do that? How do you act that?' I said, 'Well, I'll show you.' I would sit on the stairwell of the fourth floor of the Dorothy Chandler and coach people. Those were my first students. And it was such a blast; I fell in love with it."
Twenty years later, Jentzen is still teaching, still helping actors connect with characters and build tools that will serve as a valuable foundation. She says she can't imagine doing anything else. "I'm very grateful for my students," she says. "[Teaching has] allowed me the opportunity to really understand life and art, and if it wasn't for them, I wouldn't be the teacher I am today, because I've learned from them, too."
Jentzen — whose book, Acting With Impact, will be released in the fall — notes that she's very technique-oriented. "I don't believe in just directing an actor," she says. "I believe they should absolutely know what they're doing and make choices from the material, know how to break something down, know how to look at material. I like to give them their foundation. If they don't have a foundation, they need one."
As an actor, Jentzen has a rich training background of her own. She has a B.A. in theatre arts from UCLA, attended the American Conservatory Theater in San Francisco, and has studied the techniques of Meisner, Chekhov, Adler, Hagen, and Strasberg. Over the years, she's built her own teaching style. "Obviously it's based on the masters," she says. "I combine imagination with personalization. Actors get very heavy, and then it gets very difficult to get into emotion. To teach them a light approach, to be able to access all of their emotion, is instrumental. A lot of people don't speak in a language of emotion, but your directors will. A lot of schools shy away from it: 'We don't go directly to emotion.' But of course you do; directors ask it of you all the time. So you have to speak the language of emotion and know how to go there and pay the price of the material and find your depth."
Another key element of her approach is building a bridge between "foundation and vocation." "Foundation is essential," she says. "You can't really have longevity unless you have your foundation. The foundation is based, obviously, on the teachings of Stanislavsky. It's really important that the actor has some kind of foundation training for longevity, because trends change. Episodics are different than they were 10 years ago. The acting is different. You have to be able to adapt your instrument. What I've discovered is: There are a lot of schools that teach traditional or vocational, but there's no real bridge on how you bring the tradition or the foundation into the environment of a profession. I teach that."
Jentzen offers ongoing classes, private coaching, and cold reading weekend intensives. She interviews potential students by phone and offers a sort of open-house class once or twice a month in which she speaks with actors about her approach. "Depending on how much time we have, sometimes I coach every single one of them throughout the night to see where they're at and give them some support," she says.
In general, Jentzen likes to keep her classes to 16 students. She describes her typical class atmosphere as tough but loving. "I don't feel like actors should compete with anyone but themselves," she says. "It's supportive. Nobody gives anybody feedback but me. I don't believe in actors giving other actors feedback, because when I was a young actor, one thing I noticed in some of those environments is that actors tend to project their own issues onto other actors. So it's very safe. And if an actor is going to give feedback, it will be positive feedback."
The teacher doesn't believe in going soft on her students, however. "I am tough," she says. "I don't allow people to get away with stuff in my room. Actors who are coming to me that are expecting it to be soft are going to get a harsh surprise. The business is too difficult. My feeling is, I'm responsible [for preparing] you for that space. It should be tougher in my room than it is in the profession. Because if it's tougher in here, you're ready out there."
And when it comes to succeeding "out there," Jentzen offers the following tips:
• Don't limit yourself.
"As an actor, you have to know yourself," she says. "And you have to know yourself in so many genres. You have to shine in each one. You don't know where that opportunity's going to be." Jentzen recalls that when she was working as an actor, she once did a soap. "I [never thought] I would do a soap, because I was in film," she says. "But that was an opportunity that presented itself, and I wanted to stay alive as an actor. You're an actor; you act. That's really important to me — that the actor develops not only an emotional range but a range with their genres, that they're able to adapt. It's a survival thing. And if you can survive in many genres, you will work a lot."
• Always remind yourself of why you love acting.
"Love is artistic fuel," Jentzen says. "You have to do everything you can to not get bitter; otherwise it can steal your talent. The love has to be fueled consistently. So that means you're going to be doing things that remind you of that love. Go to museums. Go to places that invite and applaud and acknowledge self-expression."
• Be a student of life.
"Seek your own growth, and make it fun," she says. "One of my favorite things is to learn something new every day."
• Believe in your own magic.
"This business is so random and unpredictable," Jentzen says. "You never know. Dustin Hoffman got The Graduate after I don't remember how many years of study. What I admire the most about these great actors is their perseverance and their staying true to what their voice internally wants them to do. It's so important to not get sucked into the external hype of the industry, but rather to know you're a product and that's a game that you're engaging in but it doesn't define you."
Contact Jentzen at Living the Art Institute, P.O. Box 4554, Valley Village, CA 91617. (818) 779-7770. www.kimberlyjentzen.com.
— Sarah Kuhn
Runners-up for favorite acting teacher/coach: Courtney Burr, Sam Christensen, Howard Fine, Leslie Kahn, Judy Kerr, Larry Moss, Brian Reise, and Doug Warhit.
Favorite Place to Meet Other Actors: The Actors' Network
L.A. actors have been meeting, greeting, and networking with one another through the Actors' Network for 16 years. As a result, countless projects and big career breaks began with connections made during TAN's many seminars, workshops, and "power group" meetings. Here are just a few tales of how "Six Degrees of The Actors' Network" benefited local talent.
— Lauren Horwitch
Runners-up for favorite place to meet other actors: Acting class, Aroma Café, and Screen Actors Guild events.
Favorite Commercial Casting Directors
Craig Colvin
Craig Colvin has cast thousands of projects since opening Craig Colvin & Company in 2000. But when he first landed in L.A., casting was the last thing on his mind. "A lot of casting directors were actors first, but I totally fell into it," admits Colvin, who has an MBA. "I went to school for business. I come from a Florida, middle-class, TV-watching background. So I approach casting differently than others. I just know what I like to see on TV. I basically come from the pool of people that, in general, advertisers are marketing to. Through a chain of events, I was referred over to the Casting Co-Op, which had just opened, to meet the owner. I decided to accept a job there, and 12 years later, here I am."
The name of his company, Cocolaca Studios, stands for Colvin Company L.A., Calif. "We wanted a wacky name for the studios, because we're definitely not hip, cool L.A. We're more on the wacky, goofy side," he says. The directors they cast for have won numerous Cleos, Addys, and even an award for best commercial at the Cannes Lions advertising festival.
"That's the one that everyone always remembers," says Colvin, referring to the "Skirts and Skins" spot for Yard Fitness. "It's also known as 'Naked Job' with Corey Blake, the actor that we booked, who's basically playing basketball naked. It's for an Orange County fitness gym chain, and it is all about being proud of your body. You name it; for every product, I've cast a job for it."
Though he focuses on commercials, Colvin also casts for film, TV, print, voiceover, and live performances. His staff began teaching classes five years ago, including Adult Commercial, Improv for Auditioning, Kids Commercial, and Biz Behind the Biz. According to the website, 95 percent of the students come from referrals from talent agencies and former students.
Colvin expects actors to practice their craft, love acting, come in, do a good job, be nice, and leave. "As opposed to [the actors who] come in and tell me about the play they're in or all this peripheral stuff, yet they're not out in the waiting room learning their copy for my job," he says. "We have a lot that insist on buying us gifts and doing everything except practicing their craft. The bottom line is if my casting DVD looks good, I look good, and it doesn't matter what else they are doing. It matters what they look like that day. We prefer the ones that understand how it works."
He says actors should also stay current on the trends by watching commercials so they're familiar with the different advertising styles out there. To Colvin, it's about more than just showing up and looking great. "I can't tell you how many people in our classes say, 'Oh God, you have to work at this? I never realized commercials were so much work.' If you want to make it a career, it's like any other job," Colvin says. "A lot of people come from the print world. They think it's just about a pretty face — and there are definitely those jobs where it's just a look, but a majority of the jobs actually do take some sort of talent also. It's not as easy as people think."
— Cassie Carpenter
Ross Lacy
Founded in 1996, Ross Lacy Casting has cast more than 500 national and regional commercials. Lacy, a former actor who appeared on Murphy Brown and in Independence Day, got into casting as a way of paying the bills without waiting tables. "I think [starting out as an actor] is kind of like the perfect grouping of skill sets for casting," Lacy says. "I appreciate talent and I respect it, and I didn't have enough of it to be an actor, but I can notice it and see it in other people. We like to consider ourselves an actor's casting director agency. We look out for the actor, and we try to take care of them, and we consistently get actors commenting about what a pleasure it was to come in and audition for us. That makes me feel so happy because ultimately the actors are who we rely on, and they are very important to."
On Lacy's website , actors can view the commercials RLC has cast for Geico, Bacardi, McDonald's, Coke, Sony PlayStation, and more. RLC has also cast features such as the 1998 Slamdance Film Festival award winner Six-String Samurai and short films such as Queen for a Day, which aired on Showtime.
Lacy says, "The trend of comedy and more dialogue-driven acting spots and getting away from the Mentos-style commercials have made being in the casting business really fun. I was a judge for the ICP in performance category this year for the show that's happening in New York in June. You aren't allowed to judge your own work, and a director, who was sitting next to me and was also a judge, turned to me in the middle and said, 'Why are you even here? Half of the stuff is yours.' It was a nice compliment, because it means that we made the first cut, and a lot of our stuff was in there."
This casting office is proud of being directly in touch with the producers and directors, so Lacy's casters know what types of actors will work best. He believes actors should remember the importance of hitting beats specifically, even though they're acting in the commercial for only a few seconds. "It's just like anything else," he says. "The specificity and the commitment to the audition are so important. The people who I see succeed are the people who are listening and bringing their own thing to the general parameters that we're asking of them."
— Cassie Carpenter
Danny Goldman
In the more than 20 years Danny Goldman has been casting commercials, he has never forgotten that the actors auditioning for him are his colleagues and friends. "I've been an actor my whole life; in fact, I'm in a play now," says Goldman, who voiced cartoon icon Brainy Smurf in the 1980s. "So I know there are some mean-spirited casting directors out there who really just don't like actors." His respect for actors shines through in his casting methods, as he draws upon his own experiences to make his auditions run smoothly for everyone involved.
"We try to give actors the best direction we possibly can," he says. "We try not to get irritated or flustered, and, very importantly, we try not to keep people waiting more than 15 minutes. Now that the commercial world is so spread out between places in the Valley they have to get to, as well as Santa Monica and Hollywood, it's really tough on the actor to make all his appointments. You don't get a good audition from somebody pissed off, sitting in a lobby for 50 minutes, for no reason, on a first call. There's no excuse for that. You want to see them when they're fresh and they're concentrating and they're not bitter about waiting. It's just common sense."
Goldman's acting experience also affects how he looks at résumés. "I look for theatre training and improv particularly," he says. "Those are the things I care the most about. Anybody with a cell phone can make a movie now, so you see lists of films you never heard of on the résumé; it means nothing to me. I came from the theatre. I believe in the theatre. I believe the theatre gives you great discipline and a sense of responsibility and a sense of being able to work well with others. So first I look at improv and theatre, and then the third thing I look at is television credits."
Goldman often asks auditioning actors for recommendations when he is trying to cast highly specific types. "I walk through the lobby and describe the actor I need," he says. "And people will say, 'Yeah, there's a girl in my acting class.' Well, get her on the phone; give her my number." He adds that most actors are very happy to help. "The whole idea that it's so competitive out there — well, it is competitive in that the jobs are scarce and the candidates are immense — but I find that in certain categories people are extremely helpful."
He adds that he is lucky enough to have an office full of people he holds in high regard and who are as devoted to the actors as he is. "For the last half year I've been very ill, and the casting job I'm proudest of is my own office," he says. "Mariko Ballentine, Josh Rappaport, and Alan Kaminsky have been working for me for more than 20 years — which in this business is unheard of — and Chris Devane for the past three years. During the months I was in the hospital the business ran itself. I may have set the tone, but, boy, they executed. We collaborate a lot on what we're doing, so we're all part of the process."
When he sees actors in his office, he wants them to have prepared themselves but to also be prepared to take direction. "Generally we let the actor [go with] his own instincts first," the casting director says. "In rehearsal we see how we're feeling about that, and then we make some changes. That's basically how we work. So you come in with one idea, but you might have to change your idea. Basically, the actor's [first] instinct is a very powerful tool; if he's not overthinking the spot, just using his own instinct is pretty accurate."
— Sarah McKinley Oakes
Runners-up for favorite commercial casting director: Terry Berland, Tony Cervantes, Danielle Eskinazi, Vicki Goggin, Jennie O'Haven, and Stuart Stone.
Favorite Improv Group: The Groundlings
It has been in business for more than 30 years and has such famous alumni as Will Ferrell, Cheryl Hines, and Kathy Griffin, so it's not surprising that the popular Groundlings Theatre would be the choice of Back Stage readers (for the second year in a row) as the best place to see live improvisation. At least five nights a week, a variety of shows can be seen at the Hollywood theatre, ranging from sketch comedy to long- and short-form improv.
Ask Jordan Black, who's been with the main company for seven years, if there's anything you can expect from the shows, and he'll tell you there are a few things you can rely on in the ever-changing medium. "You're definitely going to see solid performers giving solid performances," says Black, whose films include Bewitched and For Your Consideration and who currently appears on the Comedy Central series Halfway Home. "You'll get funny characters, talented people, and very good improvisation."
Black believes what makes the Groundlings stand out is the training performers receive at the school. "They have great classes, and you really learn the basics of improv that will help you perform better," he says. Improvised comedy may not seem to have rules, Black says, but that's because the best improvisers make it look easy: "You know you're doing it right when people think that there are no rules. But the rules are drummed into you; they become second nature after a while. And then you can break them. But you have to master them first."
One of the first rules is known as "yes, and-ing." In other words, you never negate or deny what one performer is saying. If they call you an alien from outer space, you go with it. You agree, and then you add something to the scene. "Whatever comes out of your partner's mouth is the truth," Black says. "Whatever comes out of your mouth is the truth." Another rule is to not ask questions; it stops the scene. And don't play children. "Children don't have any information; they can't help you take the scene to the next level," Black elaborates. "If someone plays a child, the onus is on the other person." And perhaps the most important rule, not only in improv but also in acting and in life: "Listen," Black says. "Improv teaches you to listen to exactly what is being said to you, as opposed to thinking about what you want to say while someone else is talking. That's helpful in relationships, at work, and in life."
Black was drawn to the Groundlings for the same reason many performers are: He knew it several members had gone on to Saturday Night Live. "Through the desire to get there, I discovered Groundlings," he says. "So I went there and put the work in and hoped I would get that call [from SNL]." He did, spending the 2003-04 season as a staff writer for the show before returning to Los Angeles to continue his acting career. He's aware that the success of the improv company and the cutthroat competition to get in has caused a little bad blood in the community. "A lot of people have a negative view of the Groundlings," he says.
"We have a lot of respect for all improv groups because we know how difficult it is to make a name and maintain it. The truth is, it's a harsh system, but we have a good eye for talent. And life isn't fair: You're not going to get every job you go out for. It comes with the territory. When you're on top, you gotta take those hits. I'd rather be on top and take those hits than to just have people say, 'Who cares? They're no big deal.'"
— Jenelle Riley
Runners-up for favorite improv group: April Fools, ComedySportz, I.O. West, Second City, and Upright Citzens Brigade.
Favorite Open Mike: The Laugh Factory
It's no wonder actors selected the Laugh Factory as host of the best open mike in town. For starters, unlike many open mikes in L.A., comics don't have to pay to perform. They also aren't expected to bring a crowd to show a booking agent that they have a following. Instead, performers are expected to come with a sincere desire to hone their craft and share their talent and work for the opportunity to become a Laugh Factory regular — and to get specific feedback directly from Laugh Factory founder Jamie Masada himself.
"I speak to every single one of them," Masada says. "I've been doing it for over 28 years, and I'm still doing it. It's a joy to give back to them. Without the comic, the Laugh Factory would not exist. No comedy club would exist. We all have the obligation to train and to work with open-mikers and to get them going."
Famous comics such as Jim Carrey, Damon Wayans, Dave Chappelle, Chris Rock, Dane Cook, and Jamie Foxx got their starts at the Laugh Factory open mike. Masada says people come from around the world — including Australia, Canada, and England — to perform at the open mike. Each comic is given three minutes to deliver his or her funniest material that is free of obscenity and expletives.
"Everybody can get laughs using the F-word or the N-word and all of the dirty stuff you can say," Masada says. "But if you put your foundation in solid and clean comedy, you become good. Then you become a regular, and then you can use whatever language you want." Masada notes that comedians need to hone three or four minutes of clean material for shows like The Tonight Show With Jay Leno, the Late Show With David Letterman, and Late Night With Conan O'Brien, anyway.
Masada has another rule: He doesn't allow performers to use other comedians' material. If he catches you, you'll get a verbal warning. If you get caught stealing a second time, you'll be banned for three months. If he catches you a third time, you aren't allowed back for a year or two. "[The restriction is] important because people, they work so hard to get their material going," he says.
Performers who do well at the open mike have the opportunity to perform in a six-minute and then possibly a 10-minute showcase. If they succeed in both, Masada will allow the performer to become a regular comic at the club. Not all well-known comics became regulars right away. "Damon Wayans, he performed at the open mike for almost two years to become a regular," Masada says. "It takes time. If you bring in 200 people, it doesn't make any difference. And if you bring in no person, it doesn't make any difference as long as your act deserves to be onstage." It's this fairness that's rarely found in Hollywood that makes the Factory's open mike the most popular. To the readers who selected the Factory's open mike, Masada says, "We are honored. Thank you very much. We appreciate it."
— Nicole Kristal
Runners-up for favorite open mike: The Comedy Store, The Dresden Room, and HaHa Café.
Favorite Cheap Meal: In-N-Out Burger
In Hollywood, time is money. And money — specifically, for the struggling artist, saving it — is important. So where can you get a great meal for not a lot of dough — and fast?
The answer, according to our readers, is In-N-Out Burger. Considering the nearly 60 locations in L.A. County alone, a fresh burger and milk shake are never far from reach, whether you're running late for an audition (heaven forbid), heading home after scene study, or on your way to pick up your headshot reprints and dry cleaning. What separates In-N-Out from other fast-food chains are its ingredients. Burger patties are all-beef, cut and ground by In-N-Out butchers, and never frozen. Fries are cut in-store from whole potatoes, just before they're fried in cholesterol-free vegetable oil.
The basic menu — hamburgers, cheeseburgers, fries, drinks, and shakes — means you don't have to think very hard about what to order. That is, unless you're trying to remember the name of those smothered fries on the so-called "secret" menu (that would be "animal-style," with the restaurant's Thousand Island-style sauce, cheese, and onions). But it's no secret In-N-Out's offerings are fully customizable. Need some — okay, a lot of — extra protein and calcium? Order a 4x4: four beef patties, four slices of cheese, plus your usual accoutrements. Use this ordering format to get any combination of meat and cheese — 2x3, 5x8. Go low-carb by asking for "protein-style" — lettuce takes the place of the bun. Grilled cheese, veggie burger, meat and cheese only (the Flying Dutchman) — they're yours for the asking. Self-serve fountains give you drink options, and you can have shakes — vanilla, chocolate, or strawberry — swirled in any combination (ordering a Neapolitan gets you all three).
The one caveat: In-N-Out's popularity means your wait might be a bit longer than at the average fast-food restaurant. But it's still fast, and isn't it worth it?
— Janelle Tipton
Favorite GYM: 24 Hour Fitness
Who says it's harder to defend a title than to win one initially? For the second year in a row, our readers have chosen 24 Hour Fitness as their favorite gym in Los Angeles. 24 Hour must be doing something right, so we decided to go to the source for tips on how our readers can get their best bods.
Ruben J. Hernandez, a personal trainer at the Sherman Oaks Galleria location, says it's about quality over quantity: "A lot of actors do too much cardio, and your body plateaus. You don't get a lot of bang for your buck." To get the most out of your cardio, "switch [it] up, and keep it intense. Go for a couple weeks on the elliptical trainer, then get on the treadmill for a couple weeks, then the bike." A key element is resistance training. "Most people think cardio is the way to get lean," Hernandez says. "Absolutely you have to do weight training, two to three times a week minimum. Don't forget the legs; the legs are the largest muscle in the body. You're going to be a fat-burning machine, burning fat even after the workout is done."
Hernandez had "always been in great shape" but gained weight after being sidelined by an injury. Through a Craigslist ad, he wound up on The Biggest Loser Season 2. Despite being the first voted off, he came back to the finale 81 pounds lighter with a 27 percent decrease in body fat. But many trainers will tell you the numbers aren't as important as how you feel, and Hernandez is no different. "My philosophy is, especially in this town, don't go by what everybody else looks like. If you feel good, that's what it's about. It's your own level of fitness we're talking about." He adds, "A lot of people won't see results right away. Just trust that the weight will come off with consistency."
When it comes to sticking with a routine, Hernandez says, your best bet is to "get a personal trainer or a buddy to work out with — somebody who's gonna be reliable and not flake out on you. If you've got a trainer waiting for you, then you're gonna get that workout done, because you're paying for the session. It's also good to have a game plan." We — well, you — know a place you can start.
— Janelle Tipton
Runners-up for favorite gym: Bally's Total Fitness, Crunch, Curves, Gold's Gym., L.A. Fitness, and YMCA.
Favorite Rehearsal/Rental Space: National Comedy Theatre
Originally called HBO Workspace, the National Comedy Theatre in Hollywood serves as the home base of the comedy-improv troupe ComedySportz, which took over and renovated the space in 2002, following its four-year residency at the Tamarind Theatre. During times when the troupe is not performing, it rents out the facility's 30-seat classroom space, which is available at various times, and its 70-seat performance area, which is available during daytime hours and Monday and Tuesday evenings.
According to ComedySportz artistic director James Bailey, the performance space includes sophisticated sound equipment, a complete lighting system with a flexible lighting plot, plus DVD and VHS capability. He says the space is suitable for workshops, staged readings, auditions, solo performances, and showcases, as well as meetings and parties. Casting directors frequently book space in the building, and it is also used for film shoots. Additional pluses are a spacious lobby and a patio.
Bailey says that among the most appealing features are the building's stylish art-deco design and professional sheen. He remarks, "Everyone — even the fire marshal — has commented on how pretty and comfortable this place is. And it is laid out very nicely. It's also right in the heart of the Hollywood industrial area, which is generally inactive at night, leaving ample street parking. And there are 24-hour security officer patrols, as a part of the Hollywood Media District." There is usually additional parking available at the Laser Pacific lot at Seward and Waring. Rates are negotiable, starting at $25-$60 per hour, depending on the space desired and the specific needs. Bailey says it is ordinarily not necessary to hire technical workers.
ComedySportz is located at 733 N. Seward St., Hollywood. (323) 858-4796.
— Les Spindle
Runners-up for favorite rehearsal/rental space: The Complex and Debbie Reynolds Studio.
Favorite Hair Salon: Rudy's Barbershop
With shops throughout L.A., Rudy's Barbershop was named our readers' favorite hair salon for the second year in a row. The shops do not take appointments, so be sure to call and get your name on the waiting list about an hour before you plan to walk in.
Always remember, if you're working with a new stylist, try him or her out well in advance of any important appearances, so you don't wind up on your big day with a cut/style you don't like. If you know what you want, be able to describe it, or bring photographs. Otherwise, tell your stylist before the haircut begins what your concerns and goals are.
JC Gardiner, manager of Rudy's at the Hollywood Standard Hotel and on Melrose, also happens to be an actor. He says the current trend for men is "New Republican, with clean lines, short up the back of the neck, but with an edgy finish of more volume on top." For women, the style has returned to traditional 1980s, including ponytails and bangs but more texture cut into them with extra layers, "that give these cuts with traditional look a fresh perspective."
As for the right cut, he says there are advantages to a neutral cut and advantages to a more distinctive look. "A haircut that is versatile is a great tool, so you can play everything from banker to a biker," he says. "But unique cuts are good because they help an actor carve out their piece in what they're trying to do."
Products to consider are Sumotech, a hair paste made by Bumble and Bumble. He says it looks like a pomade but has no wax, so it doesn't melt in the sun. "For men, it's great for short hair to give it that lived-in slick hairdo and for women to give it that fresh-off-the-beach look." He also recommends Bumble and Bumble's tonic, which helps break down any product left in the hair; made with tea tree oil, it's used before a blow dry or just to spritz on to finish the hair. And if you get a last-minute audition or other acting emergency and you can't get to the stylist that day, says Gardiner, "The best thing is to give yourself a good wash, a good condition, and pay attention when you're in the stylist's chair so you can re-create that look you like."
— D.M.
Runners-up for favorite hair salon: Supercuts, Fantastic Sams, Vidal Sassoon Academy, Juan Juan, and Michael Curto.
Favorite Makeup Artist: Rita Montanez
No wonder our readers love her: Rita Montanez has been making up actors for more than 30 years. She started as a secretary for Max Factor, then began assisting in advertising and loved the way the makeup artists worked. Given the opportunity to follow them around and learn, she took in the best of the best. Since then, she has made up stars including Michael J. Fox, Lisa Hartman Black, Cesar Millan (the dog whisperer), and Angelina Jolie for years, she says. You can see her work every weekday in the opening titles of The Bold and the Beautiful.
The biggest mistake she sees actors making is using too much makeup. She suggests a light concealer. "I love to use Dermalogica products," says Montanez, especially its eye-firming gel, which she mixes with the concealer. She suggests a light application over the face, topped with a light powder. "Then brush the eyebrows," she advises.
For a photo shoot, go a little bit heavier, she says. "I put a lot of emphasis on eyes, men and women. Curling the lashes is very important, using clear mascara for men." She also uses a little eye shadow for both — to give the eyes "a little zip." The correct color of shadow depends on skin color, but in general she recommends something natural.
At photo shoots, she uses soft colors for women, lip balm for men. "Emphasis is always on the eyes," she cautions.
For stage, it's "a different ballgame." She goes heavy on blush, heavy on eyes. "Some people like to watch actors mouthing the words, so everything has to be very intense," she says.
As for products, she uses rice powder, which can be bought at beauty supply stores for less than $5. Brushes help makeup go on evenly; sponges, she says, waste makeup. Blending with the fingers is the best finishing touch.
Removal should be by warm washcloth, patting the face and not pulling at it. She likes using Cetaphil, under $10 at drugstores, which she says is gentle and nonabrasive.
Montanez says she is happy to give advice if anyone wants to contact her, at www.makeupbyrita.com.
— D. M.
Favorite Beauty Supply: Sally Beauty Supply
For the second year runnng, Sally Beauty Supply, with shops all over the Southland (not to mention the world), was the pick of our beautiful readers. We asked Sally to offer a few tips for the on-the-go actor.
What are the best products for getting heavy makeup off? What's the best technique for getting heavy makeup off?
One important tip for those who use heavy makeup daily is to make sure skin is clean each night. Sleeping with cosmetics on or not effectively cleansing your skin can cause dull skin and blemishes. Don't scrub: If you have the right products, you shouldn't need to scrub your skin. Start with Beyond Belief Facial Cleansing Towelettes. They are premoistened facial cloths specially formulated to remove makeup from the eyes and face. They unclog pores and remove makeup quickly. When makeup is applied heavily, use a foaming cleanser.
Beyond Belief makes a pore-refining foaming wash with alpha and beta hydroxy acids. The final step is to add back any moisture that may have been removed from the skin; look for an oil-free moisturizer to prevent clogged pores. What are the best products for skin care — for women and men?
Skin renewal is the most important process to maintain younger-looking skin. Beyond Belief Vita C+ Skin Care contains vitamin C plus a unique complex of other important vitamins and botanical nutrients that work together to delay the changes occurring in the skin due to age and environmental damage. Beyond Belief Vita C+ helps clarify, moisturize, smooth, and restructure the skin, while it stimulates skin renewal and neutralizes free radicals that cause collagen break down and damage the skin. Because most of these products are oil-free, they are good for sensitive skin as well.
What are the latest trends in hair care?
Ion technology is the latest. It is used in hairdryers, curling irons, and flat irons and helps maintain healthy hair. Ion technology allows hair to be styled without using as much heat, so there is less damage and it requires less time.
For stores near you and further information, visit www.sallybeauty.com.
— D.M.
Runners-up for favorite beauty supply: Naimie's, MAC, CinemaSecrets, Friends Beauty Supply, and Larchmont Beauty Center.
Favorite Headshot Photographer: Blake Gardner
Before becoming a popular headshot photographer, Blake Gardner was a typical actor living in Los Angeles. He always had an interest in taking pictures, however; his father is a photographer, and he grew up around the profession. "Acting [initially] stole me away from photography," Gardner says. "Around age 17, I started doing improv comedy, which led me into doing acting, and I found my way out to L.A. [from Orlando, Fla.]"
He couldn't stay away from his first love forever, though. "[An actor] friend of mine asked me to do some photos [of her] with a crappy little digital camera I had," he recalls. "She really liked her shots, and I really like actors, so I thought it made sense that I would shoot some headshots for actors."
He eventually decided to pursue the profession full-time. "The challenge of trying to get someone to really open up and be themselves within the matter of a couple of hours is something I enjoy greatly," he says.
He shoots strictly digital and, as he states on his website, believes that "your headshot needs to not only look like you physically but mentally and emotionally as well. You need a picture that will clearly highlight the personality of the person the casting directors are going to meet in the audition."
To that end, he says, he tries to cultivate a relaxed shooting atmosphere that puts actors at ease. "With me, it's more like hanging out with a friend on a Sunday afternoon than taking pictures," he says. "There are other photographers who will be really high-energy, and sometimes actors really like that, or actors really want someone to tell them what to do, which is not something I do either. I just like to be myself and be relaxed and talk and have a casual conversation."
To get the best possible headshots, Gardner offers the following tips:
• Do your homework.
"Actors really [should] know exactly what parts they're trying to get and be proactive about looking at other shots and saying, 'This is what I really like; this type of feeling and essence of a shot is what I really need,'" Gardner says. To prepare actors for their shoots, Gardner offers an online "actor toolkit," which features a questionnaire and "headshot style selector." "[The forms] help actors pinpoint what it is about them that makes them stand out in a crowd and what we're trying to highlight in the shots," he says.
• Meet with photographers in person before booking a shoot.
"You want a photographer who you're going to feel comfortable with and [have] rapport with," he says. "You're going to want to find someone who you like, [who] you're going to feel comfortable enough to be yourself with."
• Just relax.
"Even for the serious shots, if you're not enjoying yourself, it's going to come across," he says. "No one wants a shot of someone who looks like they're going to be uncomfortable and unpleasant to work with. They want to see that you're going to have some type of friendliness and personality that they're going to be attracted to."
For more information, call (323) 445-9845 or visit www.blakegardner.net.
— Sarah Kuhn
Runners-up for favorite headshot photographer: Conrad Allen, Brad Buckman, Sara Corwin, Mark Husman, Robert Kazandjian, Theo & Juliet, and Alan Weissman.
Favorite Theatre Company to See: Theatre of NOTE
The acronym stands for New One-act Theatre Ensemble, and at its inception in the early 1980s — the company was created by U.C. Irvine grads Kevin Carr, Gary Lamb, Jim Schendel, Art Cybulski, and Marc Gordon — it was intended to showcase what was at the time an underappreciated form. KPCC reporter Kitty Felde, a founding member whose very first play, Shangai Heart, was produced by NOTE, recalls the company's early days downtown as being a classically scrappy experience, with the group convinced that the area was on the cusp of an artistic boom and everybody pitching in to help. Anjelica Huston performed there once, and Felde tells of the evening a gentleman approached the cardboard table functioning as a box office and snarled, "One reservation for Nicholson."
Janis Hashe, one of the first board members, remembers the whimsical touch lent by "Casey," a gentleman hired as a guardian of sorts who rode around on his bike with a bird perched on his shoulder, ostensibly to discourage the local criminal element. Muggings and break-ins were not routed by the only slightly intimidating duo, however, so the company moved to a space on Kenmore (later the Déjà Vu Theatre) and then to its current location just north of Sunset on Cahuenga. Though the core company's midwives have moved on, the company continues to thrive. Felde attributes this in part to its board development in the early days, which maintains continuity despite changes in personnel. "To me, this is the strength of the theatre, that it has reinvented itself," she says.
Its current incarnation not only challenges audiences but also provides a theatrical home for company members. Longtime member Laura Finnegan says many of people in the company refer to it as "Mother NOTE."
Actor-director Ezra Buzzington made it clear when he auditioned for the company that he was merely seeking a place to ply his trade, but after two years, he says, "I realized I'd managed to find a theatrical family." This is due not only to the democratic structure of the company and its flexible on-leave policy but also its adherence to the primacy of the acting. "Even in a flawed play the acting shines through," Buzzington says. Shows are cast from within the company, though members will sometimes cast from outside when seeking a very specific type. Auditions are held twice per year and consist of two monologues and an interview. A college degree doesn't hurt, and a familiarity with the company beyond the holiday offering, A Mulholland Christmas Carol, is expected.
Dues are currently $10 per month, but as of January 2008 dues will become history. In addition to mounting new works, the theatre conducts a staged reading series for new playwrights to see their works performed and get feedback. A good way to get a taste of NOTE is to attend its annual performance marathon in January, which Finnegan refers to as "my favorite theatrical experience ever," or catch a few trailers of current or recent productions at www.myspace.com/theatreofnote.
For more on the theatre, visit www.theatreofnote.com.
— Wenzel Jones
Runners-up for favorite theatre company to see: A Noise Within, Elephant Theatre, Geffen Playhouse, Odyssey, Orphean Circus, Sacred Fools, and The Actors' Gang.
Favorite Theatre Company to Act With: The Actors' Gang
Joel Kimmel, who has performed with The Actors' Gang for two years, has an immediate and unequivocal reason for why the readers of Back Stage gave the envelope-pushing 26-year-old company a vote of confidence: "We are an ensemble in the truest sense of the word. Every play we do is cast from within, and all of our actors work together at least one day a week in our theatre, participating in workshops or classes. That builds a tremendous amount of trust. It's that sort of atmosphere that remains when we cast a new production, and it carries forth into the rehearsals."
Unlike many Southland companies, The Actors' Gang has no formal membership structure. Prospective new Gangers are introduced into the fold via an internship program, with a new group of approximately 15 participants brought in twice per year. Those who remain form the company's acting pool, working there as long as they want and with the freedom to take other professional jobs. Kimmel elaborates, "The interns we bring in usually vary in age and size and every other kind of mix. They have a commitment to donate five hours a week to the theatre in various capacities, such as ushering. But they are also allowed to audition for the shows. We are very much an equal opportunity company."
He adds that the first step in getting involved with the Gang is to see a production. "Lots of people blindly market themselves everywhere," Kimmel says. "It's imperative for those who want to work with us to come in to see what we do. We don't do naturalistic plays. We have a unique style. Actors coming in need to feel a connection with what we do. Besides a photo and résumé, they must submit a cover letter. And the letter is the most important thing in letting us know if they are suited to the kind of work we do."
Kimmel points out that the Gang's audition process also differs from most companies. During workshops, which also double as auditions, for upcoming productions, the actors take on many different roles — regardless of role size, gender, or age. Actors don't enter this process going after a particular role. In a previous Back Stage interview (Nov. 9, 2006), actor Cynthia Ettinger said she finds great rewards in the company's strong ensemble paradigm, believing t he working atmosphere is something unique and special and that it leads to extraordinary work.
Another attractive feature for actors is the opportunity to earn wages in touring productions. Says Kimmel, "During the past four to five years, the company has been sending shows out on tour — both nationally and internationally. These actors get paid full Equity salaries, rather than what they make in an Equity waiver contract. In the case of our recent production of 1984, while the production was running here in L.A., another company was touring the show, first domestically and then internationally. It also gives some actors a chance to join Equity for the first time. I don't know of any other local company that sends out tours on the scale that we do."
Founded in 1981 by actor Tim Robbins and his classmates from the UCLA theatre department, the award-winning company has established a reputation for edgy, challenging theatre. Even when performing classics such as last year's Love's Labor's Lost, the company's unique style is evident. Though the company history includes some rocky internal struggles, some of which led to the departure of several actors in 2001, the company retains a sterling reputation for artistic excellence. It offers great opportunities that should be considered by actors who want to work with passionate and motivated peers on adventurous projects.
— Les Spindle
Runners-up for favorite theatre company to act with: Knightsbridge, Sacred Fools, Theatre of NOTE, Theatre 40, and The MET.
Favorite Theatre Directors to Work With:
Lisa Peterson
Lisa Peterson is well-known in Southern California for her work at La Jolla Playhouse and the Mark Taper Forum, though her professional accomplishments have a much wider scope. This Obie-winning director (for Caryl Churchill's Light Shining in Buckinghamshire) boasts extensive credits in New York and in professional regional theatres across the nation (Guthrie Theatre, Yale Repertory Theatre, Williamstown Theatre Festival, and many more). She served as associate director of La Jolla from 1992-1995 and as resident director of the Taper from 1995-2005, where she helmed diverse shows including the Lorca classic The House of Bernarda Alba and Luis Alfaro's Electricidad. She still accepts freelance directing assignments at the Taper — most recently last season's award-winning Culture Clash play Water & Power.
Born in Boston and raised in Aptos, Calif., Peterson now maintains residences in Manhattan and L.A. "I started out wanting to be an actor," she says. "I was also a musician. In college I discovered directing. It felt like the right fit." Her tastes veer toward "plays that matter." She notes, "I like big-idea plays. I don't tend to do much pure realism. I like plays that one way or another ask a social question or a political question or a mythic question."
She explains that her jobs at La Jolla and the Taper were somewhat different: "At the Taper, there was all kind of play-development activity the years I was there, whereas at La Jolla my work focused more on directing plays, though I also did a little bit of associate producing. It was a very small staff. At the Taper, I had all of these colleagues on the artistic staff to work with, which was very exciting."
What does she look for when casting a show? "It, of course, depends on the play and the role. I respond to intelligence and a sense of humor in pretty much everything. I look for actors who have reached a sense of confidence and peace with themselves, so it doesn't feel like they're working too hard — to please me or the audience. And I like actors who have a point of view. I like it when someone says, 'This is a little crazy, but I'm going to try it.' " She concludes, "Right now is the first time I've been a full-time freelancer. I kind of miss having a home base, but working this way also has its rewards."
— Les Spindle
Ellen Geer
Veteran actor-director-teacher Ellen Geer tackles a juicy acting role at least once per season at Theatricum Botanicum, a charming outdoor theatre nestled in the hills of Topanga Canyon. This multitalented artist, who has served as Theatricum's artistic director since 1978, has certainly earned the right to treat herself to plum roles. Though she grew up "running around in diapers" at this theatre, established by her late father, actor Will Geer (The Waltons) in 1951 — originally as an artistic haven for victims of McCarthy blacklisting — she also has maintained a lengthy and prolific career in film and TV, following her 1968 film debut, in Richard Lester's Petulia.
An associate professor of acting at UCLA, Geer also oversees Theatricum's educational outreach programs for public school children and play development programs. Besides acting, teaching, and running a theatre that is open six months a year, she says, "I also find time to raise a family." Theatricum specializes in Shakespeare and other classic plays but sometimes stirs up the pot with such edgy shows as Harold and Maude (in which Geer played the iconic title role made famous by Ruth Gordon).
What does Geer perceive as her directorial strengths? "I've always thought of directing as being a wonderful policewoman (in my case). You become the eyes for the actors, who can't see themselves. I also help them figure out why they do things, so they can flower to the best of their ability and to balance out the whole piece." Geer holds open auditions each March. Applicants can try out for a single production, a season, or company membership. An intern program was instituted two years ago, which is a huge success, Geer says. "The young actors work with our old-time actors, who serve as mentors. They also gain Equity points, which gets them closer to union membership."
Of her professional journey at Theatricum, the self-assured but always gracious Geer says, "The wonderful thing with me is I took all of the opportunities I had with Tyrone Guthrie and so many other great rep people, who taught me what I know, and I brought that to our theatre. I have been very fortunate. The most incredible, talented people have grown up at this place. They're extraordinary. Training and working with young people is a pure joy."
— Les Spindle
Ron Sossi
Ron Sossi, founder and artistic director of the 38-year-old Odyssey Theatre Ensemble in West L.A., is a maverick in the best senses of that word. This Los Angeles Drama Critics Circle Award winner has produced and directed edgy, risk-taking theatre locally for almost four decades. He had the guts to walk away from a promising career at Hollywood movie studios to roll up his sleeves and toil in the fiscally challenging realm of 99-Seat theatre.
"I'm a renegade," he says. "I worked in the [film] industry for about seven years. I was an executive producer at ABC and associate prod on a series. And I was at Paramount, in program development. It wasn't satisfying to me creatively, and I didn't like the lifestyle. I became very frustrated and started the theatre really as a fresh creative outlet, then ended up leaving film entirely to devote full time to it. And here I am."
With company-produced efforts, rentals, and KOAN, the company's experimental ensemble troupe, the Odyssey's three theatres remain filled almost continually, staging works including Shakespeare, international contemporary playwrights, and up-and-coming American playwrights.
Sossi is outspoken about a trap he feels actors moving to L.A. fall into. "Too many get caught up in the Hollywood merry-go-round," he says. "I'm speaking of when they basically stop acting, spending all of their time on the phone with agents, taking pictures, buzzing around, and networking. They end up basically just doing all of that." He feels that joining a theatre company is a good solution for some to keep in touch with and hone their craft.
He has certain things he looks for when he is casting a show: "I always look for the quality of the actor. I'm not very concerned about the material they bring; I'm concerned that they're on top of it, and that they have a point of view, a take on it that is really their own — even if I consider it wrong. I look for uniqueness; I often say to people in my acting classes that of the actors who audition at the Odyssey, maybe 10 to 20 should get out of acting. Another 70 percent to 80 percent fall into a category where you would say, "Oh, well, okay, they're fairly competent. But you look for that 10 percent that is really exceptional — those who have something that is totally original in what they do."
— Les Spindle
Dear Readers,
Back Stage's 2007 Readers' Choice Awards are our second attempt to find out what individuals and companies you value as actors and as Angelenos. Thanks to the hundreds of readers who responded to this survey and who took the time to share excellent tips on their favorite people and places that make a difference in this town. I'd like to congratulate this year's winners (a few of which are repeat winners from last year) as well as our runners-up, who should be equally proud of this recognition, as it means that actors greatly value what you have to offer them.
Additionally, I congratulate the winner of our Readers' Choice Poll drawing, actor Gabbie Garcia, who will receive a free headshot package valued at $600 from photographer Alan Weissman. Special thanks to Alan for volunteering his outstanding services, as well as to Rita Montanez, who will be doing Gabbie's makeup for the shoot. Alan is a runner-up this year for favorite headshot photographer, and Rita was voted favorite makeup artist.
Besides being merely a list of faves, this issue offers great advice from experts in their fields. And if there are any categories that you think Back Stage should add for next year's Readers' Choice Awards, send your suggestions to me at [email protected].
Sincerely,
Jamie Painter Young
National Editor-in-Chief