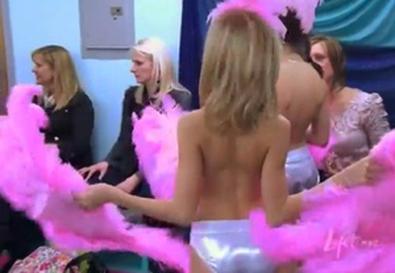 Lifetime's "Dance Moms" may have flown too close to the sun on a recent, now infamous, episode originally titled, "Topless Showgirls," which aired on March 6.

The controversy began the next day as the ladies from "The View" expressed their concern for the young dancers, ages 8 to 13. Host, Sherri Shepherd, told viewers, "It's a sexualizing of children. It's 'like crotch, boobs', that's what I don't like," referring to dance studio owner and instructor Abby Lee Miller's choreography instructions to her students.

"Dance Moms" follows outspoken Miller, her Abby Lee Dance Company students, and their devoted mothers at national dance competitions. In the "Topless Showgirls" episode, dancer Chloe, 10, confesses, "I guess all the girls and I are kind of nervous because we feel kind of . . . naked. . . because all we have on is a bra top and bootie shorts."

Lifetime has since pulled the episode but the Burlesque style dance number performed by prepubescent girls dressed in nude-colored, sequined bikinis is a hit on YouTube. With "Dance Moms: Miami" premiering on April 3 and "Ice Moms," featuring the world of figure skating, in development, one wonders, is the real world of dance much different than what's portrayed on TV?

New York dance studio, Steps on Broadway, has been training and supporting dancers for more than 30 years with The School at Steps, teaching children ages 2 to 18. The School's Director Kate Thomas is "really appalled" by what she has seen on "Dance Moms."

"The show is child abuse, in my opinion; [Miller] should be in jail." says Thomas. "They just show this kind of abusive woman badgering these poor little children into these performance pieces and then dragging them all over the country to participate in competitions that [Miller] doesn't even know anything about. In some cases, they were performing on floors that shouldn't be danced on, like gymnasium floors where a kid slipped and hurt herself. It is just irresponsible to me and I know that there are some terrific schools that participate in competition."

Janine Molinari, Artistic Director/Owner of DanceMolinari NYC/LA and dance coach to children on Broadway and on national tours, does not "approve of [the] negative and competitive environment" seen on "Dance Moms." "In the end, the student may become completely turned off to dance," she says.

"Dynamics between parents in the pro-dance world are as varied as in any sport," explains Molinari. "[Parents] become best friends, enemies or common acquaintances. Whatever the dynamic for them, when in class, the kids are supportive of each other."

Marissa Smoker, 13, who recently appeared as "Jane" in the first national tour production of "Mary Poppins" and currently appears as "Young Dorothy" in the TV mini-series "The Witches of Oz," began in dance competitions at an early age. Her mother, Denise Smoker, admits when it comes to costuming her daughter she has always been strict. "I told them [dance studio instructors] from the get go 'you're not bearing her midriff', she was 7 or 8 when we started."

"What they are showing on ["Dance Moms"] isn't terribly healthy," Smoker says, and she is critical of Abby Lee Miller's "public humiliation" style of teaching. Smoker believes some of the drama she sees on "Dance Moms" is "manufactured." "You do get that [tension] once in a while but, for the most part, most of the moms I've met are very helpful to each other," she adds.

Sonia Melo, mother of Giuseppe Bausilio one of Broadway's Billy Elliotts, recognizes the difference between competition and a typical dance class. Melo and her husband own studios in NYC (AS Ballet NY) and in Switzerland (American Swiss Ballet). Both are accomplished dancers and devote their time to training students for international dance competitions, including Giuseppe and his older brother. Parents become frustrated at times, but unlike on "Dance Moms," Melo will not tolerate disruptive parents and has asked a parent to leave her studio.

She understands the pressures and financial sacrifices parents face in the dance competition world, but she also understands that their devotion comes from a place of love.

"If I had to choose between a "dance mom" and a mom that has no time for kids, I would much rather have a "dance mom" because they care," she says.
Inspired by this post? Check out our dance audition listings!