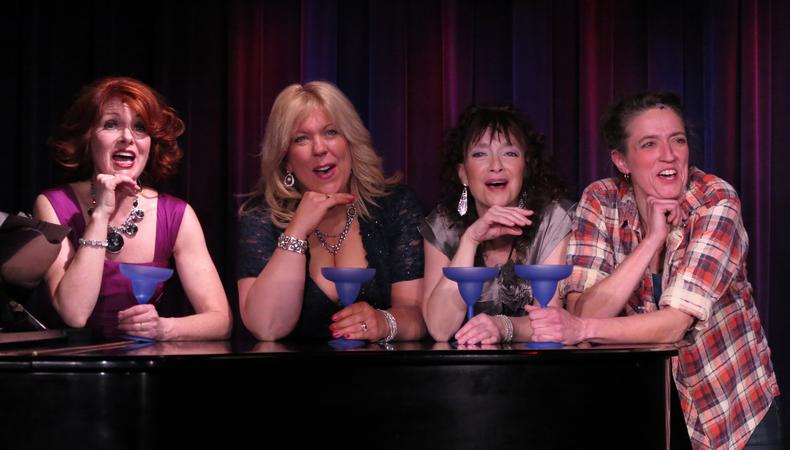 It didn't sound too promising: a cabaret-style revue satirizing Bravo's prolific "Real Housewives" franchise set in a quaint village in Upstate New York. How much material could possibly fill out even an hour's running time other than some stale jokes on the staples of these shows: rich bitches, plastic surgery, alcoholism, and sleeping around. Luckily, "The Real (Desperate) Housewives of Columbia County Musical" demonstrates that with enough wit, spark, and pizzazz any topic, no matter how familiar, can be spun into theatrical gold. After a summer run at Taconic Stage Company in Copake, N.Y., these ladies are warming up Manhattan at the West Bank Café's Laurie Beechman Theatre.
The opening number, "Fifteen Minutes of Fame," doesn't hold out much hope for a sparkling evening. With unimaginative rhymes we're introduced to a quartet of cardboard caricatures starring on a reality show. There's narcissistic Melody, a former child star whose one claim to fame was starring as young Helen Keller in a musical version of "The Miracle Worker" called "Blind, Deaf, but Not so Dumb." Carol is the proverbial cat on a golden roof; she's on the prowl because her husband left her for his male Pilates instructor. Unlike these two, who only come upstate during summer weekends, Katrina, the wife of the town supervisor, lives there year round. Her main characteristic is boasting about her Dutch heritage. Then there's Danny, another local gal who's somewhat lower on the social ladder and ekes out a living cleaning houses for these women and bitching about them, both behind their backs and to their faces.
Happily, after this dull opening the proceedings liven up. Composer Wayne Moore and lyricist–book writer Carl Ritchie punch out one funny number after another, smartly and economically staged by Ritchie and played with energy and finesse by accompanist–music director John Moran. I was so busy jotting down Ritchie's clever lyrics that I almost didn't have time to laugh. Anyone who pairs "gin and tonics" with "Manolo Blahniks" is aces in my book. Even a ditty on the vulgar subject of a handyman's butt crack is fairly clever, matching "constant companion" and "my private Grand Canyon."
Meg Dooley is a delightfully nasty Melody, delivering an unapologetically poisonous anthem to the joys of bitchiness with relish. Constance Lopez supplies martini-dry hauteur as the horny Carol, milking every double entendre for all its worth, particularly in a sly number about real estate and sexual politics. Lisa Franklin displays a gorgeous voice and perfect timing as the bubbly but annoying Katrina, and Diedre Bollinger is spicy and sarcastic as the put-upon Danny.
"The Real (Desperate) Housewives of Columbia Count Musical" is a fun, fizzy, and fast cocktail.
Presented by Taconic Stage Company at the West Bank Café's Laurie Beechman Theatre, 407 W. 42nd St., NYC. March 7–28. (800) 838-3006 or www.brownpapertickets.com.
Critic's Score: B+