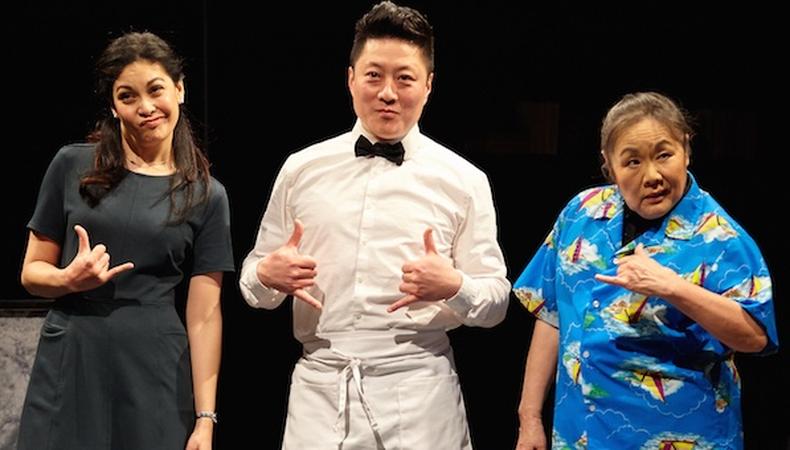 Every year, actors arrive in Louisville, Kentucky, to originate roles in the iconic Humana Festival of New American Plays at Actors Theatre, running now through April 8. This year Backstage sat down with 11 professional actors from five of the festival's world premieres, asking them to share their perspective and advice for you, our readers. From learning to love your solidarity, to figuring out what sort of work is the best fit for your career goals and daily needs, regional theater is a lesson on varying aspects of performance. Here are accounts of regional acting in America—the romance and the realities—directly from the actors themselves.
On traveling for work.
"I keep thinking that I'm new at this. Part of my brain is saying it's easier in New York because you can just hunker down but, no, because New York is New York, and New York doesn't care. Part of the joy working regionally is exploring new places." —William DeMeritt, "We, the Invisibles"
"I started saying this to some of my actor friends: actors are like the migrant fruit pickers of the theater. And someone was like, 'No, no we're not; migrant fruit pickers travel with their families.' " —Tom Coiner, "God Said This"
"I love it. I didn't travel a lot growing up, so it's been such a fun opportunity to go to different cities and learn about all these different cultures in my own country. But there are definitely hard aspects of it—being away from friends, family, familiarity, your normal routine." —Luke F. LaMontagne, "Evocation to Visible Appearance"
"It can be hard on relationships, being an actor. When you're working, you're gone. And when you're not working, you're insane." —Jay Patterson, "God Said This"
"To get a job in a regional theater for a couple of months means that you have to quit your day job back in New York City—or hopefully, you've worked something out where they'll accept you back. That's the hope. You don't know. I tell every new actor to this business—find a place to live, find a way to support yourself, meaning a job, and then attack your craft. Try to have a good foundation at home, so you can freely do what you do." —Bjorn Dupaty, "Do You Feel Anger?"
"Somebody once said this to me, 'There are three reasons to take a job. It's either for the role because it's something you really want to do, for the people or a company you want to work with, or it's for the money.' It should be two of the three." —Jessica, "Jessie" Wortham, "Marginal Loss"
"I'm new to this and I love it. To me, acting in regional theater was a sign of hitting a certain level of excellence and privilege in your art. So that's how I feel. Of course, there's the other side where people have done it for so long that they burn out. I get it." —Rebecca S'Manga Frank, "We, the Invisibles"
On diversifying your disciplines.
"Composing is another way that I naturally like to explore my art. Any time you can see things from another point of view, it makes you better a better actor." —Ronete Levenson, "Evocation to Visible Appearance"
"My drag name is Aviva Dickman. She's Jewish. And she owns a lot of property. I brought a box of Aviva to Louisville. They always say to actors, 'It's important to find your own work for when you're in-between projects, or when you're in a dry spell,' and drag has been my way of continuing to perform." —Amir Wachterman, "Do You Feel Anger?"
"I came to acting through music. I feel like I am a musician first even though that's not where I make all of my money. Music is where the entertainer in me came from. I grew up singing in church, so that's always been a big part of me." —Carla Duren, "Marginal Loss"
On voice acting.
"Voice acting is something I recently got into in the past three or four years. It was a great way to fill in the employment gaps when I was in New York. I had a classic set up—a closet space in my Brooklyn apartment to record. I will say, the bulk of the work, for me, is a lot of romance novels and erotica. Honestly, well, if you're a woman, you end up doing a lot of romance novels because that's where the biggest demand is—and I didn't know that." —Wortham, "Marginal Loss"
"If I'm narrating long-form journalism pieces for the Atlantic or the New Yorker, I have the luxury of reading it several times. With a novel, I don't have that luxury. So the best I can do is read it once, and highlight each character in a different color so I can see them coming. Then I'll make a voice memo of maybe how that character's voice will go. You try to maximize your efficiency time in the booth because you get paid by the finished hour, not the work hour." —DeMeritt, "We, the Invisibles"
On keeping up your energy.
"You focus on what's in front of you. Don't worry about the future. How about I worry about Act One—that scene in Act One? We have control over two things: the way we treat people, and the level of integrity with which we deliver our work. And that's about it." —Patterson, "God Said This"
"I'm just trying to ride the wave and enjoy it as much as I can. I feel like in the past, I've spent so much time worrying or being anxious about the future that I haven't appreciated what's in front of me." —LaMontagne, "Evocation to Visible Appearance"
"I usually try to keep a mental space of knowing that when I get to the theater at seven, that's when my prime hours have to be—and I conserve for that." —Levenson, "Evocation to Visible Appearance"
On getting into character.
"I spend as much time prepping for the show as it takes me to do a show. So I start 90 minutes before. I like to get there early; sit and meditate, l listen to our soundcheck. I see them check the lights. It takes a second for me to step out of my life into my character's life." —Tiffany Villarin, "Do You Feel Anger?"
"I prioritize. First is the role. With friendships, I'm like, 'OK, I'm shutting down—I'm off the grid for this long.' Every chance I get, I'm doing lines; I'm discovering who my character is." —Duren, "Marginal Loss"
On starting as an apprentice.
"I came here right after college and worked my ass off for nine months. It was at the Humana Festival that I met the real actors—the real people making a living at this. And that's when I decided to become an actor." —Coiner, "God Said This"
"It's really special to come back after being an apprentice. When you are young, you look up to these actors. To come back years later as one of those actors is very humbling." —Amir Wachterman, "Do You Feel Anger?"
On the Humana Festival experience.
"Humana's a literal summit. It's a place where people gather, and it's also a peak where we come to do our best work for each other. It's cool the way we raise the bar for each other." —Coiner, "God Said This"
"The plays that come to Humana—they are groundbreaking. They're doing something new! They're taking risks and when you're doing that, it's a vulnerable and sensitive time and creation space. And not that you can't create that space in New York, but you have to be more vigilant about it with everything else going on. Here, it is what we're doing. It is our focus. It's summer camp in a lot of ways. But it's summer camp with the professionals that you've always known and respected." —Levenson, "Evocation to Visible Appearance"
"It's nice to be at Humana. It's easier because we don't have to do the day job. We're freed up just to do what the play requires, and then we have time to take care of ourselves." —Villarin, "Do You Feel Anger?"
"Humana is something I've wanted to do for over 30 years. It's like the Indianapolis 500 of regional theater." —Patterson, "God Said This"
These interviews have been condensed and edited for clarity.
NEXT STEP: 7 Theater Companies That Double as Acting Schools