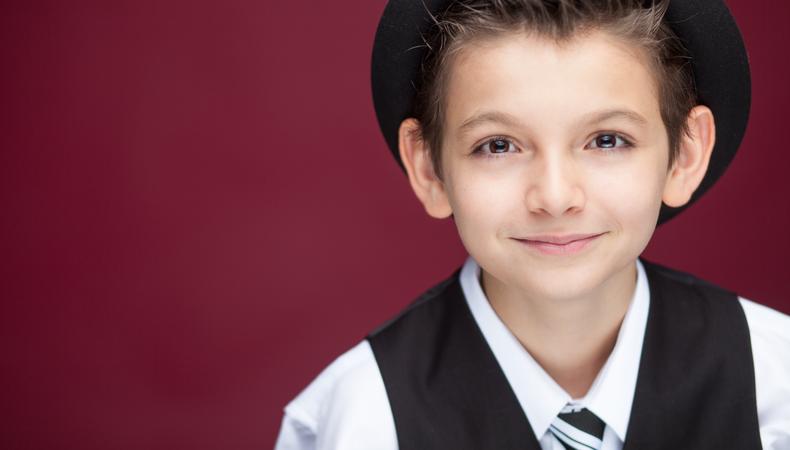 So many kids come to me with dreams of being on Broadway and as much information as I can give them, nothing beats first-hand advice and experience. I interviewed my client, Luca Padovan, who is about his start his third turn on Broadway in the "Marvin's Room." Previously in "Newsies" as Les and "School of Rock" as Billy, he definitely knows what it takes. Here are his answers to some of the most common questions I get asked:
What's your favorite part of being in a Broadway show?
I love being with the cast. You spend more time with them then you do at home so they become your second family. My favorite part of being in a Broadway show is making people happy. I love to hear the audience laugh and sometimes even sing along. I love the finale of the show because everyone in the audience gets on their feet and starts to dance along with us. After the show, I try and meet as many people as I can and most of the time; they say they had a blast. I'm thrilled when they say that they had a great time and want to come back. I think it's such a privilege that I get to make someone's day by just doing what I love.
Is it boring to do the same thing day after day?
I don't think it's boring to do the same thing day after day. Every time I'm on stage, I remind myself that my character has never done this before. If it's a new experience for him, it's a new experience for me! Also, there is always at least one person in the audience who is seeing the show for the first time, and I don't want to let them down!
Who watches you backstage? What does he/she do?
If there is a kid under the age of 16 on Broadway, the show most likely has a child guardian backstage. A child guardian basically makes sure that you make it on stage on time and in one piece. The guardians know the show inside and out and know exactly where each kid needs to be at every moment. They also make sure that we are safe, fed and ready to go! They are with you every time you're offstage too so they become your best friend!
READ: What It's Like to Be a Child Understudy on Broadway
How do you deal with late nights and school the next day?
At first, staying up late for the show and going to school the next morning was really hard. For me, school starts early in the morning so to get the most sleep, I would take a power nap on the car ride home, take the quickest shower possible and jump right into bed. I would do my homework as soon as I came home from school and anytime I had but sometimes I would have to finish homework or study for a test when I got home from the show. Overall, working hard at school really paid off. I have the most understanding teachers and the best principal ever.
How many shows do you do in a week? Do you have an understudy?
There are eight shows per week, which include two matinees. I do eight shows every week. In case I'm sick or go on vacation, each actor has an understudy. They are backstage during every show just in case something happens to the actor on stage. This way, if anything happens and the actor cannot perform, the understudies are always ready to go on at a moment's notice!
What do you do backstage when you're waiting to perform?
All the cast members have to be backstage at least half-an-hour before the show starts so that we have time to get into our costumes, put our mics on, do our hair and get into character. When I'm backstage waiting to perform, I drink tea and warm up my voice. This is really important because it's mandatory for singers to keep their vocal chords warm and healthy at all times! Most of the cast members play games like Zip, Zap, Zop to become in sync with each other. We need to be ready and focused so we can avoid as many mistakes as possible and give the audience a killer show. I try to clear my head of anything I'm stressed about so I can give 100% on stage!
What would you tell a child who is about to start their first Broadway show?
I would tell a child who is about to start their first Broadway show to enjoy themselves! When I made my Broadway debut, I had the time of my life! Your Broadway debut is a once-in-a-lifetime experience and you shouldn't waste your time worry about it. Enjoy it as much as you can! I know I did!
Luca Padovan has been on Broadway in "School of Rock" (Billy, Original Cast) and Disney's "Newsies" (Les, Closing Cast). He has appeared in the following TV programs: "Super Wings" (Jett), "Sesame Street," "Last Week Tonight," "The View," "GMA," "Maya & Marty," and "The Today Show." His cast album credits include "School of Rock" and he was lucky enough to work with Pasek and Paul on "James and the Giant Peach" (James). Luca has performed in various cabarets and concerts including "MISCAST" as Eliza in "The Schuyler Sisters" and was a special guest for iTheatrics Junior Theater Festival in 2015 and 2017. Luca loves comic books, "Harry Potter," Disney, playing his guitar, and is a true musical theater nerd.
Ready to make your Broadway debut? Check out our kids' auditions!
The views expressed in this article are solely that of the individual(s) providing them,
and do not necessarily reflect the opinions of Backstage or its staff.