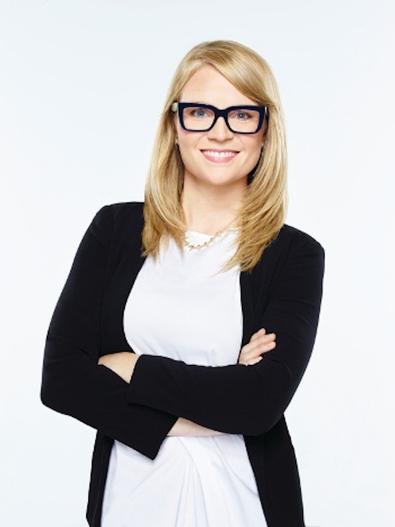 Commercial vet Emily Tarver jumps to top billing on USA's "Donny!," a satirical sitcom that follows advertising honcho Donny Deutsch as a daytime talk show host. As his executive producer, Pam, Tarver goes toe to toe with the famously strong personality.
On playing Pam.
"Pam is very much like me. I am definitely, for lack of a less cheesy term, an alpha female. I like to fix, specifically men. [Pam] never gets old because Donny is always messing up and she'll never be able to fix him."
On auditioning for Donny Deutsch.
"Donny did the callbacks with everyone. He's very hands-on. I think he really liked me because I was not afraid of the fact that he is extremely successful and intelligent. That's not to say that I'm not impressed by it, but I didn't act like I was impressed. I've been working at this for a long time and I've done a bunch of horrible auditions. It felt like a dream to go in there because he was very natural and supportive and kind and gracious."
On improvising on camera.
" 'Donny!' is soft scripted, meaning we have a script that guides us, but we are free to embrace the characters and say it however it comes out of our mouths. It feels good to have that freedom. I come from an improv background, so it is my dream job, 100 percent, to be trusted and to be given the keys to drive."
On the challenges of transitioning from commercials to series.
"With the way that commercials are now, they're not just someone selling a product. It's not the same as an actor saying, 'Try Crest because you want your teeth to be white!' Commercials now are little comedic scenes a lot of the time, and there are so many talented actors that want to cross over, but there's still resistance from agencies to take a look at their commercial clients and say, 'These people are untapped resources.' It's just so hard to cross over. There are a lot of barriers that shouldn't be there anymore."
On being in the moment.
"I'd say never worry about how long it's going to take you, just know that you're not going to give up. Enjoy the place that you are on the ladder to whatever your ideas of success are. Enjoy that place, because when you get to the next place, you're just going to want something above it. I always say I need to enjoy my life right now, because right now I can walk down the street and no one knows who I am and I can go out to eat with my friends and I am a normal person. I think there will be a point in my career where it's not like that anymore and there's a part of me that wants that, but I want recognition for my art, not recognition for being a celebrity. So I'm trying to just enjoy each phase of it. It's important to just appreciate each step of it and know that if you just keep trying, there's a spot for you."
Like this story? Read more of our Spotlight On interviews!