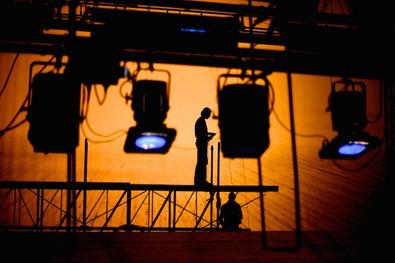 Do you know why most actor training programs require students to log hours behind the scenes? Here are five good reasons to work backstage while you're studying your craft.
You Get to Watch (or Hear) Other Actors Work
Of course you love to be on stage yourself, but it's also valuable to watch other actors work. Whether you're performing crew for a school production or for a professional house, embrace the opportunity to observe your fellow actors and learn what (and what not) to do. Experiencing a show from behind the scenes can also illuminate moments of dialogue, specific lyrics, or other elements of storytelling that get lost when you're focused on your own acting.
You Learn About Everybody Else's Jobs
No matter where you're working, it's helpful to understand all the puzzle pieces that make up a successful show. Want to know why they tell you to "find your light" as an actor? Try working as a spotlight operator! Need more motivation to stay focused and quiet during the long hours of tech? Try running a 10-out-of-12 from the other side of the curtain. As a bonus, your time on crew will teach you exactly who's who backstage, and where to go when you need assistance. Your first Broadway gig will be an absolute breeze.
You Learn Backstage Etiquette
Backstage etiquette (from staying quiet in the wings to keeping your hands off other people's props) is essential when making the transition to the professional world. It may seem like a no-brainer, but working as a member of the crew reinforces the need for manners and consideration all around. Another no-brainer? Saying please and thank you to the crew members who make your work as an actor possible!
You Make New Connections
Actor training programs are notoriously intense and all-consuming. Working on crew is a great way to make new connections with your non-performing colleagues, which will come in handy when you enter the professional world. Collaboration is at the heart of theater, and the more talented, like-minded artists you have in your corner the better! Aside from the collaborative benefits, working on crew is a great way to make new lifelong friends.
You Pick Up New Skills (and You Get to Use Power Tools)
Whether you're building sets, sewing costumes, arranging lights, or running a show from backstage, time on stage crew is a great way to build your practical skills. You know that one friend who always knows how to fix everything? You can be that friend. Plus, you might be trusted with impressive power tools! In all seriousness, you have enough creativity to go around; your focus may be acting, but crew is a great chance to learn something new and flex your creative muscles elsewhere.
Inspired by this post? Check out our audition listings!