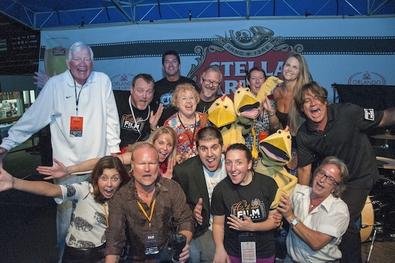 Someone's got to bring some outside culture to Central Florida, and Orlando Film Festival coordinators Daniel Springen and Jerry Cavallaro (along with a slew of filmmakers) are aiming to just that with the ninth annual celebration of indie film designed to make creators feel at home down south.
"We put on this festival as filmmakers so we understand what these guys and gals are going through when they're making their films," said festival director Springen. "When we bring a filmmaker into Orlando, we give them the royal treatment; there's no pretension or hustling them around or trying to get money from them. We show them the sights, show them the experience. We've done the festivals that have it wrong and we want to make sure this is different."
The four-day fest runs from Oct. 22–26 in downtown Orlando and features films from all over the world in a setting associate director Cavallaro said is much more tight-knit, comparatively. "We're a lot more intimate and we care about the filmmakers and try to bring as many out as possible," he said. "We have Q&As and have a discussion about the films after each one, and then we have parties where they can mingle and meet the each other."
According to Cavallaro, 2014 attendees can expect to see more foreign films than previous years; that includes the Australian film "Lemon Tree Passage," a slasher flick based on one of the country's urban legends that will screen Oct. 23 as a part of the fest's horror film section
Horror night also includes "Timelapse," about a camera that projects images from 24 hours in the future and begins to foreshadow sinister events, and neo-noir revenge thriller, "Julia," about a woman who suffers a trauma and begins an "unorthodox" form of therapy.
Outside of the horror section, films include "Teacher of the Year," starring Matt Letscher ("Her") and Keegan-Michael Key ("Key & Peele"), which follows a teacher who, after being named California's Teacher of the Year, must choose between financial security and his love of teaching alongside his eccentric co-workers; "Project: Shattered Silence," a documentary that weaves theater around the real-life situations facing a group of 46 teenagers who share their stories before performing them on stage; and the warped but comedic "Maladjusted," about three friends trying to maintain their sybaritic lifestyles as they move into their 30s.
In addition to screenings, networking events, and parties, Cavallaro also highlighted festival sponsor Universal Studio's behind-the-scenes tour as an added perk for attendees. "Sometimes they get to see a show being set up, and [tour guides] talk about the different ways [creators] can utilize the space because a lot of people don't know this, but they can close down parts of Universal Studios and you can film in the park, so they show what parts get closed off and clips of what the finished product looked like. It's a peek at behind the scenes of Universal."
Panels this year will include a breakdown of what makes an Academy Award-winning short film, audition advice for the actors, and a discussion with Dan Fogler about his film "Don Peyote," starring Anne Hathaway, Topher Grace, and Josh Duhamel.
For tickets and more information, visit orlandofilmfest.com.