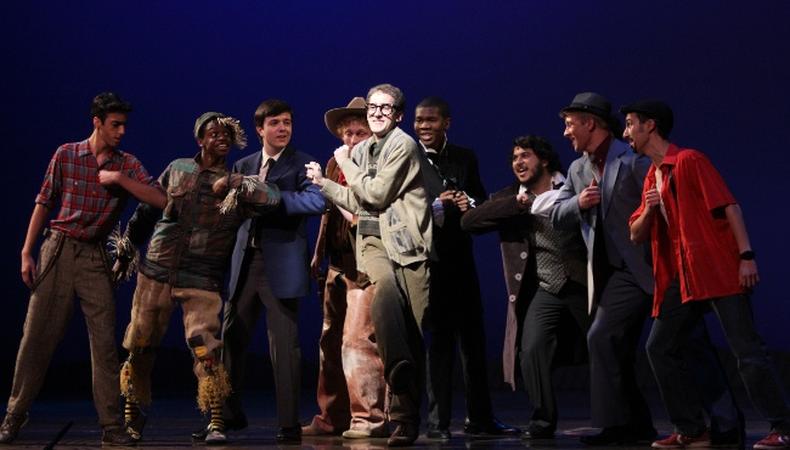 Since the 2007 recession, more than 95 percent of students in the United States are attending schools that have had arts program budgets slashed. The nationwide dip makes honoring the programs that do exist all the more vital, and the National High School Musical Theater Awards (NHSMTA) is doing its share with its annual ceremony, taking place this year at the Minskoff Theatre June 30.
"The reason we started the program was to shine a positive spotlight on what's happening in schools across America when they have musical theater programs," said Susan Lee, spokesperson for NHSMTA and chief marketing officer at Nederlander Producing Company, a co-founder of the awards. "On the part of the Broadway industry, we wanted to shine the light on those schools around the country who have made the commitment and are investing in a theater arts program that enables these kids—regardless of what their background is and their talents are—to get engaged in this highly collaborative endeavor."
Now entering its sixth year, the NHSMTA (nicknamed the Jimmy Awards, after James M. Nederlander) bring in more than 50 high school students from all over the country who were nominated as the crème de la crème of their city. The students are given the opportunity to make their Broadway debut by competing at the Minskoff Theatre in the best actor and best actress categories. Upon arriving in New York City, the students go through an intense, five-day training program that brings in Broadway professionals to work with them on vocal, dance, and acting skills to prepare for the competition.
"We work really hard so that while not every kid goes home with a trophy, everyone goes home a winner and with glorious professional experience that has enabled them to enhance their skills as an artist, collaborator, and individual," Lee told Backstage. "We're focused on teamwork, collaboration, and joy. Not all of these kids are going to be performers. We're successful if we create singing and dancing veterinarians!"
NHSMTA is designed not only to bring growth opportunities to budding musical theater performers, but to bridge the gap between the best of regional high school performers—who come to NYC after being judged by adjudicators from more than 30 local awards programs across the country—and the professional world of the Great White Way.
"It's really like the Tony Awards for high schools," said Lee. "[Local adjudicators are] judging not just the performers but scenery, stage craft and costumes, choreography, music—the whole nine yards. Those programs select in the category of best actor and best actress; those are the two kids that come to New York."
Lee said coming to NHSMTA is a huge deal for any student. Last year, one finalist was cast for a London run of "Miss Saigon" after a casting agent in the audience decided to bring her in. "We already can demonstrate that the kids that have gone through this program, which is now a professional talent development program—they're coming out the other end and getting jobs!"
Inspired by this post? Check out our audition listings!