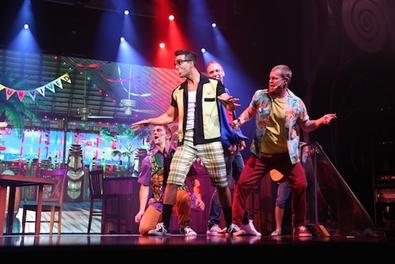 Performing on a cruise ship might be the perfect blend of work and play. With dozens of cruise lines—and ever-expanding fleets—to choose from, the possibilities are vast. Many lines have upped their production values and even have begun putting on Broadway and Broadway-level productions.
"In 2010, Royal Caribbean wanted to put 'Chicago: The Musical' on their ships," says Benton Whitley, who cast "Chicago" alongside his partner, Duncan Stewart, as well as shows for both Royal Caribbean and AIDA cruise lines. "[Royal Caribbean] reached out to the producers and they agreed to it, but they wanted to guarantee that the original vision of the show would be upheld." While it was a challenge for Duncan Stewart and Company to find performers who can play both Roxie Hart and "traditional cruise line fare," Whitley says the relationship worked so well that the agency was hired to cast for all of the cruise line's adapted Broadway shows, including "Hairspray," "Saturday Night Fever," "Mamma Mia!," and "Cats."
"Cruise ships are fantastic gigs for actors—especially for those who have talent but not enough experience," says Whitley, who was surprised at how many of Broadway's creative team members—including the choreographer for the Tony-winning revival of "Hedwig and the Angry Inch"—are currently working on ships. "I watch actors go into these contracts quite green and leave experienced and confident. I think of it as a summer camp for performers."
Considering the top destination for cruise lines is still the Caribbean, performers get some fun in the sun in addition to onstage. When Carnival Cruise Lines ships dock in Belize, Mahogany Bay, or Aruba, performers have the option of disembarking for some beach time—but Simon Griffiths, Carnival's show direction manager, wants potential hires to realize this is not a vacation.
"Our shows are demanding," he says. "We have to hire quality talent, for sure, and you can't scrape by with our shows." Unlike other cruises, where singers come onstage and leave after their performance, Carnival singers are also required to dance. "Here, they have to be able to bring that star quality because it's a smaller cast. So we're looking for that triple-threat performer."
This is the No. 1 requirement for most cruise ship performers: versatility. "Most of the shows require heavy jazz technique, but they require a definite background in ballet," says Carnival performer Kristin Alexis Turner, who's been with the company for five years. "The new shows definitely have more of the different styles, but a jazz-trained dancer, or even a strong musical theater jazz-trained dancer with ballet [training], would fit in well." Turner says the most difficult parts of working as a cruise ship performer are being away from family and friends and learning to "adapt technique to dance on a moving ship," but with solutions like Skype and good core strength, those difficulties can be overcome.
Kevin Miller, the casting director for Princess Cruises, says the entire experience is beneficial. Not only are performers able to save their salaries with their room, board, and food covered, but they also get quality performance experience after being in front of a live audience. Griffiths agrees. "The great thing about being a performer on a cruise show is you're playing to a captive audience," he says. "You're on board with these guests for X amount of days; they know you and you get instant feedback."
Inspired by this post? Check out our audition listings!