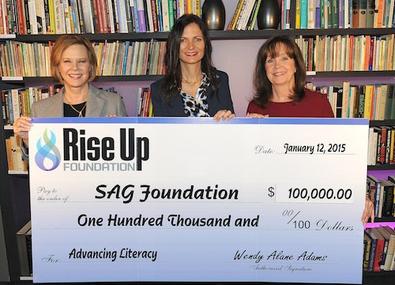 SAG Foundation's BookPALS (Performing Artists for Literacy in Schools) just got a leg up! The Rise Up Foundation, which focuses on empowering people of all ages but specializes in increasing exposure to literature for children, has donated $100,000 to the children's literacy program that operates out of hundreds of public schools across the country. The donation will go towards a year-long campaign set to include special readings that feature actors and local broadcasters. A-list actors will also attend events for National Literacy Month in September and pledge to take literacy-building initiatives in their respective communities.
"We are so grateful to the Rise Up Foundation for their incredibly generous gift to our BookPALS program and their equally strong commitment to children's literacy. This partnership is a natural fit for our two foundations," said JoBeth Williams, president of the SAG Foundation, in a statement. "This is going to be an awesome opportunity for tens of thousands of children nationwide to interact with professional storytellers and connect with books, reading, and the written word in an exciting, new way."
Thousands of union actors are currently enrolled in BookPALS and read to over 60,000 students in "classrooms, hospitals, libraries, and social service agencies."
"All they have to do is show up," said director of NY BookPALS' Maria Cabezas to Backstage in October. "They learn some tricks to further engage the students in the classroom, and then we look at some books. The volunteers always walk away [from training] with at least two or three books. We give everything to them; they just have to be willing to volunteer their time." And your morning or afternoon will be well spent reading to dozens of children. As the program's website points out: "Who better to bring the magic of stories to life than performers?"
Looking to be SAG-AFTRA eligible? Learn about the basics of joining here!