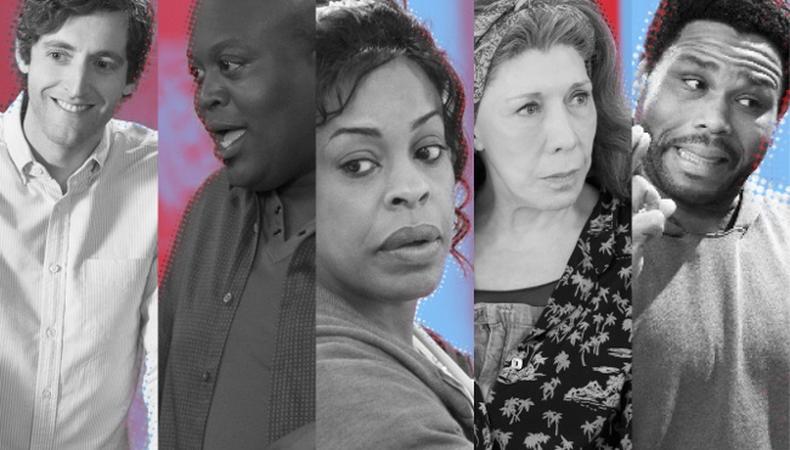 Outstanding Lead Actor in a Comedy Series
Anthony Anderson, "Black-ish"
Anderson has remained bracingly consistent as a father of four trying to maintain career, family, and his kids' sense of blackness in the lily-white surroundings of upper-middle-class suburbia. Plus, in facing tough issues like police brutality, the actor proves himself as adept at drama as he is at comedy.
Aziz Ansari, "Master of None"
Audiences laugh at Dev—mostly at his expense—as he navigates love in the modern age and working as an actor of Indian descent in whitewashed Hollywood. As portrayed by Ansari, the series' creator, Dev and his exploits feel remarkably familiar, relatable, honest. Bonus: Ansari's Emmy nomination means we might get to see what he's been reading since picking up a copy of "Losing to Jeffrey Tambor With Dignity" at the Golden Globes.
Will Forte, "The Last Man on Earth"
Phil has come a long way since talking to a collection of sports balls with faces drawn on them. Season 2 gave Forte co-stars to bounce off of while the series began to focus less on his self-serving man-child and more on the challenges of maintaining a sense of community under dismal circumstances.
William H. Macy, "Shameless"
Macy has managed to continue bringing depth to the ultimate deadbeat dad. Frank Gallagher, the perpetually drunk father of seven, finds himself constantly robbed of whatever dignity he thought he had. While Frank is nearly always focused on his next drink, Macy finds a way to bring inebriation to the periphery instead of the center of his acting work.
Thomas Middleditch, "Silicon Valley"
Middleditch has the market on "awkward" cornered. No one can match his level of discomfort as Richard Hendricks, programmer extraordinaire and middling CEO of music app Pied Piper. Whether it's standing up to Silicon Valley entrepreneur-bullies or simply interacting with women, Middleditch cowers visibly at every development, somehow continuing to find dizzying new levels of embarrassment.
Jeffrey Tambor, "Transparent"
It takes bravery and grace to come out as transgender in middle age. In creating a nuanced character based on her own father, writer-director Jill Soloway has also provided Tambor with the role of a lifetime; his performance as Maura in the masterful second season of "Transparent" continued to be darkly comic, heart-wrenchingly vulnerable, and both brave and graceful in its own way.
Outstanding Lead Actress in a Comedy Series
Ellie Kemper, "Unbreakable Kimmy Schmidt"
The task of balancing goofiness with the genuinely darker elements of this Netflix comedy falls largely to its star, who more than rises to the occasion in Season 2. Kemper masterfully portrays the cracks in Kimmy's determinedly sunny veneer, particularly, for example, when the reason for her fear of Velcro is explained. Our favorite moment of the season, though, will always be her delivery of impromptu song "Bunny and Kitty." No one can match Kemper when it comes to sweetness.
Julia Louis-Dreyfus, "Veep"
"I wouldn't be your veep if there were a grassy knoll full of Jodie Foster fans in the front row at your inauguration." The perfect calibration of timing and tone in Louis-Dreyfus' portrayal of Selina Meyer reaches new levels yet again in Season 5. Just watch her hilarious attempt at prayer and the way she almost—almost!—gives into real grief during her mother's death. Is it any wonder she has four Emmys for this role?
Laurie Metcalf, "Getting On"
Plenty of this year's nominated actors play messy characters, but few achieve the almost unbearable lows of Metcalf's socially inept Dr. Jenna James. Struggling to avoid exposure over her hospice scheme, she continues to charge past professional barriers and her co-workers' feelings, all in the name of selfishness. It would be despicable if Metcalf weren't such an innately fascinating leading lady, warts and all.
Tracee Ellis Ross, "Black-ish"
Rainbow is your typical sitcom mother: frazzled but poised, put-upon yet supportive, attractive if not terribly glamorous. But Ross and the creators of ABC's most subversive comedy have turned that trope on its head by adding new qualities: goofy, badass, often borderline deranged. And in a late-season twist, the actor brings a touching grace to some surprising news about the Johnson family.
READ: "Why Tracee Ellis Ross Loves Auditioning"
Amy Schumer, "Inside Amy Schumer"
Although the fourth installment of Schumer's sketch show didn't reach the revelatory heights of Season 3, you can't deny the multihyphenate comedian still has her finger on the pulse. Her brand of feminism is shrewd and incisive but always hilarious; Schumer takes no prisoners yet never fails to make us laugh.
Lily Tomlin, "Grace and Frankie"
Tomlin is a straight-up legend, and she proved why again this year. Rarely are older women made visible in media, but in "Grace and Frankie" Season 2, Tomlin creates a woman who at one moment could be believably grieving the loss of her life companion and at another be flailing and failing at life. No one can deliver a punch line quite like her.
Outstanding Supporting Actor in a Comedy Series
Louie Anderson, "Baskets"
It's hard to out-funny a scene-stealing comedian like Zach Galifianakis, but Anderson does just that by donning drag as his mother. It's the kind of stunt casting that could easily skew cartoonish, but Anderson gets it right by leaving showmanship at the door, gingerly imbuing his Mrs. Baskets with maternal subtleties and, in the end, paying a fitting tribute to his own real-life mom.
Andre Braugher, "Brooklyn Nine-Nine"
The 99th Precinct in Brooklyn employs a cohort of well-trained, albeit reckless, detectives. And when not guarding the streets of New York's finest borough, they themselves need policing. Enter Braugher's stern-faced Capt. Holt, whose deadpan delivery is so devastating it would make Buster Keaton crack a smile, and provides the perfect balance to his squad's antics.
Tituss Burgess, "Unbreakable Kimmy Schmidt"
In Season 2 of this hit Netflix comedy, Burgess proves nothing short of a revelation—sophomore slump be damned! The actor delivers idiosyncratic zingers and songs like he was born to do it while reconciling with his ex-wife from an ill-fated marriage, falling in love with a construction worker, and finally—at long last!—booking the gig.
READ: "The 'Unbreakable' Tituss Burgess"
Ty Burrell, "Modern Family"
You'd think the "cool dad" trope would be predictable or played out, but Burrell still proves willing and able to mine comedy gold. Over a whopping seven years playing Phil Dunphy—the awkward, lovable, ever-so-slightly dumb dad in the ABC show's titular clan—Burrell continues to deliver pristine pratfalls and that signature goofy grin.
Tony Hale, "Veep"
Poor, poor Gary. Could he possibly get any more pitiable? As Hale's ballsy performance throughout Season 5 proves, the answer is always yes. His genius is in the character's tiniest reactions and throwaway lines, from gasping at Selina's eye job to the increasingly nonsensical whispers in her ear. His best moment this year: Catching his boss and Tom (Hugh Laurie) in flagrante delicto, and the slow, horrified way he creeps backward out of the room.
Keegan-Michael Key, "Key & Peele"
One half of the much-beloved Key and Peele duo, Key is all spindly legs and boundless energy. His characters originate in his physicality, beginning in his body and taking hold in his face, often contorted to create something wholly original. While President Barack Obama's anger translator Luther is his most famous character, each holds its own place in the pantheon.
Matt Walsh, "Veep"
Standing out in an ensemble of comedy heavyweights is no easy task, but Walsh upped his game this season, giving press secretary Mike McLintock new layers—hilariously awkward, squirm-inducing layers. We dare you not to laugh at what he does with his storyline involving a Fitbit.
Outstanding Supporting Actress in a Comedy Series
Anna Chlumsky, "Veep"
We've seen Amy Brookheimer lose her cool. We've seen her try to pick up the pieces of her dignity after doing so. Now, is it possible Chlumsky's terrifically harried chief of staff is learning to own her flaws and mistakes? Maybe we're just imagining it, but amid the chaos of Washington, Amy seems to care even less about hurting people's feelings than usual in the pursuit of doing her thankless job—as that furious, piercing stare of Chlumsky's suggests.
Gaby Hoffmann, "Transparent"
The Pfefferman children are a self-absorbed trio, but it's Hoffmann's Ali you feel for the most. She's stuck in a woman-child purgatory, coddled by her parents and refusing to grow up. Yet it's Ali who connects with her trans parent (Tambor) and goes on a quest of sexual discovery all her own. She may still be wasting her potential, but she's the Pfefferman with the most promise.
READ: "6 Questions With…Gaby Hoffmann"
Allison Janney, "Mom"
There are many benefits to hiring Janney. But what "Mom" creator Chuck Lorre got was Janney's ability to handle both the comedic and dramatic aspects of her role equally. In the third season, her mother, played by the great Ellen Burstyn, is introduced, and their work together makes Janney's performance that much more special.
Judith Light, "Transparent"
Light can be trusted with scenes involving crushing loss or side-splitting laughs. As Shelly, there are times when she seems insufferable, somehow less mature than her selfish kids. But there are other times—the heartbreaking way she says "I hope you feel beautiful, because you are so beautiful" to her ex-spouse, for instance—when Light can turn Shelly into one of the wisest, most understanding women on television.
Kate McKinnon, "Saturday Night Live"
The MVP of "SNL" (and now of big-screen hit "Ghostbusters") still has that enviable ability to turn mediocre sketches into brilliant ones with a simple head tilt or widening of the eyes. Her co-stars often laugh so hard they can barely keep it together on the air. Let's hope Hillary Clinton makes it all the way to the White House so we can continue enjoying McKinnon's blisteringly wacky impression of her.
Niecy Nash, "Getting On"
As no-nonsense nurse DiDi, Nash has the unenviable task of being the voice of reason amid the insanity of her co-workers and the elderly patients in the geriatric care unit where she works. And yet Nash's quietly observed performance in the final season of "Getting On" is memorable precisely because it provides a counterpoint to everyone else's selfish behavior. Almost no other performance makes you laugh and then cry the same way Nash's does.
Want your own Emmy nomination? Check out our television audition listings!