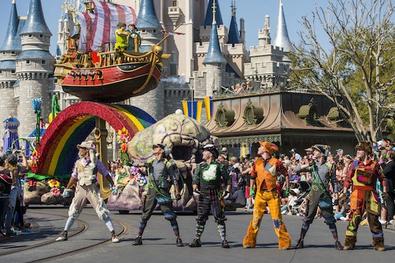 As Adam Jacobs told Backstage earlier this year, if you can work at a theme park, you can work anywhere. Doing multiple shows a day, a minimum of five days a week, in front of a live audience is a great training ground for an actor. Depending on your role, it can also become an opportunity to utilize more than just your acting skills.
Steve Martin worked at Disneyland for several years and honed his abilities as a magician as well as an actor at Merlin's Magic Shop in Fantasyland, and Michelle Pfeiffer played the iconic Alice in Wonderland in the Main Street Electrical Parade.
The varying types of performances—street shows, full Broadway-like theater productions, parades, and character portrayals—make for a nuanced acting experience that will leave you with a slew of skills to bring to your next employers. Factor in all the various locations for a corporation like the Walt Disney Company (Florida, California, Tokyo, Hong Kong, Paris), and working at a theme park can be a multifaceted learning experience.
"We have a variety of needs globally for Disney Parks & Resorts," says talent casting director Ray DeChiara, who works in conjunction with his team of CDs. "Everything from highly skilled dancers, comedic improv actors, stunt drivers, principal vocalists, and a range of musical theater performers." In addition, musicians, acrobats, overall stunt performers, and singing actors are all needed, according to DeChiara.
Disney utilizes several outlets to find actors, including posting casting notices with Backstage, drawing from musical theater colleges and universities, and, most recently, a social media push. "For our newest park coming up in Shanghai, we are discovering the power of social media and building relationships with performance schools, dance companies, and musical groups," DeChiara says. "Our favorite way to find new talent is recommendations from our current cast and previous Disney performers."
Depending on the role and show, actors' experiences will vary, but one thing remains the same: Working at a theme park is not a walk through one, even if it is located in the Sunshine State.
"Our parks are open 365 days a year, with new guests seeing our entertainment offerings every day," says DeChiara when asked about the challenges of working with Disney. "We strive to maintain fresh, organic, energetic performances from our actors in every show."
For some Disney character performances and look-alikes, the physicality of the actor is key, as many communicate without words. To audition for a Disney theme park, according to the company's website, actors should prepare a one-minute comedic monologue that's rooted in narrative. Singers should prepare two separate and varied vocal selections that emphasize their ability to tell a story and connect with material organically. And if looking to work in "the happiest place on Earth," it never hurts to smile.
"Actors should be honest to themselves—that is what we want to see," DeChiara advises. "Be on time, be prepared, don't apologize. Choose audition material that is relevant and important to you at this moment; not Disney material because you think it is what we want to see."
Inspired by this post? Check out our audition listings!