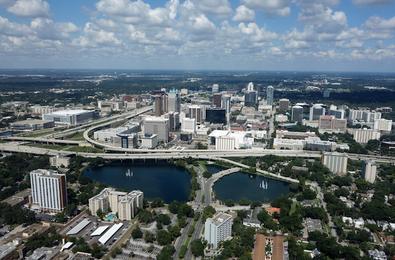 There's more to the Sunshine State than gators, mangrove trees, and, well, sunshine. With the help of Orlando's Economic Development Commission, filmmakers and the actors they employ are given plenty of reasons to create their next big project in central Florida.
The Metro Orlando Film Commission seeks to make the state a desirable location for feature films, television shows, and new media. In assisting local production companies in the development of both film and digital media, the commission provides enviable support to network artists. Factor in weather that rivals L.A.'s, with temperatures resting reliably in the 70s and 80s, allowing for year-round shooting, and Florida's a solid contender for film production.
"The Orlando Film Commission really works with each production as an extension of their production team," says Sheena Fowler, Orlando film commissioner. The commission upholds a stellar reputation when it comes to assisting local projects, receiving glowing testimonials from visiting directors and producers. "Once someone works with our office, they want to bring their next project here."
Among the commission's benefits is one-stop permitting for location shooting, which means that the 4,000 square miles of glades, fields, and beaches in the metro Orlando region are easily accessible for filming. "Rather than having to go to every individual jurisdiction and figure out their process," says Fowler, "you just work with our office and we handle all the outreach...saving you time, money, and peace of mind."
Filmmakers also have access to an extensive digital location library, preliminary scouting and familiarization tours, assistance with local accommodations, and, best of all, 24-hour access to the Orlando Filmbook, a database of over 1,600 names, numbers, and credentials. "[It's] a one-stop source to locate skilled crew and qualified companies to support your production from inception to completion," explains Fowler.
For artists planning a more permanent stay in Orlando, the region also boasts an array of film schools geared toward launching professional careers. The University of Central Florida offers an MFA film program, while Full Sail University's curriculum includes degrees as diverse as game development, entertainment business, and sports media. "Our mission was to help build the infrastructure for film production in central Florida," says Ralph Clemente, program chair of film production technology at Valencia College. "I try to give [my] students as real an opportunity [as possible] to learn the art of filmmaking by working on real films with real people."
Valencia's film program is one of only a few in the country that focuses on big-budget productions. Students in Clemente's classes have had a hand in 47 feature films in the last two decades. The department uses a $2.5 million feature film equipment package, which Clemente describes as "very unusual for a film school. We've done every genre you can think of, always involving a partnership of industry professionals and advanced film students."
As for actors looking to build their reel among the palm trees, they need only get involved with the Film Commission and its many programs. There are more performance opportunities in Orlando outside of its many theme parks. As Clemente says, "Under every fuzzy character at Disney there lives a Shakespearean actor."
Inspired by this post? Check out our audition listings!