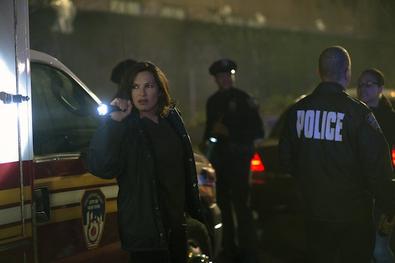 Going on 16 seasons, the basic premise of "Law & Order: Special Victims Unit" has remained a constant: a New York City squad of detectives attempt to bring sex criminals to justice. But over the years, the show has changed with the seasons. Detectives have come and gone; Assistant District Attorneys replaced; We've even had to say goodbye to BD Wong and Dann Florek (Capt. Donald Cragen)—(tragedies I'm still mourning, personally).
When Christopher Meloni (Det. Elliot Stabler) left the show after 12 seasons, there was no shortage of shock amongst fans. As the co-star to Mariska Hargitay and partner to her Det. Olivia Benson, Meloni's departure left even the most devoted devotees questioning how the "SVU" would endure.
But it did, and it not only endured but thrived in its new era. Bringing on Warren Leight as the executive producer and new cast members Danny Pino, Kelli Giddish, and Raul Esparza, among others, "SVU" found new life.
On Sept. 10 the cast gathered in the iconic squad room to discuss their experiences on the show, and the reasons it's kept its place on primetime since 1999.
The Material
Unlike many series today, "SVU's" realistic content is something viewers keep coming back for. "These are current and topical issues but audiences are ready to deal with it," says Hargitay. "This show has been shedding light—truly shedding light—on darkness for a long time and people feel vindicated."
"It forces you to deal with the pain," adds Esparza, "and I think it's written very honestly and it's written so that it makes the audience participate in some issues that are hard to deal with."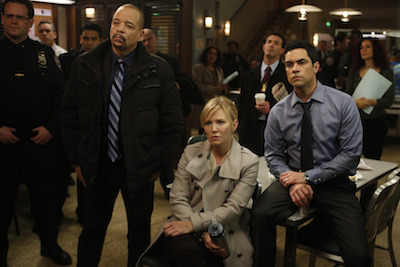 "Audiences are so sophisticated now and our writers write to that sophistication," Hargitay says.
The Changes
"I really did think I was done. When Chris left, I didn't know how I could go on. And then I went, Oh, [Warren] was coming and I was like, 'Who's that guy?! Let me give the little playwright a chance," Hargitay says jokingly. "And then he came and everything changed and it was like one of the greatest lessons for me personally to realize truly one door closes, truly another one opens. Warren breathed new life into the show and new hunger for me, and new challenge, and new vitality."
Pino agrees. As part of the show's new life, the actor plays Det. Nick Amaro (who he tried to make as different from Meloni's Elliot Stabler as possible to ward off the "Chris Meloni hate" as Ice-T calls it—meaning fans' harsh criticisms of new characters because they miss Meloni).
"The show finds new ways of telling stories that we've seen before or we read before," says Pino, "so for me joining the show was a challenge but everything should be a challenge in this career."
"It's not like you're walking into something where everyone's finding their place like the first episode of the first season," adds Peter Scanavino of joining the team for Season 16. "This is a moving machine where everyone knows their job."
But thankfully for the sophomore class of "SVU" detectives, they joined a crew that welcomed them graciously, Giddish noting "that's a major reason" the show still works. "We all work really, really well together," she says.
The Characters
Of the show's beloved characters Esparza says, "They're human beings with their own faults and their own problems that are pretty upsetting. And you can never go wrong with something that's character driven."
But creating these complex characters to drive the show and developing his Det. Finn Tutuola wasn't an easy task for Ice-T, but one that was aided by the expertise of creator Dick Wolf.
When the show began, "Dick Wolf called me and was like, 'Ice, you don't like cops do you?' And I was like, No, not really—not all of them.'
'But you admit we need them, right?'
'Yeah.'
[Wolf said], 'Play the cop we need.' "
Years later, Ice-T is confident about his performance as the abrasive Tutuola. "The viewers like me 'cause they know I'll snatch a mother fucker. When there's a bad guy they're like, 'Smack him, Ice! Smack him!' "
"There's something very satisfying knowing how Ice-T's gonna respond to a situation," offers Giddish, "and you just can't wait to see it play out."
Mariska Hargitay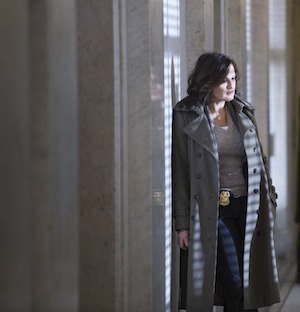 "To a degree we're nowhere without her," says Leight, motioning to Hargitay, "and I can say that in front of her because it's true."
Though each writer, actor, producer, boom operator, and everyone else on set has played an invaluable role in making "SVU" one of the longest-running primetime network shows ever, Leight's statement is warranted. The star has countless fan pages dedicated to her, and has moved into philanthropy with the Joyful Heart Foundation, aimed to combat domestic violence and sexual assault, which Hargitay created after receiving many fan letters detailing accounts of sexual assault and abuse.
And while fans all over the globe praise the star for her real-life heroism, the actor has kept a tight focus on her craft. Last year [Season 15] was the hardest acting year of my career and my life," she says, referring to the dramatic character arc wherein Benson was abducted, and later traumatized, by a perp she was attempting to put away.
"I've learned about stillness and the power in stillness and excavating and digging and not ever stopping. And fear for me is truly the greatest motivator," she says. "Last season I was so scared of these scenes that Warren and his team wrote. It was like, I don't know 'cause they were so good that I thought, I have so much to live up to, you know?"
But exposing her fears only made Hargitay's performance richer, inspiring fans of both her character and her acting abilities.
Season 16 of "Law & Order: SVU" premieres tonight at 9 p.m. on NBC.
Inspired by this post? Check out our television audition listings!
Photos by Craig Blankenhorn & Michael Parmlee/NBC.