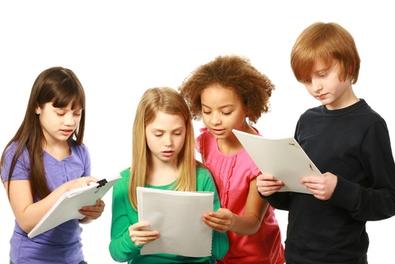 Inside Broadway, New York City's theater and arts education company, presents its seventh season of Summer Stock Jr. youth camp taking place Aug. 11–15. The camp offers kids ages 9–16 a week-long exploration of all things theater, ranging from seminars with professional Broadway staff, learning about stage combat, seeing professional performances and, ultimately, putting on a performance of their own.
This summer, the camp charged a fee for its students—though many are on a scholarship provided by Inside Broadway—in order to expose them to even more than what's been offered in previous years.
"What we wanted to accomplish with camp is a total appreciation of not only the theatrical process, but also of theater as a whole," said Katie McCallister, program director of the camp. "It's important for them to see what's going on behind-the-scenes as well as what's going on onstage."
Prior to seeing a performance of the "Percy Jackson and the Lightning Thief" musical at the Lucille Lortel Theatre, the camp's 12 students had a seminar with the production's associate director Nick Saldivar. Given a glimpse into the casting process, stage directions, and the strategy behind the lightening choices during certain parts of the show, the students were then able to see the musical with a more knowledgeable and critical eye.
"They were also able to learn about a new career in that interaction," said McCallister. "When we came back from the show, we had a conversation just taking apart the production and talking about the things that the associate director told them, their feelings about the production, and what they took away from that workshop. They're able to say 'Oh I saw this character, and I understand why they double-casted, why the music had to say this….it informed their decisions."
The camp has also set up a workshop with Denise Grillo, property manager of "Motown: The Musical," where they learn about the economical and thematic meanings behind props used in productions; a field trip to the Lincoln Center Library to show the students the resources at their disposal; and a backstage tour of the Imperial Theatre. The students are also shepherding their very own mini-production centered around a "Fractured Fairytales" theme, using iconic Broadway songs, which they will rehearse throughout the week and perform on Friday, Aug. 15 at 2 p.m. in the Local 802 AFM Headquarters, home of the Associated Musicians for Greater New York.
"They can get the best of both worlds," said McCallister. "Obviously we can't write a musical in a week, so we intertwined Broadway songs that work within our storyline. The kids have a say. They do improv, which informs the characters and steers the script. They have a lot of say in the way their roles are performed and the choreography. It's all based on their responses.
"It's a daunting task to learn five production numbers, choreography, and a script in a week's time—it's quite a feat. I love seeing the kids come into who they really are and say 'I never knew I could do something like this.' "
For the older theater buffs, check out "7 Companies Producing Groundbreaking Immersive Theater"