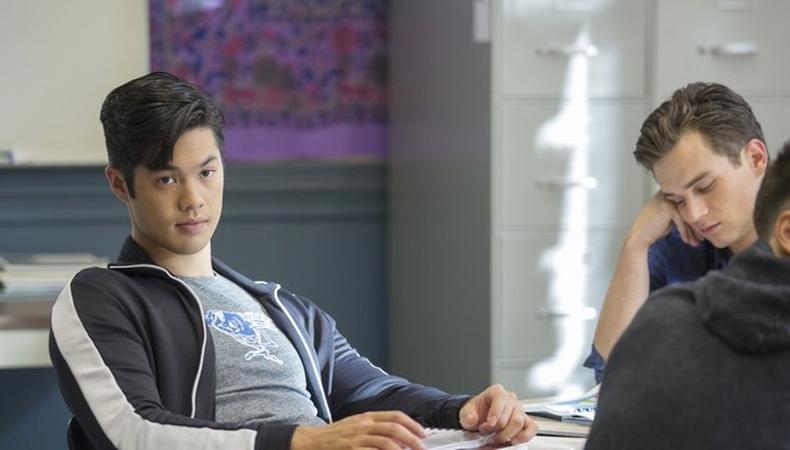 Ross Butler, whom you may have seen on "K.C. Undercover," "Chasing Life," and "Teen Wolf," is kicking off the spring season with a new TV show: Netflix's "13 Reasons Why," about a young man determined to understand why his crush committed suicide. He gave Backstage an inside look at his career, his craft, and his nerdy obsession with board games.
How did you approach your role in "13 Reasons Why," and how do you relate to your character?
Zach is another jock. He's not great with girls, but he'll put on this facade. I approached it thinking about how high school was for me. I feel like teenagers—to be popular or to fit in—they have to put up this facade of who they are or who they need to be. And that's how I was in high school. I had a lot of friends, but I didn't feel that I was really connected with them. I tried to use that as a base, and I tried to create this deep emotional connection with this kid who feels lonely. I did use some imagination because I wasn't a jock in high school, but I went about it trying to think of how a jock would feel.
READ: How to Audition for Netflix
Which acting techniques do you follow?
My acting technique is a combination of a lot of different ones. A lot of it is Meisner. I've been to 16 different coaches, and I pick and choose which ones work for me. I like to use a lot of imagination work, so I don't like to use a lot of my own experiences. I like to craft everything based on the character. It's different for everybody. Find what works best for you or gets you to feel things.
How do you find balance between work and play—especially considering the fact that you're sometimes working on multiple projects at once?
"Riverdale" and "13 Reasons Why" did overlap. There was a two-month gap where I was working seven days a week and not sleeping a lot.... So, whenever I have a chance to have some down time during a shooting schedule, I really try to empty my mind—as cheesy as it sounds.
It's a pretty emotionally intense show. What were some of the challenges you and your castmates faced?
It's funny, I just went for a hike yesterday with one of my castmates, and we were talking about it. We were in this bubble for six months and we felt like we were different people when we were shooting; I would say the hardest thing for us was trying to pull out of that—finding those times where we could relax and cut loose. But that's hard when you're working on a project that's as heavy as this is for five, six months. So, I think the hard thing was trying to put ourselves back in reality.
READ: 8 Important Acting Techniques
Who inspires you?
Tom Hanks, Brad Pitt, Al Pacino, Russell Crowe—these leading men. These are the ones I grew up with. And Hugh Jackman. I love everything that these guys are doing. It's kind of been my mission to be an Asian-American version of that. Leonardo DiCaprio I admire a lot for his acting talent and his humanitarian work. He's a pretty good example of the actor I want to be, the things that I want to promote.
What are you currently watching on TV?
"Legion" and "Feud: Bette and Joan." I'm watching everything on FX right now. ["Feud" is] a really interesting show to watch because...it's back in Hollywood in the '60s. There's such a cool vibe to it, and I'm in love with both of those [characters] for completely different reasons.
READ: How Dan Stevens Went From Disney Prince to Comic Book Legend
What's your most outlandish dream or goal in life?
Weirdly enough—if I make enough money one day—I want to open a board game bar. I was shooting this movie in Vancouver a few years ago, and I went into this board game café with my castmates. I want to have that mixed with a bar-type atmosphere where you can have drinks and play board games. And not board games like checkers or Monopoly. I'm talking about cool indie-style board games or card games.
What's one thing fans would be surprised to find out about you?
I know I play a lot of jocks, but I'm actually a really big board game and video game nerd. It's one of the most interesting fields of entertainment because you get to create your own role and create your own rules. Some people get so creative with it, and I'm also super competitive. I'm a really big nerd.
What advice would you give to aspiring actors?
The first thing I would say is know your audience and what you're trying to sell—especially if you're in Hollywood. You need to know what you're selling because that's going to be your foot in the door. Don't worry about playing against your type. For me, I'm a 6-foot-3-inch athletic guy. I can't play the social outcast. So, comes to terms with it. Don't fight it.
"13 Reasons Why" premieres March 31 on Netflix.
Inspired? Check out our TV audition listings! And for more acting advice, watch our YouTube channel!