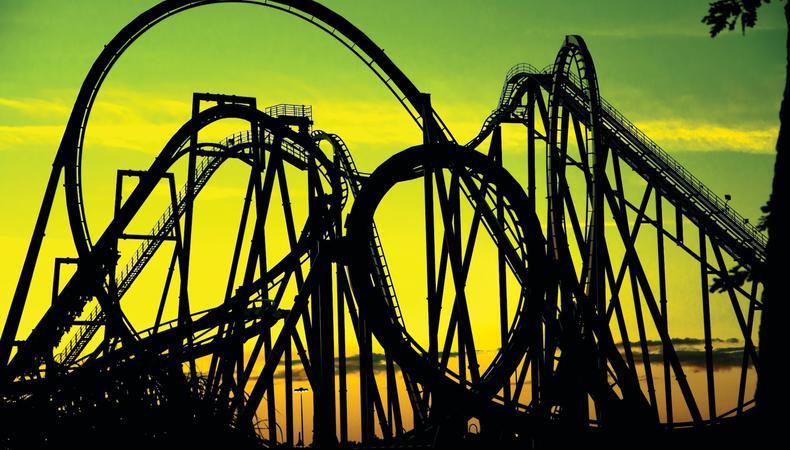 Nothing sharpens one's skills quite like performing in a theme park. An exercise in craft, endurance, and charisma all rolled into one, theme parks give actors the chance to hone the techniques that serve them on stage, on set, and in the audition room. Whether acting for a summer at a Renaissance fair or for decades at a big-name park, the experience will change an actor's perspective.
"The biggest thing that takes getting used to when coming from the theater world is if you do a long run in a show, you do that show for however many weeks or months; the thing about working at a theme park is that some roles are improvised and some are more structured," explains Bill Barnett, who has been at Universal Studios in Orlando, Florida, for 23 years and recently took on the role of the Wand Keeper at the Wizarding World of Harry Potter's Ollivanders wand shop. Barnett, who started doing horror show makeup, has acted everywhere in Universal from the Shrek village to the Ghostbusters attraction.
He says the ability to repeat a short performance thousands of times without losing zest is an acquired and necessary skill for a theme park performer. His delivery as the Wand Keeper lasts about four minutes, and because fans are so well-versed in the source material, he sticks to the script more than with other characters he's played.
The approach is similar at Six Flags, which provides interactions with recognizable superheroes out of the DC Comics universe.
"The process for [casting] actors comes down to the look and the voice," says Six Flags Corporate Director of Entertainment and Events Scott Sterner. "As soon as they walk in we're looking for a specific person or role that we're casting, so we'll type them out immediately so we don't waste people's time." (Tip: When auditioning, consider your height, eye color, weight, body type, hair color, and general look when submitting to play Wonder Woman, Batman, or the Flash, for example.)
Once selected, actors go through a second screening in which their communication, performance, and dialogue skills, as well as overall personality, are assessed.
READ: What You Need to Know About Working at a Theme Park
"Communication skills are incredibly important in a theme park," Sterner adds. "We have thousands of people coming in a day, so it's not just being a face but also being a character and communicating as the character."
Most parks operate under six-month or yearlong contracts, which saves actors the energy of looking for another gig once their eight-week regional tour of "Chicago" is up.
When not dealing with such well-known characters, theme parks can also give actors the opportunity to create roles from scratch. Joseph Regan has worked at Renaissance fairs throughout the U.S. since 1992. He's currently playing the Sterling Renaissance Festival's villain—the Earl of Warwick—a character of his own making. Building a character from scratch allows Regan to delve into his own comedy chops. However, he admits that he owes much to the guests.
"With interactive theater, your writers, 50 to 70 percent of the time, are your audiences. There's a lot of rain, for example, and they react to that and you react to what they do. It's improv; every single day is different," he says.
His biggest piece of advice to those working outdoors: Stay hydrated. "Maybe you're cold, hot, hungry, thirsty. Maybe it's 100 degrees out, you're wearing this hot clothing and thinking, I don't think I can make it. But that [mentality] will help to refocus you."
And it's important to never lose focus on why you do this job in the first place.
"In theme park experience you see every face much more than if you're in a play, where you don't necessarily feel that when looking out into the darkness," says Barnett. "You're so much more conscious of the people making the hard-earned trip for a family of four coming from Iowa. You invest more."
Inspired by this post? Check out our audition listings!