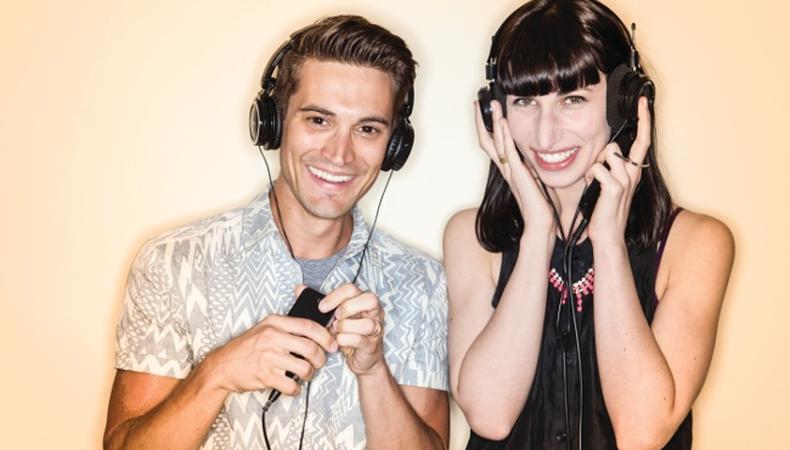 Mo Brady and Nikka Graff Lanzarone like to think of Broadway as a pocket watch. "It's very beautiful from the outside and you can appreciate its artistry, and inside are the gears and mechanisms that make it work," says Brady. As co-creators and co-hosts of popular podcast the Ensemblist, he and Lanzarone have made it their business to explore and explain the behind-the-scenes mechanics of the Great White Way once every two weeks. In other words, they aim "to open that pocket watch."
Specifically, the podcast focuses on an often-overlooked facet of the big Broadway musical: ensembles. As its name suggests, the Ensemblist has created both a platform to champion musical theater's unsung heroes and a growing community of some of the best triple threats working today.
Lanzarone likens their show to WNYC's science program Radiolab, but for theater geeks. "We're doing it to change the conversation today about what it means to be a working artist right now," she says. Mixing in-depth interviews with peppy original music, the show spotlights particular aspects of the work required to be a Broadway ensemble member. A recent episode featuring three Broadway understudies provides a comprehensive guide to the intricacies of being a swing; another asks composers Lin-Manuel Miranda, Lynn Ahrens, and Stephen Flaherty about writing for ensembles.
Students and early-career theater types can tune in at theensemblist.com or by subscribing on iTunes and other podcast services to pick up that insider knowledge. "The best place to learn is on the job," Brady says. "But the second best place is us!"
As working actors who have performed in many an ensemble themselves, the co-creators believe today's industry is biased toward principal roles. They have been outspoken proponents of a Tony Award that recognizes an entire cast, and suggest naming it after actor Harvey Evans. "You don't get a best musical without a best ensemble," says Brady, pointing out that the Obie and Helen Hayes Awards already include the category.
It's too late to add such an accolade to this year's Tonys, but the two will be live-tweeting the June 7 ceremony with ensemble-related facts and tidbits @TheEnsemblist. It's been an excellent year for large Broadway companies, they say. "Side Show," "On the Town," "Honeymoon in Vegas," and "An American in Paris" gave their casts plenty to do; Brady and Lanzarone revisited those musicals multiple times. "If you go and see a show again, you can pick somebody out and follow their journey," Lanzarone says. Brady agrees, adding that great ensembles help give audiences a strong sense of place, detailing a fully lived-in world.
When it comes to acting know-how, Brady and Lanzarone have soaked up plenty of practical advice recording their episodes, which will soon number 50. Their No. 1 recommendation for the audition room is to be your best, most positive self. As Lanzarone points out, "You'll only play a character for x number of hours. [Potential collaborators] have to be with you, way more than with that character. Being somebody who's easier to be with comes across in an audition room as much as a performance.... I should probably take my own advice more often!"
"Know what makes you special and you don't have to try to be somebody else," says Brady. "Young people may not have a lot of professional experience, but they have a lot to bring to the table.
"Calm the fuck down," he adds. "It's all gonna be fine."
"Yeah," says Lanzarone. "You're trying really hard to play pretend for a living. Take the work seriously, not yourself."
Inspired by this post? Check out our Broadway audition listings!