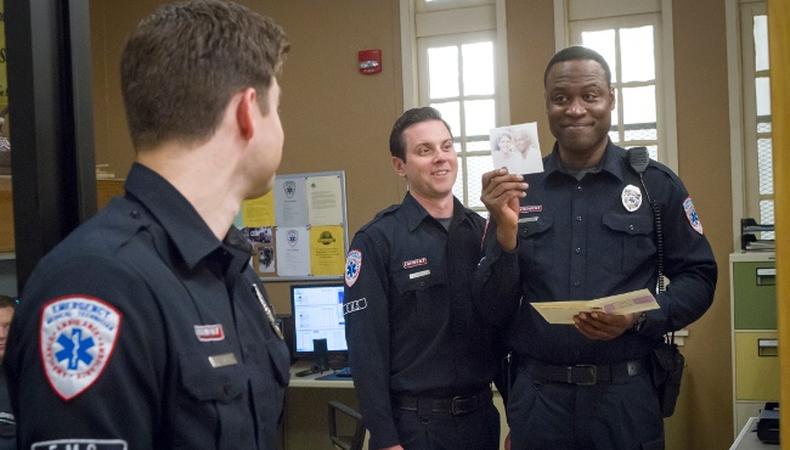 Sometimes going off-brand really works—you just have to know when and how to do it. In the case of "Sirens," a show about Chicago EMTs, it worked so well it got the show renewed for a second season. Known more for dramas like "White Collar" and "Covert Affairs," the USA Network is changing ideas about scripted TV comedies with shows like "Psych," "Playing House," and now "Sirens," starring Michael Mosley, Kevin Daniels, and Kevin Bigley.
Written by Denis Leary ("Rescue Me") and Bob Fisher ("Wedding Crashers"), with others, "Sirens" follows three friends who are as great at their jobs as they are bad at their personal lives. Johnny (Mosley) has commitment issues and won't move in with his long-term girlfriend; the openly gay Hank (Daniels) doesn't know what to do when he's invited to his ex-boyfriend's wedding; and Brian (Bigley), as the rookie EMT, is just trying to get his feet on the ground.
"Bob Fisher has a unique brand of humor and they don't pull any punches," says Mosley about the show's writers. "When I first came on, I couldn't believe USA was going to let us get away with this. Their brand is so different—or had been in the past—and we were all kind of looking at each other while we're doing this crazy stuff that was really off-brand for them. It was really nice to be welcomed, and when they ordered another season, we all felt like, We've gotten away with something!"
For Mosley, working with creators who are also actors, like Leary, makes exploring the show easier, as it can open creatives up to the decisions actors make on set. "If [Leary] sees something you're doing and he likes it, he latches onto that," says Mosley. "He's great. There were times where he was crouched down in the back of the ambulance smoking a cigarette while we were driving around—he was that involved."
Because EMTs are so mobile, moving to where they're needed, shooting on-site in Chicago has added a different kind of flavor to the show. Daniels feels the city is like another character; a smaller, cleaner character compared to New York City, for example.
"I love the city. The only thing about Chicago—someone on our set said it the other day—the weather goes from summer to 'screw you' in one day! But I love it," says Daniels. "We have the beautiful Lake Michigan, and we try to get every neighborhood we can; we're always trying to find new adventures to go on. The food is fantastic and the people are great. You get sports in addition to the cultural things, because you've also got all these great theater artists."
To kick off the filming of the second season, the actors were able to expand their horizons as artists, riding around for several days with real Chicago EMTs to get a better feel for the day-to-day. "It was interesting, because you realize how nothing fazes these guys," says Daniels. "They've seen everything and these guys are still just very 'Lemme get your stats, lemme check your pulse, get a Band-Aid on there!' It was really great to see these guys in their element."
Mosley says seeing the EMTs work as a team, plus their calm, cool, collected attitude when "walking into what might be someone's worst day ever," was what he took away from the time spent observing them and what helps him stay moment-to-moment in his practice.
"If I go in with all these ideas of stuff I'm going to play, I can't do that," he admits. "My biggest thing that helps me is remembering that I'm only as good as the actors I'm with. We listen to each other and stay sincere with the comedy and the improv, because you have no idea what's down that road."
Inspired by this post? Check out our Chicago audition listings!